Telecommuter Homes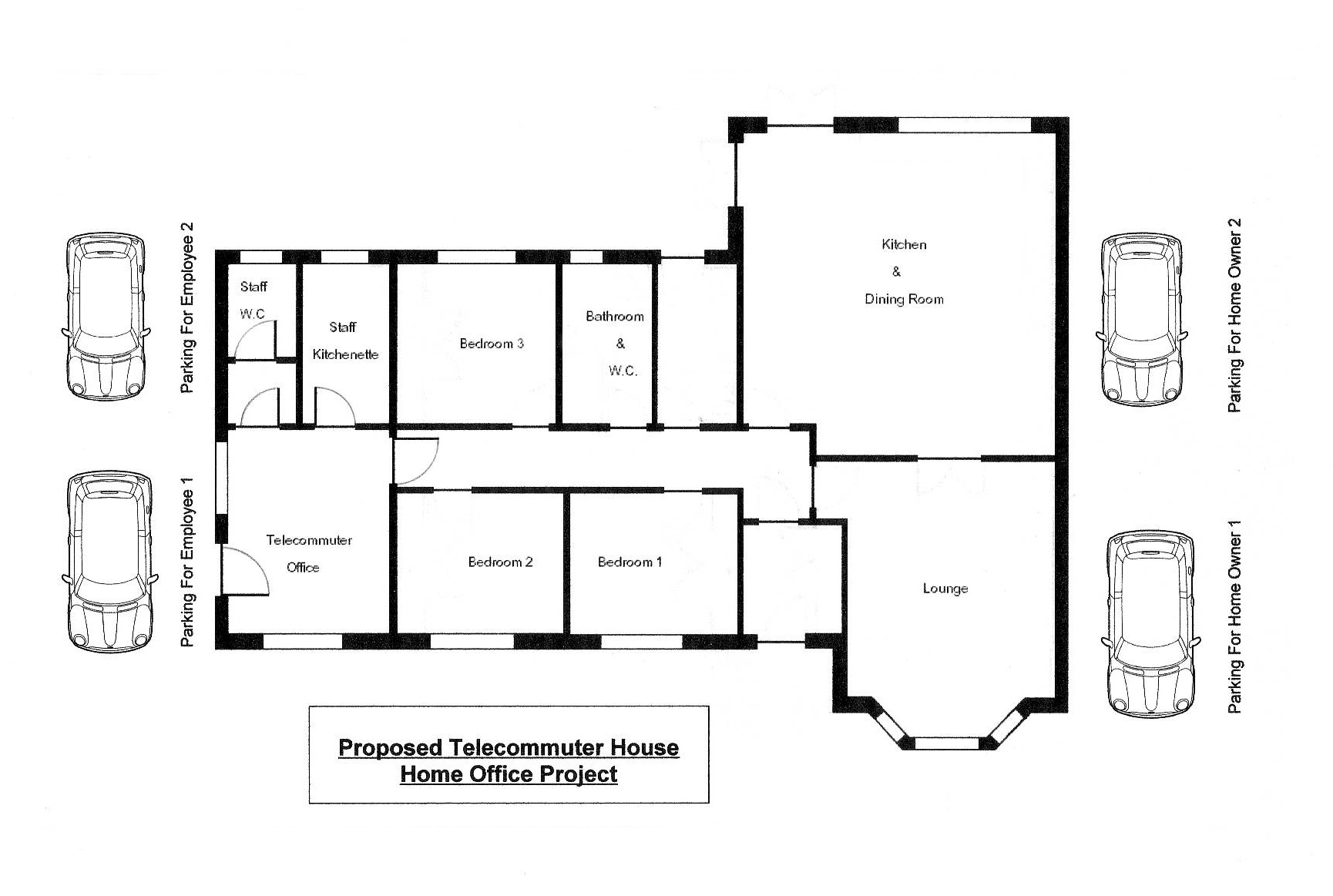 Illustrative Plan Of How A Telecommuter House May Be Arranged.
To All External Usage & Impact, A Residential Dwelling.
With The Added Bonus Of Providing Three Full Time Jobs.
The subscribers to this website have more than a decade of experience renovating and re-opening closed shops, closed hotels and closed factories: supporting newstart businesses. So far 20 disused buildings brought back to life, and over 100 new jobs created. Our group are keen to continue this endeavour with lateral thought, and imaginative new developments.
Following lengthy discussion, not least about The Next Big Thing the subscribers of this website believe that there is a huge, and untapped potential for telecommuting. This is not a brand new idea. Many people already work from home, and telecommute. However what is materially important with this current project is the potential for considerable growth in this sector – especially new job creation. Many hundreds of new jobs can be established this way. In addition there are a large number of people, who, for one reason or another have to work from home.
The subscribers to this website propose to either buy an existing house or suitable commercial building for conversion – or even build one from new – and liaise with the local planning authority to gain the appropriate and proper planning permission. With all required restrictions on low impact semi-commercial activity necessary to maintain the residential environment [example planning caveats and comforts suggested below] enabled, then micro initiatives of a Telecommuter Home could become a nationwide job creation endeavour. The main view here is to find a way, and prove by an actual project that planning department concerns – and local residents sensitivities – can be assuaged when a properly regulated Telecommuter Home with appropriate controls can result in those folk who need to work from home being permitted, indeed encouraged to do so. The internet is an ideal example of how this telecommuting may be an interesting project to expand and grow. There are strong grounds and debates for those who wish and need to work from home being allowed to do so. In the current economic climate this has many virtues.
Our starting point here, and initial proposed Telecommuter Home project is to obtain planning permission to employ up to 2 members of staff at a suitable candidate site. When added to the home-owner's own employment within the home-telecommuter-office environment, this amounts to 3 new jobs for the first pilot Telecommuter Home.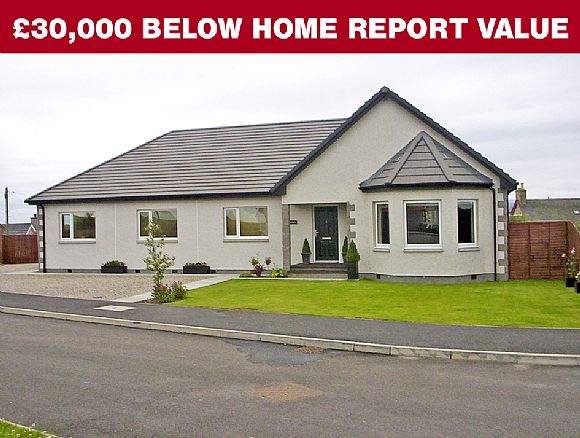 Modern Style Of Telecommuter House Candidate (c) 2014 MacMillan & Co
The indicative floor plan above is from a real example. Whilst this house may not be entirely suitable [parking positions may need changing about]. It gives an idea of what a gentle, low profile and very low physical commercial density internet based initiative might look like.
The pilot project aims to have a family home, with an internet based business, employing the homeowner, plus up to 2 part-time or 2 full-time employees.
This proposal requires no overt, nor obtrusive commercial visits to the home as all the commercial activity is via broadband internet. It is an important test that any planning permission as described here has all the required caveats and comforts [examples of these being detailed below].
For those that doubt it is possible to have a Telecommuter Home with two employees, this pilot project has come about, in part, as a result of one of our associate websites growing to a readership of 32,000 since going online two years ago and a sister website now reaching a readership of 21,000. The total of 53,000 has meant the editor of these internet sites needs assistance. This is due to him having a significantly disability after a spinal injury. He also is restricted to working from home because of this. But now the work has grown. Generally this would be a good thing. Excepting that current planning rules need to be fine tuned to allow, for example, those with disabilities, the assistance needed at their home to continue being able to work. Surely in the broadband and highly evolved technical world we now live in, the planning rules can accommodate such real life scenarios? Especially if it results in new jobs being created, and those with disability issues being allowed to continue working in spit of the restrictions that various health matters bring about.
There are no signs of this example of internet work slowing. Indeed it is the high growth rate that is causing a problem that will shortly require the endeavour to employ staff. The vast majority of this business is conducted in the virtual world. To be absolutely transparent, the website is at:-
The current position in this explicit example is becoming untenable as the editor of the online publication cannot continue without new employees. It is questionable on several levels, given the physical limitations on ability that exist, whether it is right to compromise those who are less able in some aspects, but are willing and have some ability in other areas to continue working.. Not just here, but in hundreds, in fact thousands of homes across the country.
To be clear, the Telecommuter Home proposal in this case is to either purchase an existing property, or buy a plot of ground – preferably a brownfield site/blot on the landscape requiring either a complete refurbishment, or demolition and a newbuild bungalow along the lines as illustrated in the floorplan above. This current pilot project requires to be on one level due to the necessary disability-friendly adaptations. Or in exceptional cases a property where a lift can be installed.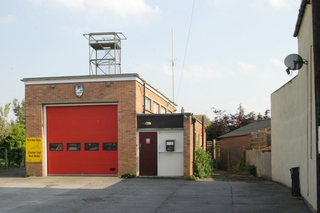 Or Convert Something Quite Exotic To A Telecommuter Home (c) Kevin Hale
All the component parts for this project are in place – except the acquisition of a suitable building or plot.
The group that have refurbished the 20 earlier buildings, many of which are covered within the pages of this website and believe that, subject to rigorous planning comforts given by the project underwriters to the local authority, there may be potential for dozens, if not hundreds of these type of Telecommuter Homes on an unobtrusive basis at locations all across the entire country.
Or An Ordinary Telecommuter Home In An Extraordinary Location (c) John Allan
Another positive point: Surely it is better to have a Telecommuter Home, occupied all year round, paying enhanced domestic AND business rates, and providing up to two full time jobs, than a Holiday Home, occupied 6 months of the year, paying reduced rates and contributing very little to the local economy? Just a thought.
 ——————————————————————————
Planning Permission
This is a big issue. The editor of the Unique Property Bulletin got to the core of the matter when he was determined to obtain the appropriate consents to run an internet business from his home. Of primary importance was official near neighbour notification. Notwithstanding the fact this is a statutory requirement in such circumstances, it is also basic good manners. In the Unique Property Bulletin online website, not one neighbour complained, and many were very supportive. Indeed, a number of neighbours have asked if the internet business is still trading as there has been no evident activity other than that which is normal from a family home in a residential street.
However, growing the endeavour from a small effort with no direct employees to the next level where there requires to be at least one employee plus two new employees presented what was first thought to be a problem. After the lengthy debate of the subscribers to this Scotslion Real Dragons' Den website, the possibility of making something that could create hundreds of new jobs via what might otherwise be a difficult planning permission issue has become very attractive.
If wise counsel and input from stakeholders such as neighbours, architects, local authorities, planning departments, building control officers etc., can be distilled into a working pilot project, then the possibility that a new business model that can be replicated many times over is tantalisingly close. Why such enthusiasm?
3 New Jobs Could Become 300 New Jobs.
Not, of course all from one house. It seems a good and fair idea to have a maximum of two employees per Telecommuter Home – 3 if and when you include the home owner. If the one man/one woman band element can be grown modestly to add 2 employees per enterprise, then multiplied by just a fraction of the internet businesses in the United Kingdom alone equates to:
Hundreds Of New Jobs
Surely such an outcome is worth trialling a real world pilot project from a virtual world enterprise?
Here is some background detail illustrating the order of magnitude that the internet has reached in the United Kingdom:-
In the last full calendar year – 2013:
36 million adults (73%) in Great Britain accessed the Internet every day; 20 million morethan in 2006, when directly comparable records began.
• Access to the Internet using a mobile phone more than doubled between 2010 and 2013, from 24% to 53%.
• In 2013, 72% of all adults bought goods or services online, up from 53% in 2008.
• In Great Britain, 21 million households (83%) had Internet access in 2013.
• Broadband Internet connections using fibre optic or cable were used by 42% of households, up from 30% in 2012.
Source Office of National Statistics.
This Telecommuter Home webpage has been uploaded here and continually updated with news of how this particular project is progressing, along with incorporating the received wisdom of those folk who may have an interest – planning officials, neighbours; home based internet owners; jobseekers and many more. If you have any comments, or can offer constructive advise, PLEASE get in touch…
Many thanks. 
Scotslion/Real Dragons' Den/Argyll Group
——————————————————————————-
Planning Permission Debate.
If, for example, a holiday letting business can go ahead with say planning permission caveats such as occupancy being restricted to no more than 11 months out of 12 as part of the conditionality in granting such planning permission, we would suggest some of the undernoted might be worth considering/debating in order to assuage concerns of nearby residents and the local authority that any given residential area would not notice the presence of a very low profile Telecommuter Home.
Other than the fact 2 local folk may very well secure two part-time or full-time jobs for every Telecommuter House that achieved planing permission.
Suggested Codicils & Caveats – Planning Permission Granted Subject To:-
1]. No commercial goods vehicle deliveries to and from the premises, save for the Royal Mail domestic postal deliveries, or standard domestic frequency parcel delivery.
2]. No business callers to the premises [other than telecoms engineers or related internet/IT specialists]. It may be a material condition of any planning consent that the Telecommuter Office within the Telecommuter House is utilised only for internet business with all trading being conducted online via telephone connection. No direct customers must visit, nor come or go from the Telecommuter Home. Only staff are permitted to attend the premises, and of course friends, family and neighbours of the homeowner.
3]. The employees of the business operated from the Telecommuter House shall not work, nor attend the Telecommuter House premises [other than in an occasional social capacity], between the hours of 6.30pm in the evening and 8.30am in the morning Monday to Saturday inclusive. There shall be no attendance at the Telecommuter House by employees [actual homeowner excepted] any time on a Sunday.
4]. Neither the homeowner/internet business owner, nor either of their employees shall conduct themselves in a way that causes a disturbance to the neighbours or the neighbourhood. It is a material condition that the Telecommuter House shall, to all intents and purposes, appear, and be maintained as a standard residential dwelling. Albeit with the exception of two employees attending during restricted working hours.
This is just a start to give an idea of the conditions that may be considered appropriate to attach to any planning permission in furtherance of the job creating Telecommuter House project.
The above "conditions" also raise questions. For example, if you need to meet with a customer in person, what would or could you do? A relatively simple answer is to arrange a mutually convenient appointment between the internet business owner and customer at a local hotel conference room. Thereby adding to the economic benefit in the local area.
——————————————————————————-
Quality Of Life & Economic Debate.
This is where the Telecommuter Home project can get very interesting. An excerpt from our sister publication on the subject of quality of life and economic benefits by telecommuting….
The boom of broadband; expansion of the internet combined with rocketing railfares and inexorably hiking petrol/diesel fuel costs gives credence to there being a future game-changer on the horizon. Telecommuting.
The economic and quality of life case for having a homebased internet business is compelling. Saving for example a 30 minutes drive from home to work equals 60 minutes per day; multiply that by 232 working days per year; multiply again by 45 working years equals
ONE YEAR and 70 DAYS of your life SAVED by ditching the commute. The economists also would pipe up here. Opportunity cost. What pay would you expect to be reimbursed, in monetary terms, for that one year and seven months of your life [10,440 hours]? To be hyper-accurate the one year seven months needs to be divided by 8 hours etc., to work out the correct loss to your lifetime income.
The REAL commute/work-pay/loss would be a staggering 3 years and 209 days LOST in your lifetime. So if you were on an average £24,808 per annum wage [Source Career Advice Monster ] then multiply that by the commuting loss in your wage/time and it is around £88,697. That is a real number. It is what YOU LOSE over your lifetime by commuting to work 30 minutes a day. Alright you may have some "thinking time" in the commute journey, but given the choice would that time not be better spent watching and spending precious moments as your family grows up, or doing what you do best during the work part of your life – work at a job of your choice!
Then we add the fuel saving from the avoidable commute costs (or inexorably increasing train price ticket etc). Using the 30 minute commute to work replaced with living 20 seconds from your new internet business based example in your telecommuting home, to your building's home-office part, we can work out the detail. Say 20 mile commute, doubled as it is a return journey. That would be approximately a round trip £6 in fuel or train ticket. Times 232 days, times 45 years, equals £62,640. Oops did you just cough your coffee all over your keyboard like the writer of this did. Yup you read that correctly: £62,640 you may pay in commute to work travel expenses.
Not to mention a big, big hole in the Ozone Layer you are leaving your kids and grandkids from all that avoidable motor/train fume pollution.
So we have a potential saving of £88,697 in saved life hours if we ditch the commute, added to which we can put the £62,640.
This means replacing a 30 minute daily commute with a 20 second nip from your house to work next door saves you £88,697 + £62,640 = £151,337.
THAT is a lot of money. Here's a thought, put that £151,337 of YOUR money to paying off the mortgage early and that is a decent debate to take part in, let alone think about. Yes? No?
——————————————————————————-
Please feel free to
http://scotslion.co.uk/contact-page/
To make a point, ask a question or engage in constructive debate
Last but not least, if you know of any building plots for sale – especially brownfield sites which are blotting the landscape and could do with tidying up and may be suitable for building a Telecommuter Home upon [subject to planning permission] we would love to know.
 We Should Have Kept This Old Building Plot – Such Sites Have Great Potential
Do You Have Something Like This To Sell?
If so please consider getting in touch. As the saying goes "cash waiting" …
http://scotslion.co.uk/contact-page/
Many, many thanks.
 ——————————————————————————
 This webpage is under continual development and review as the Telecommuter Home project advances. Please check back regularly for updates and news. Best regards.