Proposed

New

Village Shop & Post Office At Sannox
The Arran Banner produced a very kind article this week (1st May 2020). Just to clarify, the new shop is in addition to the Sannox Hotel. Having so far spent £184,000 renovating the main  hotel building, we are not demolishing it.
The small holiday cottage (known as Sannaig Cottage) next door to our hotel is the building we are applying to demolish and rebuild as a decent-sized village shop for the north end of the island. The title ownership of Sannaig Cottage is outlined here in red ink…
For clarity, the new Sannox Convenience Store will be adjacent and in addition to the renovated Sannox Hotel.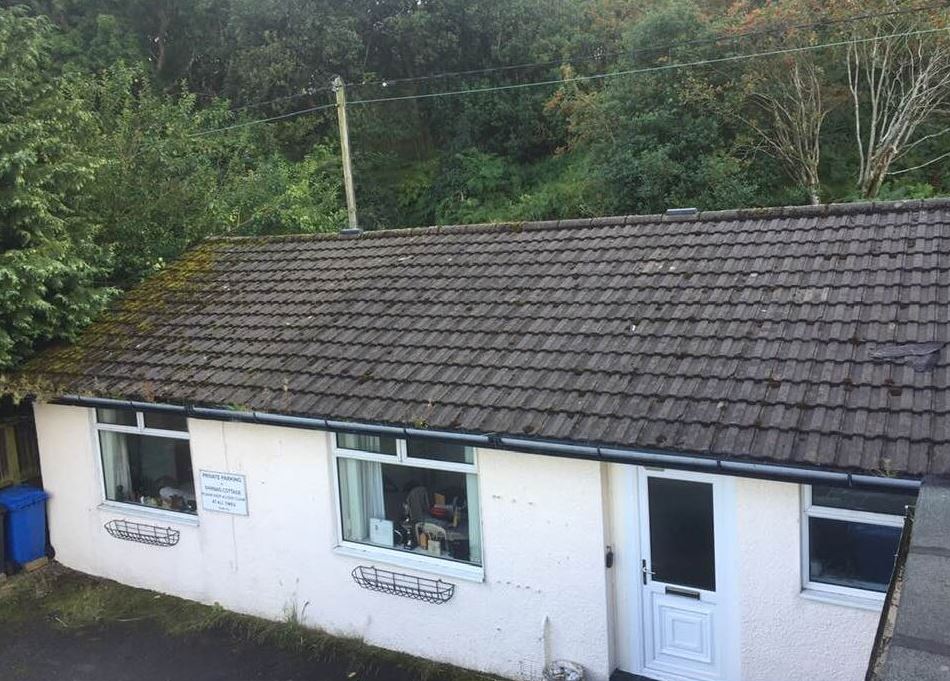 The Old Sannaig Cottage Next Door To The Sannox Hotel.
The plan is to demolish this and build a new store for the north end of the island.
It will sit next door (to the south) of the recently renovated Sannox Hotel…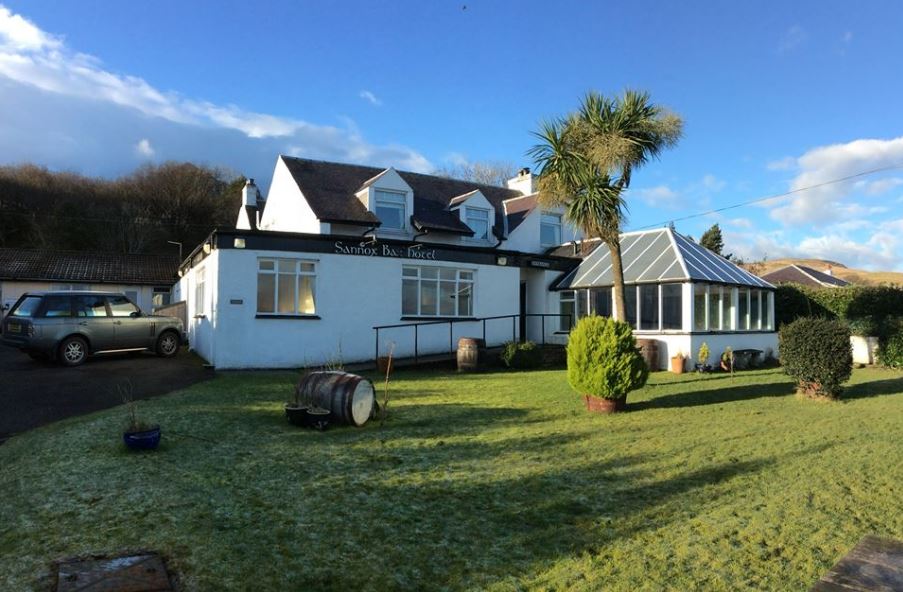 Sannox Hotel, Isle of Arran.
The new convenience store will be built to the south of the hotel (left of photo).
In February 2019, we were granted full planning permission (here) by North Ayrshire Council to renovate the Sannox Hotel and add a new village shop. This would be the 28th building (from closed hotels, shut-shops and empty industrial units) we have brought back to meaningful life. Specifically, the "small" Sannox Hotel shop will be the 17th retail facility that we have opened/re-opened in 22 years of renovating and bringing life back to closed down buildings. The previous 16 shops over the last two decades provide our shareholders with a reasonable set of credentials to make this new village shop a success.
Many folk believe town centre high streets are dying and rural village stores have no future.
It may seem counterintuitive, but we have found that providing the rents for our tenants are kept at a reasonable level and the local authorities continue with the lifeline Small Business Non-Domestic-Rates excemptions, then it is most certainly possible to bring the town centre high streets and rural village shops back to life.
Initially, when we bought the Sannox Hotel, it was closed and we had sought planning permission for a small village shop of approximately 144 square feet and situated where the old bar used to be…
The New Village Shop Is Marked As Room "4" On This Plan
Rooms "5" and 6 are ancillary facilities.
Our only reservation was that the space available, approximately 144 square feet of retail floor area is significantly smaller than we are used to. There are economies-of-scale that make shops viable.
We would be far happier with a shop between 2,000 to 2,500 square feet to give a decent chance of long-term success.
During 2019 the owner of Ingledene Cottage (renamed Sannaig Cottage) approached us indicating he was considering selling his house…
Sannaig Cottage To The South of Sannox Hotel
This modest, single-storey building was the former staff quarters at Sannox Hotel and located to the south of our hotel. This cottage was sold off many years ago and traded as a holiday home for over a decade.
By early 2020 we had come to a contractual agreement with the owner to buy Sannaig Cottage.
There is jointly owned parking and our neighbour only has a partial view. The hotel's area of parking means the driveway ownership is split.
Here is the current driveway portion belonging to Sannaig Cottage, outlined in red. Both properties have the right to drive across the neighbouring tarmac, but not to park on each respective neighbour's owned portion. This has the potential for a neighbour dispute in the future. Therefore, Sannox Bay Hotel Ltd., believe it is best to remedy this problem now, before any discord may arise.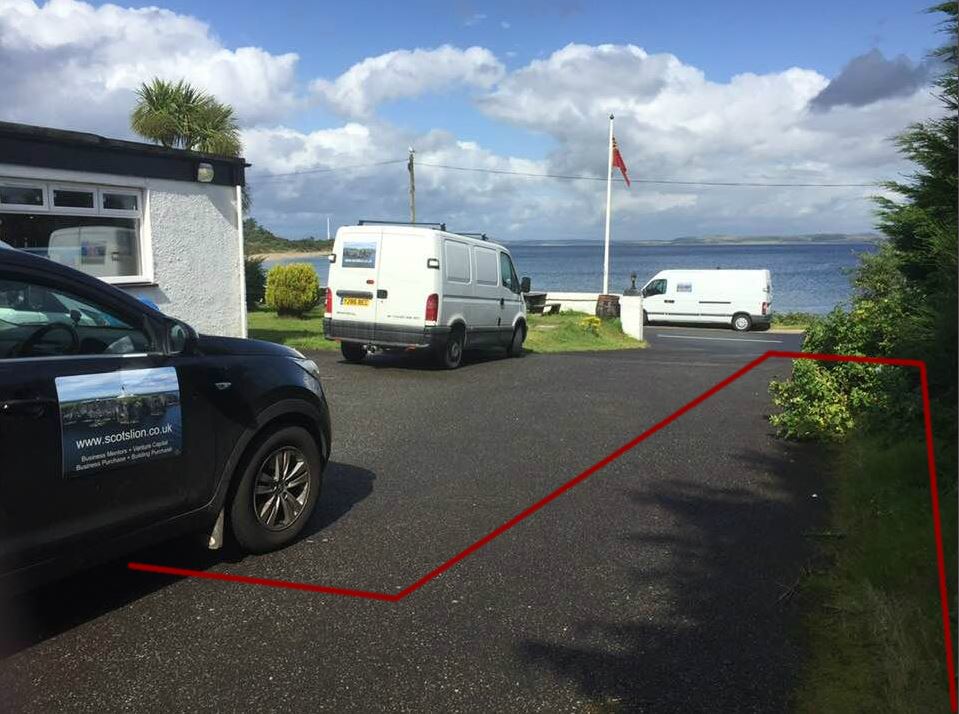 The Red Outline Shows The View From Sannaig Cottage.
Subject to blockage as hotel patrons park on the northern section as owned by the hotel.
The seaview from this ground floor cottage will always be semi-obscured as Sannox Hotel owns a large tranche of the driveway.
Even though our 2019 planning permission approval for Sannox Hotel includes four new parking spaces at the front of the hotel, there is a risk of near-neighbour dispute with parking on the shared driveway. Fortunately, the current relationship between ourselves and our neighbour at Sannaig Cottage is very good, and the previous relationship between earlier owners of the cottage and the hotel were similarly harmonious. However, we believe it wise to buy this cottage back in and reinstate the original hotel ownership footprint…
The Red Outline Is Owned By Sannox Hotel.
The narrow strip between Sannox Hotel & Caber-Feidh House to the south is owned by our neighbour.
Following consultation with our architect and discussion with retail managers of other convenience stores, we ran the numbers exhaustively. Providing we can secure a minimum of 2,000 square feet of grocery and retail space, this will secure sufficient economies of scale and critical mass to make a supermarket for the north end of the island reasonably viable.
Sannaig Cottage ~ We Propose Demolishing This Building.
We have already received planning permission in February 2019 for a village shop (144 square feet). Providing we can secure a fresh planning permission to demolish the old Sannaig Cottage and newbuilding a traditional two-storey property in a similar vernacular in its place then the north end of Arran will have a decent set of amenities once again (example photo)…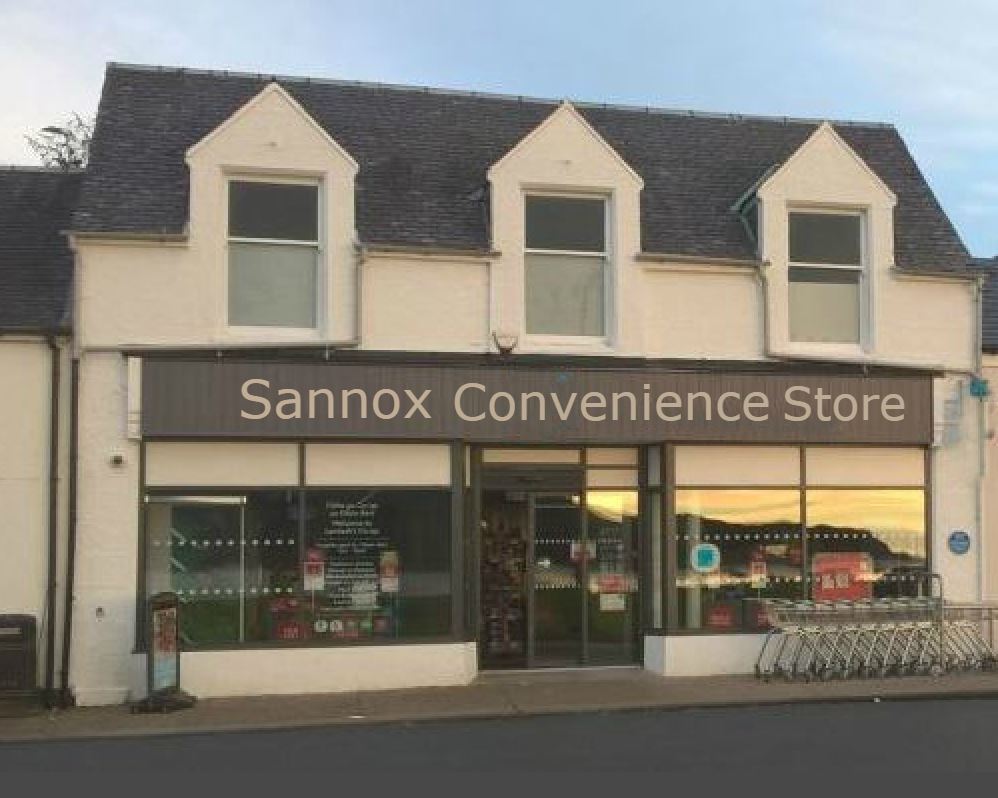 Classic Isle of Arran Architecture & Vernacular.
This example building may look familiar.
It is the old Co-op Supermarket in Lamlash.
Indeed, we would hope to reach a mutually beneficial relationship with Co-operative Group Limited., to run or perhaps lease our new, proposed Sannox Supermarket.
The planners at North Ayrshire Council have already been very helpful and given us permission to build a village shop, plus new owners and new staff accommodation (in place of the old, demolished public bar area to the north of the hotel). Therefore the precedent has been established and no objection received from local or statutory stakeholders. In fact we have had an unprecedented amount of support on the main Arran Community Forum on social media (here and here).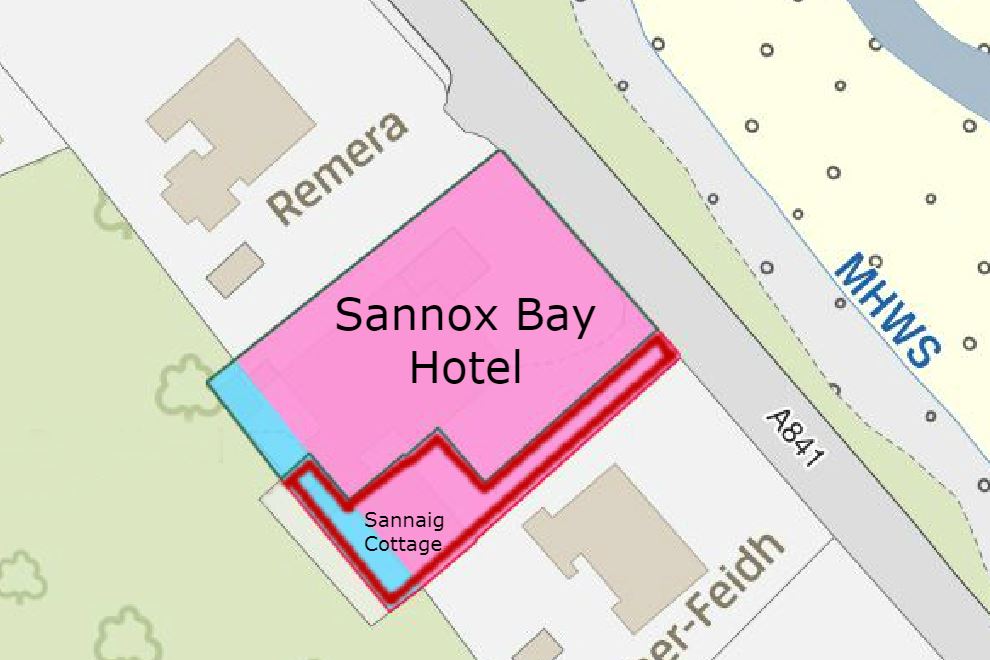 Sannaig Cottage Footprint Outlined In Red Ink
As a result, our architect is now drawing up plans to submit to North Ayrshire Council to demolish the former Sannaig Cottage and newbuild a two-storey property which will have a 2,000 to 2,500 square feet retail area on the ground floor, and move the existing holiday accommodation to a new first-floor.
By moving the existing holiday accommodation from the ground-floor to the first-floor where it will have a very good sea view, that should extinguish the problems of cars in front of current Sannaig Cottage ground floor living room windows.
We would also seek permission to reinstate additional staff accommodation on part of the new first-floor to bolster the staff accommodation we have included in the 2019 planning approval (room "1" in the plan at the top of this page).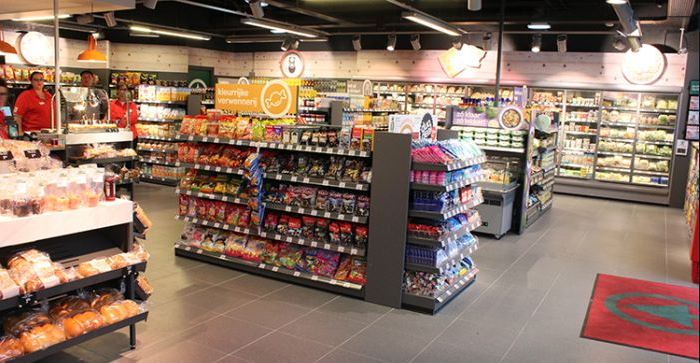 A New Sannox Supermarket
This should be a major bonus for the north end of Arran.
A New Sannox Post Office
The north end of Arran lacks many social amenities.
We intend to remedy that.
A New FREE Cash ATM Facilities
The Sannox Hotel, and hopefully soon, the new Sannox Supermarket are located midway between two of the busiest ferry routes in Scotland…
The passenger and car numbers to and from the island are impressive. Though the north end of the island does suffer from a distinct lack of retail + supermarket + post office + banking facilities.
Add the fact that several thousand hillwalkers emerge from Glen Sannox every year, then turn right towards Brodick and could do with a decent set of facilities where they can get a cup of tea, a hot meal, or if they are needing to travel back to one of the ferries, then they can buy a sandwich and a bottle of juice at the new Sannox Supermarket.
By providing a free ATM, that will help folk secure some funds to pay for their purchases. Though in the #AfterCovid19 world, it remains to be seen how popular old "10 and £20 notes are.
We believe the investment in a decent-sized newbuild Sannox Supermarket will provide an enhanced set of facilities in the north end of the island and crucially in these economically disturbing times, we are bringing an additional…
6 new jobs at the proposed Sannox Supermarket in addition to the 5 new jobs at the reopened Sannox Hotel.

11 new jobs at a time when the coronavirus is decimating jobs elsewhere.
Not a bad way of resolving potential near-neighbour disputes over parking!
If you have any questions, please feel free to text or telephone the directors at: 0757 2768 795.
Or write to:-
Scotslion Ltd., Abbey Studios Business Centre, 280 High Street, Arbroath, DD11 1JF.
---
Arran Community Forum Support
We asked the question about adding a Post Office to the proposed renovation of Sannox Hotel and the new village shop…
The Arran Community Forum has 4,722 members and is a great focal point for the island population.
Our enquiry about additional facilities at the Sannox Hotel renovation was answered by the community on Arran with style. A great deal of support that has positively influenced our decision to invest a significant amount of money and create 6 more jobs on the island…
---
Photos of Sannaig Cottage
To the south of Sannox Hotel
Sannaig Cottage to the south of Sannox Hotel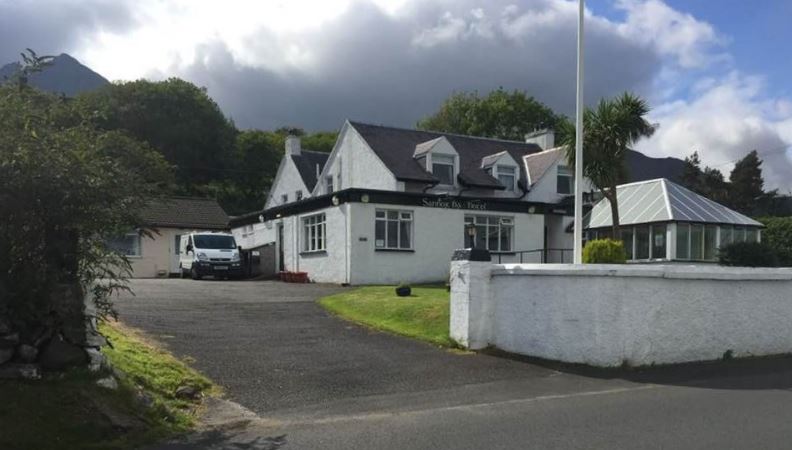 Sannaig Cottage to the south of Sannox Hotel