Scotslion Project Number 28
The Sannox Hotel – Refurbishment
When we have jobs and/or contract work, details will appear on this page...
Sannox Hotel, Sannox, Isle of Arran, KA27 8JD.
Scotslion are managing a major restoration of this closed hotel. There will also be:-
3 additional guest bedrooms, all ensuite.
New staff ensuite bedroom.
New owner's accommodation.
New tea-room.
New village shop.
6 Additional off-street guest/shopper car paking spaces.
After a major renovation, Scotslion aims to re-open the enlarged hotel plus new village shop during 2020.
---
LATEST UPDATE: 20/2/2020…
Sannox Hotel – Proposal To Add
A Decent Sized Village Shop + Post Office + ATM Cash Facility
Last year, almost to the day, on 21st February 2019, North Ayrshire Council kindly granted us FULL Planning Permission for, amongst other things a NEW village shop on the north side of the hotel.
As of January 2020 we have agreed terms to buy the former staff quarters next door to Sannox Hotel…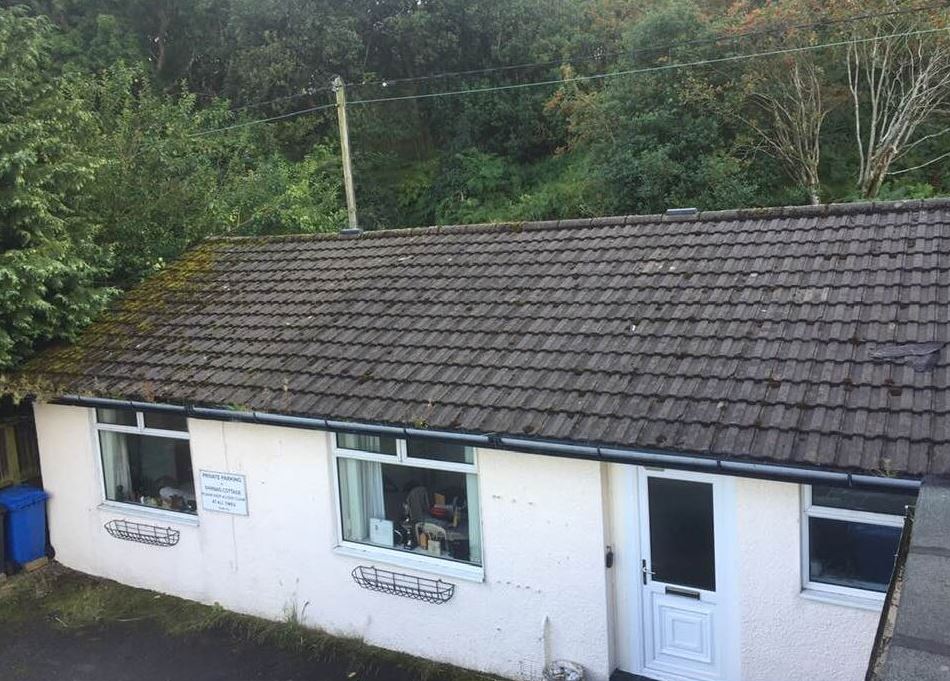 Sannaig Cottage Adjacent To Sannox Hotel.
Photo Attribution: Argyll Group.
This would mean we can increase the size of the new village shop from 144 square feet to 2,500 square feet and make it very similar in size and amenity value to the Co-op in Lamlash. This larger size would ensure we can accommodate a local Post Office for Sannox and north island residents. Plus, crucially, an additional amenities for tourists.
A New Post Office For Sannox & The North End of Arran
There is already a full range of banking and bill payment facilities at Royal Mail Post Offices. Scotslion Ltd., would also seek to install a bank ATM machine for visitors to access funds on the island.
Early in 2020 we consulted with our neighbours, friends and local island stakeholders whether a larger village shop with a Post Office and free ATM this is something that would be supported. Via the Arran Community Facebook Forum and the Arran Banner.

The positive support from the islanders of Arran for a new village shop with a Post Office and free ATM has overwhelmed the directors and investors in our project ~ in a good way. At the time of writing, as per the screen excerpts at the foot of this page, folk are universally constructcive.
Though at the revision stage of the already granted planning permission (here) there is still a possibility that an objection may be made. However, with 3,000,000 now unemployed because of Covid19 and 4,000,000 on short-term/zero hours contract with dire figures forcast (here), we would hope the prospect of 11 new jobs at Sannox and 18 new jobs at our next project ion Brodick  would be welcomed by the majority.
The Arran Banner holds a Guinness World Record of 97% readership level on the island (here). The Facebook Arran Community Forum is more nuanced…
Arran Has An Excellent Community Page on Facebook: Click Here
There are 4,629 residents on Arran according to the last National Census. So the Arran Community Forum Facebook page's 4,901 members exceeds that by a 272 folk! The arithmetic doesn't quite add up…
The anomaly of course, is because many ex-patriate islanders dip into their home forum at ACF.
For sure quite a few of the 913,005 passengers conveyed to and from Arran visit the main island forums…
We don't know of any other organisation that has consulted about a planning application by social media and the local newspaper that has an award winning 97% island coverage.
But we think it wise and crucially it is informative to learn what people think and listen to new and helpful ideas.
This close-knit island spirit is what makes the island of Arran such a remarkable place to live and work..
Back to the main focus of this page, especially for the 3% who may not have seen it elsewhere…
In essence, we are seeking to demolish this tired old building that sits next door to Sannox Hotel…
This Old Sannaig Cottage ould Be Demolished.
Then build a NEW village shop of a decent size. Approximately 2,500 square feet instead of the 144 to 198 square feet of our earlier planning permission granted (here).
The 2,500 square feet is crucial if this new shop is to be viable.. Grocery industry standards for the Spar, Tescos, the co-op, Sainsburys, Premier etc., set a benchmark usually at 2,500 square feet for this type of building. Sometimes it is possible to squeeze it down to 2,000 square feet in floor area (click here). But we need 500 square feet for the new village post office and ATM + banking facilities; so the 2,500 square foot is a vital element in making the numbers work and the new jobs viable.
Our dream team would be to reach an agreement with the Co-op on Arran take on the Sannox Shop. I am bias as my first job at 16 years old was at the Co-op Invercloy (previously run by Miss Smith). Now at 61 years old i remember those days fondly. Along with a second job working for a man I am privileged to call my friend, Bob Haddow at Arran Transport (alongside the late and wonderful gentleman Fergie Latona in Brodick).
It would be a brilliant result if we could persuade  Arran's Liz McLean to bring a new Sannox Store into her safe haven of food supplies premises on Arran. For those who are not familiar with the island, Liz McLean and her staff at the island's  three Co-ops stores, including the "Big Co.," in Brodick have gone above and beyond the call of duty. Liz and her team placed themselves in harm's way during the Covid19 pandemic to keep the island and islanders fed. Seriously, Liz and her team deserve a medal.

Seriously, we mean that: To read the medal petition: click here.
The 2,500 square feet will enable a new Post Office + free ATM, plus a wide variety of produce and products for villagers and tourists to have access to without the 16 mile round-trip to Brodick every time you need to buy a loaf and pint of milk. The other villages further north of Sannox and the rural houses at coastal and inland locations would benefit too. As would some of the visitors and tourists to the island
The newbuild at Sannox would be similar to the Lamlash Co-op Convenience Store…
The New Sannox Convenience Store Would Be Similar To The Lamlash Co-op
Photo Attribution: Mr Tom Brown
Sannox Convenience Store & Post Office would have a very similar elevation to other Co-op outlets, but set quite far back from the road. The single storey front part would have an entrance around 20 feet fporward of the current Sannaig Cotttage. There would be little or no loss of visual amenity. The 6 additional off-street parking places (cost £11,800) will ameliorate any change in traffic pattern. Though we have closed the Sannox Hotel pub and halved the number of restaurant table places, therefore traffic to the Sannox Store site will be much less than that under the previous owners such as the wonderful Mr Brian and Mrs Audrey Allsopp.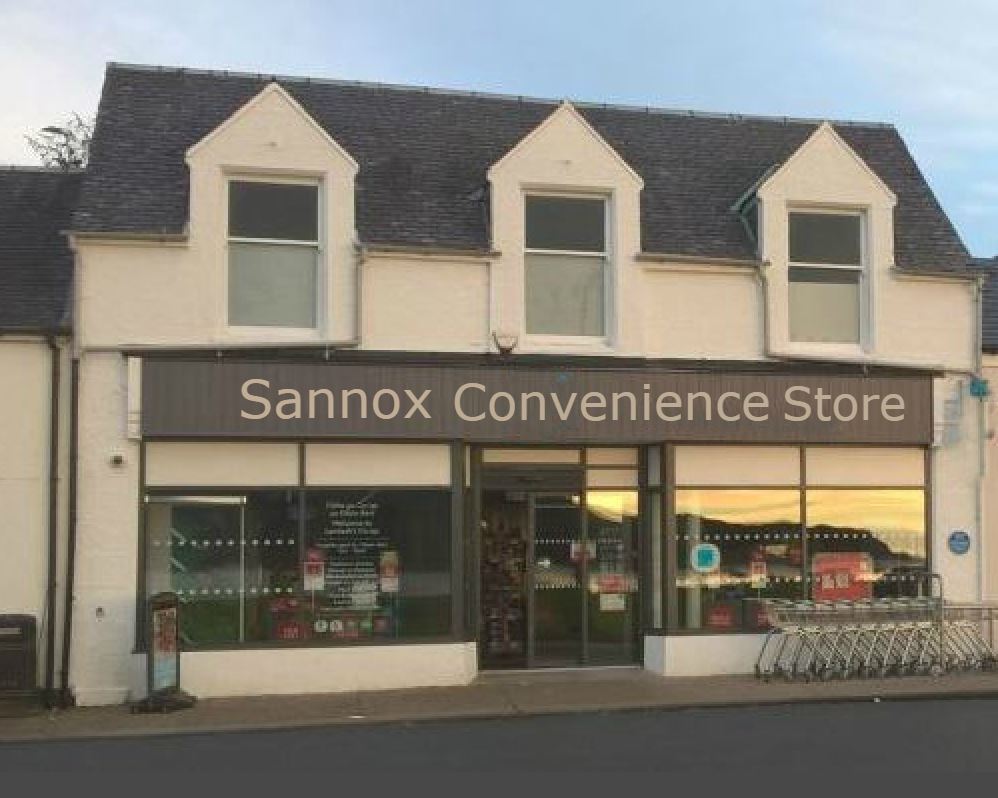 A Sketch Impression of The New Sannox Convenience Store As It Will Look
Photo Attribution: Kerr Baxter
Though, this new facility may well be a Spar or Tesco, possibly a Sainsbury's or Nisa style of property. The vernacular and building style would match the existing Sannox Hotel next door.
The north-east quarter of Arran has…
NO shops nor retail outlets at all.

No Post Office.

No banking facilities nor ATM machines.
The south end of the Isle of Arran has more than 30 shops and SIX x ATM cash machines. This is excellent. But the north half of Arran has only one village shop and Post Office at Pirnmill.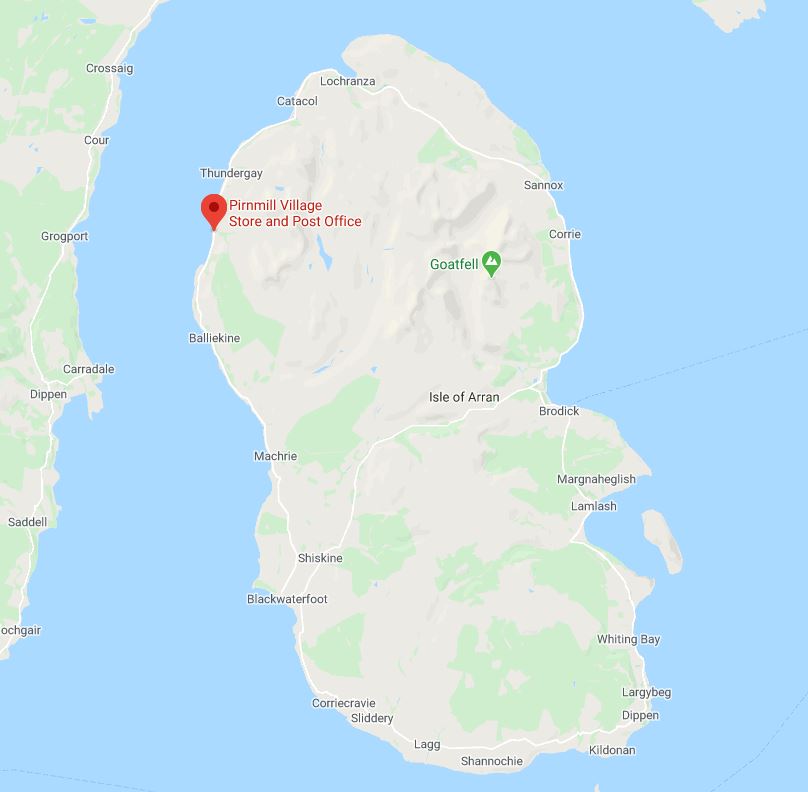 Pirnmill Post Office & Store. No Shops At The North Eastern Quarter of Arran
Map Attribution: Google Inc.
One shop for the whole of the northern half of Arran! 
We aim to remedy that.
By increasing the size of the Sannox Hotel village shop we secured planning permission for in February 2019 from 144 square feet to 2,500 square feet.
However, this second phase of the Sannox amenity project will cost around £400,000 of ADDITIONAL investment (£104,000 + £296,000). 
With such positive and constructive local support, we have now assembled the £400,000 investment required to take this project to the stage where there will be 11 new jobs created.
Scotslion Ltd., has opened many shops in Scotland, the UK and even America. We are confident that the north end of the isle of Arran could utilise a new convenience store…
The New Sannox Convenience Store. 3 Main Aisles & A Post Office
Photo Attribution: Argyll Group.
Between 4 and 6 additional jobs will be created at the proposed Sannox Convenience Store & Post Office.
Constructive comments and enquiries…
Please feel free to get in touch.
---
Earlier Updates…
---
Sannox Hotel – Major Renovation 2019-2020
Planning Permission Granted In Full
The hotel will not be re-opening until 2020. Please telephone or text before visiting the hotel to check for the renovation completion dates: click here.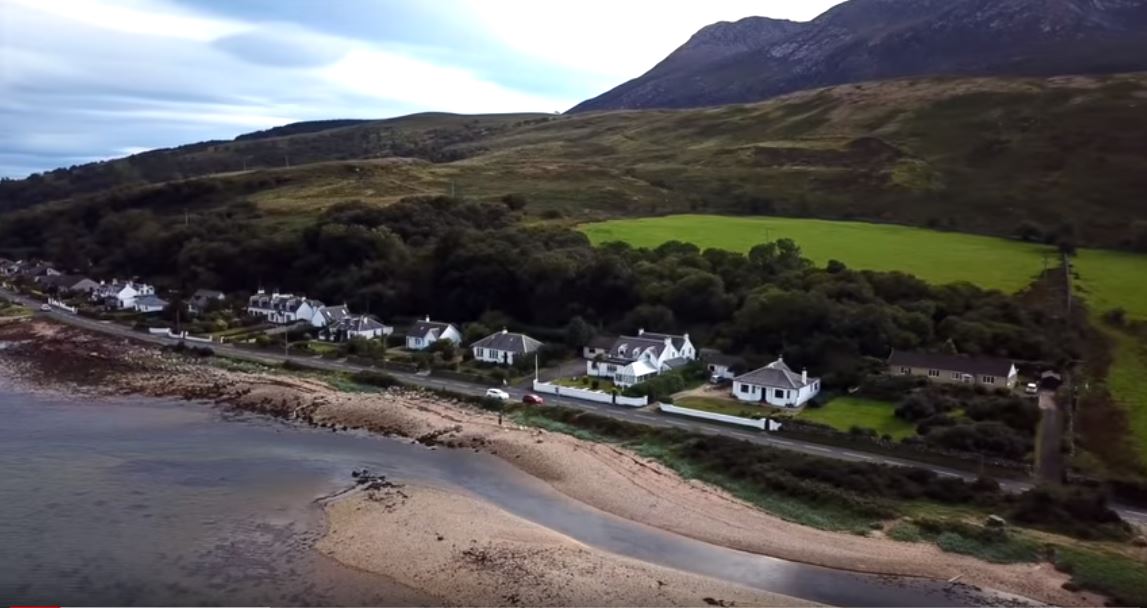 Latest Purchase: The Sannox Hotel, Sannox, Isle of Arran, KA27 8JD.
Argyll Group Private Equity arranged to purchase Sannox Hotel in March 2018. It was closed down for 2.5 years before one of our group of companies bought the building.
It would have been very profitable to apply for planning permission to turn the hotel into 4 x holiday homes. But our company feels very strongly that enough hotels on Arran have been closed and been given away to holiday home use.
So the decision was taken to apply for planning permission to re-open the hotel: fully refurbished: as a hotel. More than that. As a larger hotel plus a village shop.
Scotslion are increasing the number of ensuite guest bedrooms, ensuring a tea-room is part of the new format. Keeping a restaurant element and function room for weddings. Even adding staff accommodation against the previous retrograde steps in earlier years/ownership of selling off staff accommodation for short-term profit to the holiday home market.

We are also ADDING a NEW VILLAGE SHOP at the Sannox Hotel site.

To all those who suck their teeth and say "that'll never work" we offer this: our group of companies have re-opened in excess of 18 closed shops with a considerable record of success.
Village communities and town centres do not have to die.
With careful planning, and WE COMMEND North Ayrshire Council on this, it is possible to bring back closed down hotels and empty village shops to meaningful use rather than surrender them for a quick buck to be converted into holiday homes and lose the heart of the community forever.
To view the full planning permission that has been
GRANTED IN FULL.
---
Earlier Updates…
---
Sannox Hotel Renovation
A Selection of "Before", During" & "After" Renovation Photographs

The Sannox Hotel is enjoying a major, once-in-fifty-year renovation where a large number of cumulative problems with the property are being fully repaired and renovated. 
The hotel has 6 guest bedroom plus staff bedroom and owners bedroom. There is a new village shop and a new tearoom as well as the main function room.
Even though the hotel is relatively modest in size, when you add all of the rooms together, it totals 44. Hence the time and care is taken to complete this renovation as passed the one year anniversary. Each and every room is having the floor, 4 x walls and ceiling attended to. But first, the roof required overhauling, and large parts needed major remedial work. There was little or no insulation. So the whole building has received a full insulation to a high standard.
Sannox Hotel: Damp Rooms Fully Renovated
Exterior water ingress halted and repaired. Mouldy plaster removed and taken back to brick. DPC vapour barriers applied and vented. New insulation + fresh plasterboard and full coat of plaster in all of the first floor rooms.
Bedroom 5 Had Some Wet Rot. All Excised & Made Good.
The dormer window wood was replaced and damp proofed with fresh slates applied to the cheeks (green outline). New lead valleys were custom made and professionally installed (outline in blue. The damaged rood had all of the rot removed and replaced with pressure treated timber and new slates (outlined in purple). Vented insulation was installed where previously there was none. This process has been repeated at all other areas where there was issues with the pitched roof.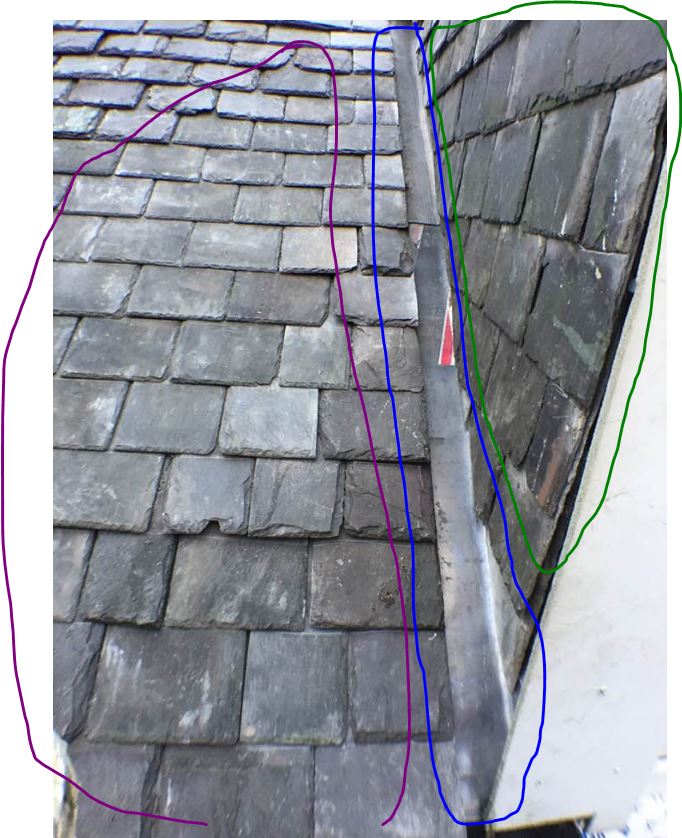 All Pitch Roof Renovation Completed By A Professional Roofing Contractor.
Many customers come to stay at the Sannox Hotel straight from the mountains where they exit Glen Sannox a few hundred yards away. Therefore it is crucially important the hotel is warm, dry and comfortable. It is also important to ensure the heating bills are manageable so that the hotel remains viable. The high specification insulation is aimed to remedy the absence of modern insulation.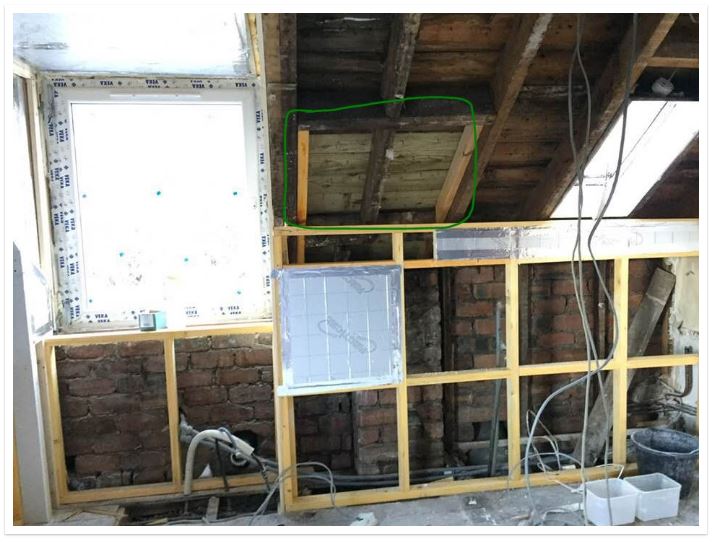 Bedroom 5: Full Renovation In Process. Damaged Timber Replaced.
Remaining Roof Timbers Pressure Treated To Prevent Rot.
Bedroom 5 During Renovation
Bedroom 5 During Renovation
The red cable at the ceiling is the new fire system hard-wired smoke detector connection first-fix.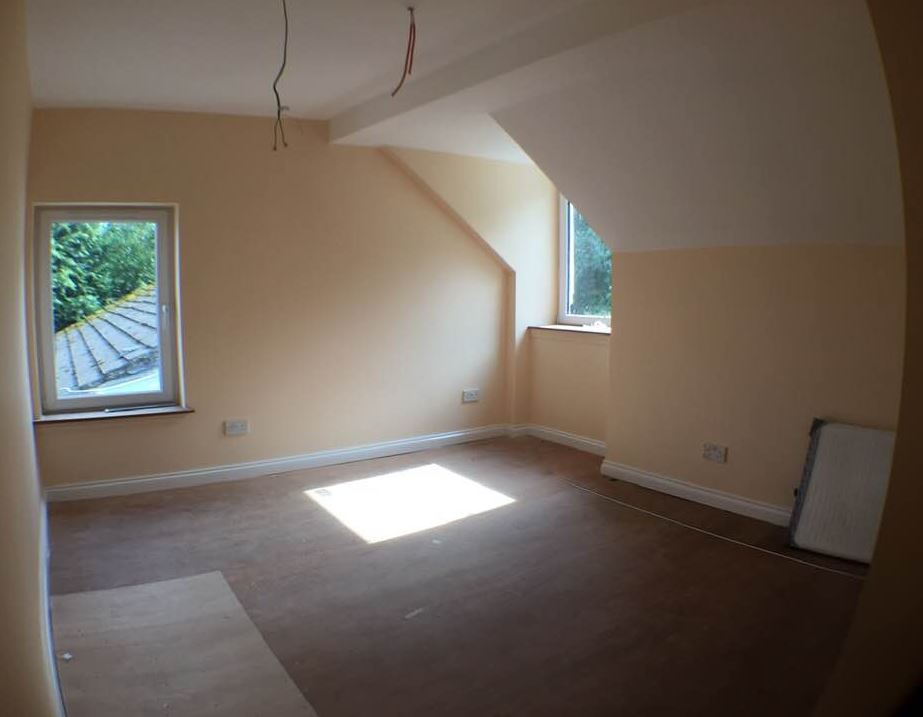 Bedroom 5 After Renovation.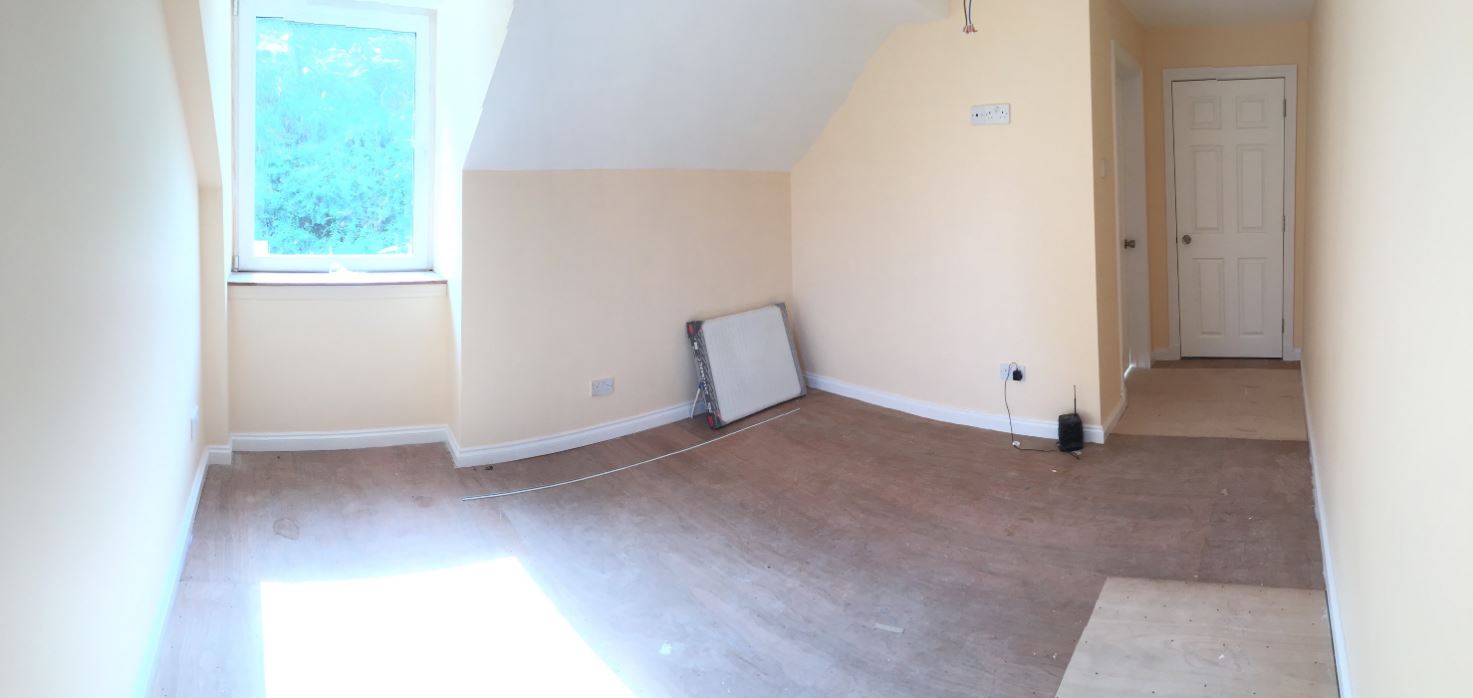 Bedroom 5 After Renovation.
Now ready for carpet + underlay + curtains + furniture.
Other bedrooms in the hotel show the absence of insulation. Once the old lath and plaster was removed, each pitched roof was inspected internally and externally for any signs of rot or nail sickness etc. The majority was in remarkably good condition. These voids were then made ready for vented insulation….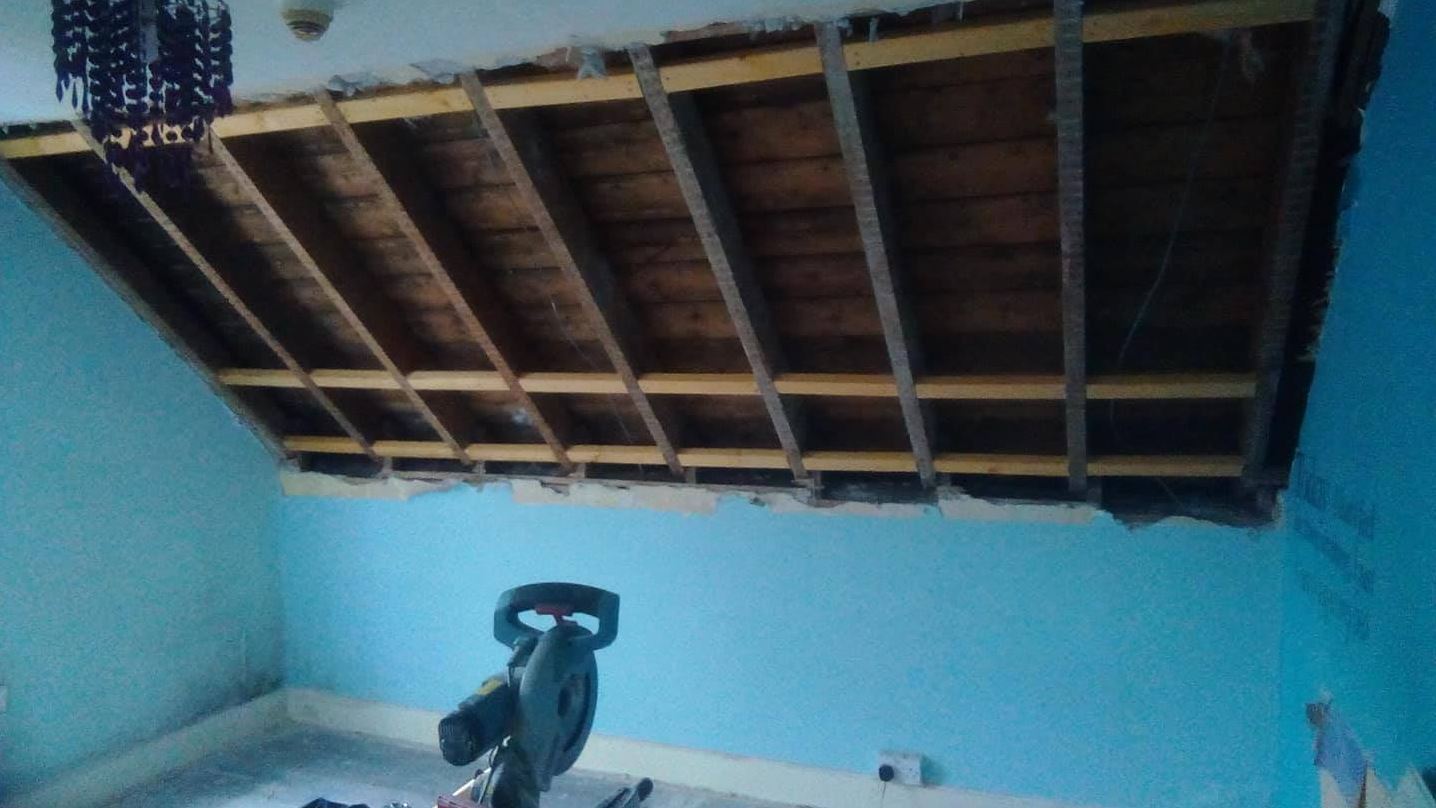 Notice The Lack of Any Insulation.
This was remedied…
Sannox Hotel Walls: Exterior & Interior Have All Been Insulated As Well.
Including removal of damp problems, plus inclusion of high specification heat insulation. Even sound insulation between the bedrooms. It is crucial for the hotel viability to ensure the rooms are kept warm without having to burst the bank with sky-high heating bills and tons of environmental pollution.
The internal sound insulation is because the new owner's pet hate is staying in a hotel with the guests in the next bedroom either having their television on at midnight or other noises disturbing your good night's sleep. To help with this, here is Bedroom 2 after all walls and ceilings have had extra sound and heat insulation included in a major renovation…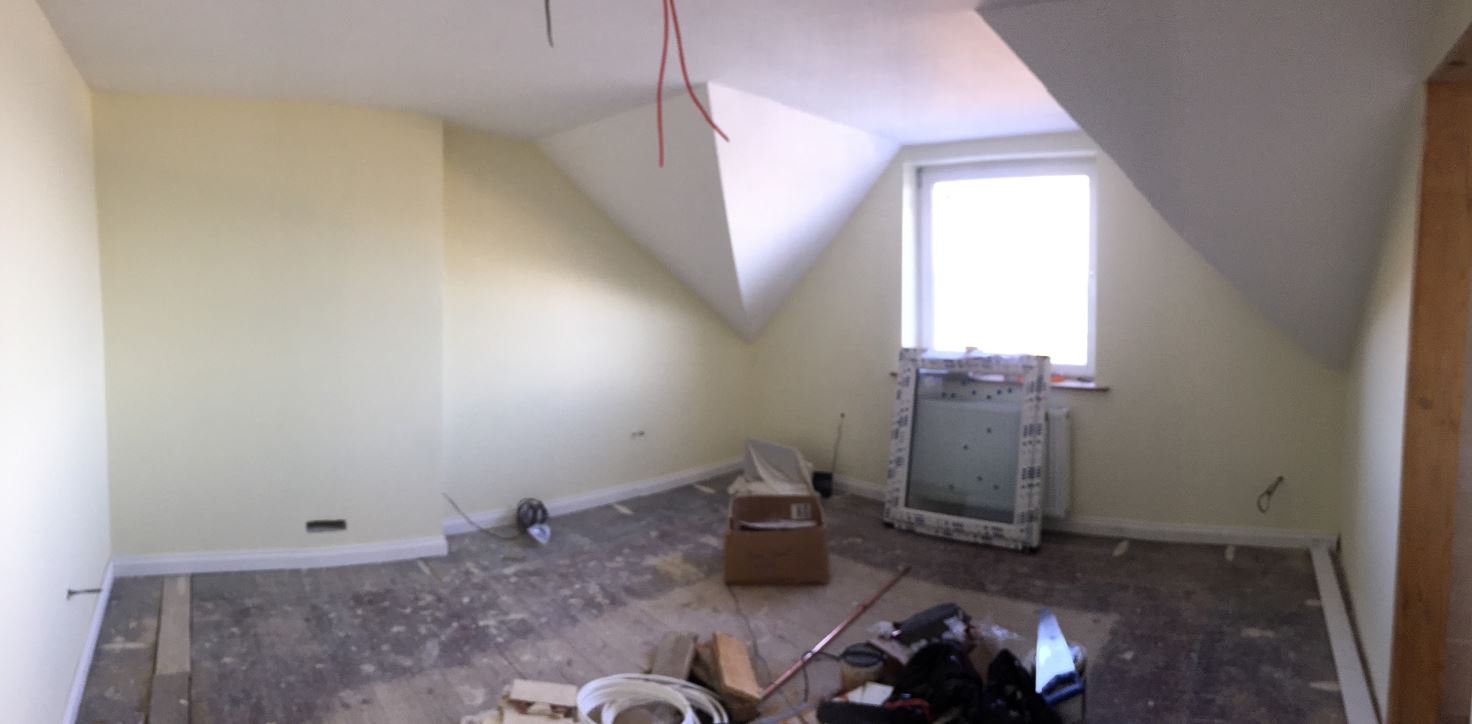 There are new double-glazing units throughout the hotel. In the photograph above you can see the new hard-wired smoke alarm detector wires.
The view from Sannox Hotel front looking east towards the mainland is a teat…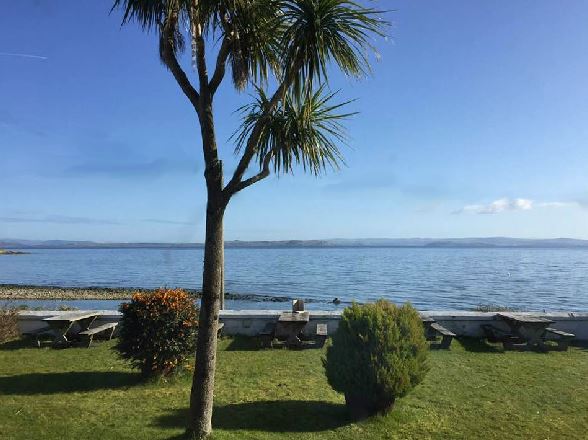 The ground floor of Sannox Hotel has an extensive area of flat roof. There is actually a good area of an extension which will incorporate the new "Ingledene Tearoom". The old bar is gone. The new manager is likely to seek a table licence in one form or another. Probably for wine with a meal. However, rural bars are in decline. For the sake of viability and amenity, the owners have opted to replace the bar by reformating the hotel to have three additional guest bedrooms plus staff accommodation and also a village shop. There are ample bars available elsewhere on the island .
First thing to repair on the ground floor was the horrendous make-do-and-mend patchwork of old tar that was well past its sell-by date…
Sannox Hotel: Tired Old Flat Roof Caused Significant Damage Below.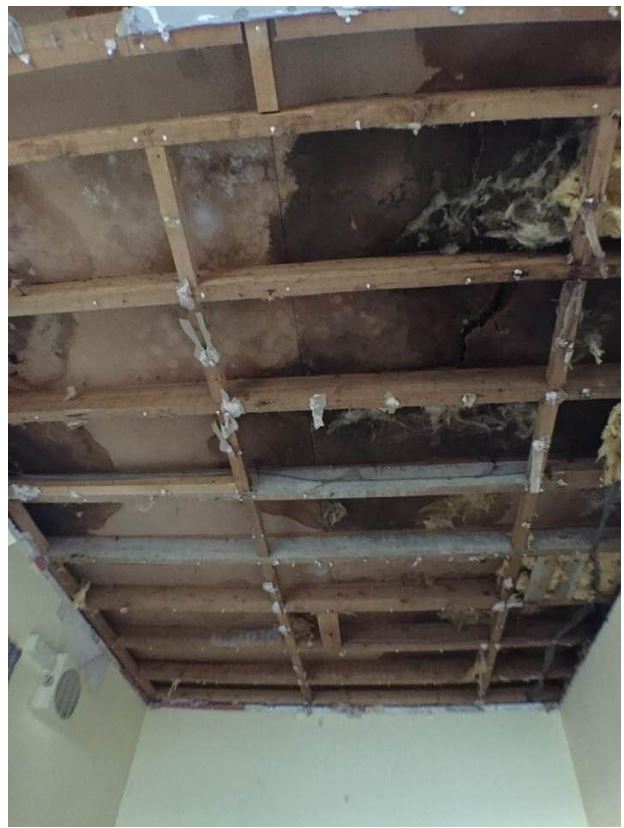 Flat Roof: Long Term Wet Rot Patches Are Self Evident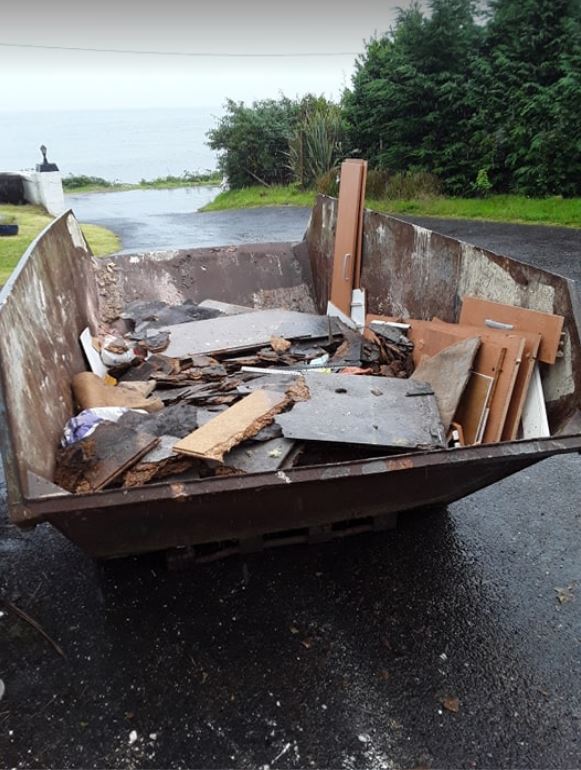 Good Bye Rotten Old Flat Roof
Hello new roof…
Full Flat Roof Renovation In Process
Both side and front of the hotel have extensive flat roof extensions.
Scotslion have renovated several lighthouse stations and have deployed at Sannox Hotel a special bonding system that is utilised with great success at flat roof lighthouse buildings which are exposed to 100mph gales.
New Flat Rood Bonded To Roofing Boards. Awaiting Lead Flashing.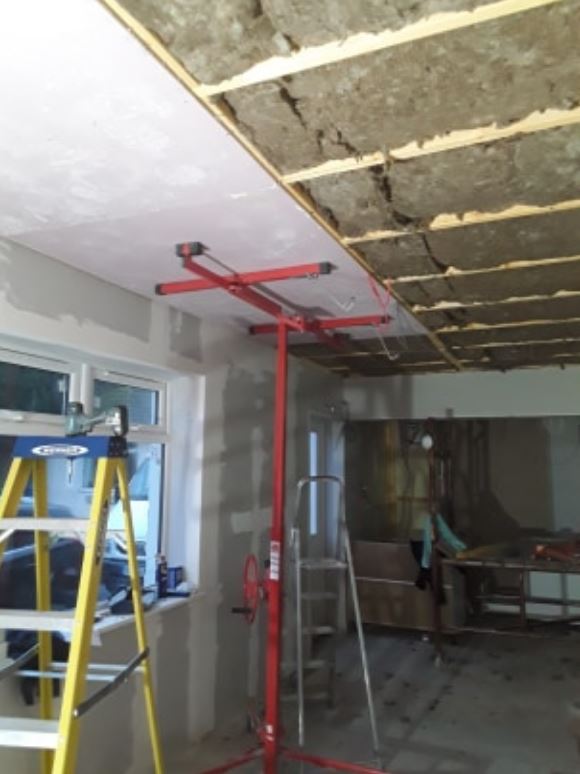 Inside The New Tearoom, The Ceiling Is Being Reinstated.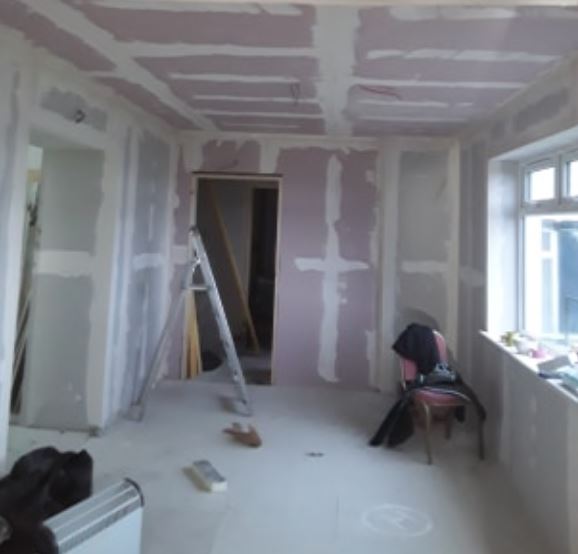 Fire Resistant Ceiling Panels To Meet Fire Regs.
This will be part of the tea-room area.
One of our earlier projects was converted from an old, derelict pub. Here is the before and after photographs of the coffee shop. We are looking for a similar design at the new Ingledene Tearoom.
The "Before" Photo (Argyll Pub Conversion)…
The "After" Photo (Argyll Pub Conversion)…
Hopefully, this earlier project we successfully completed in Argyll will give our readers and visitors an idea of what we are aiming for at the new Sannox Hotel and Ingledene Tearoom…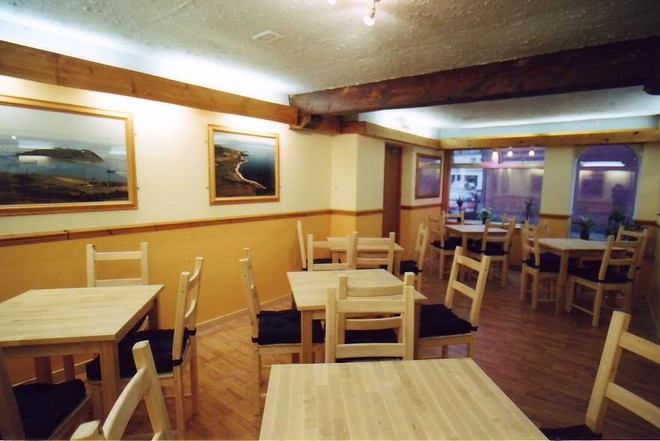 Scotslion Are Replicating This Design At The Sannox Hotel's Ingledene Tearoom
All aspects of the hotel functionality are being attended to, with brand new emergency fire system, new eco-efficient wall insulation; new central heating system, full rewire, new double glazing, replastered and redecorated throughout. All beneath an overhauled roof. A major renovation and new life for this fine old village hotel. These three photographs were taken at the start of 2020. The site manager is temporarily resident here. All that is needed are carpets + curtains + television, hospitality tray and some furniture.
All the first floor rooms are very close to completion and this addition of Bedroom 4 pictures show the readiness, and the view…
View From Bedroom 4: Sannox Hotel
This triumvirate of photos taken at the start of 2020 show the advanced stage of renovation work. This room along with all the other rooms in the building have been totaly renovated and very close to completion.
Bedroom 4: Sannox Hotel.
It is worthwhile emphasising that even though the Sannox Hotel will have just 8 letting bedrooms, there are a total of 44 rooms requiring extensive remedial work. This should ensure that the property has a tea-room plus shop and also a function suite as well as a commercial kitchen, and all the ancillary spaces required. For example, the new boiler house has what we reckon is a work of art by a very talented island-based  plumber…
The Boiler House: New Water Heating System.
We are delighted with the plumber contractor.
In our eyes, this is a work of industrial art.
As of January 2020, the Sannox Hotel renovation has reached the stage where the majority of structural work has been completed on the hotel and we are at second-fix + decorative and snagging stage in the next few weeks.
There is a new semi-detached owner's accommodation to be built in place of the tatty old conservatory. The replacement design is in the style and vernacular of the rest of Sannox Hotel and should have a more pleasing and natural appearance within the village setting. The newbuild owner's dwelling is being sourced from a timber frame specialist to be constructed offsite in kit form and should be built in fairly quick time once delivered.
We are working towards getting the hotel open for June 2020. But please check this website for updates and if you are considering booking a room, please TELEPHONE the hotel first: click here.
We would be upset if you travelled a long distance on the "chance" that the hotel has completed this marathon renovation, only to find you are a few weeks early and we are unable to accommodate you. Best e safe than sorry and get in touch first. Many thanks.
More photographs will appear here in due course. 
A View of Sannox Hotel & The Beach From The Mountains
Many of our guests will arrive, via Glen Sannox and be looking for nice warm, dry and fresh rooms to sleep in. After 18 months of hard work onsite, we are very much looking forward to providing this service.
---
Earlier Updates…
---
Name Change
This is a minor point, but we are shortening the name of this property to:-
"Sannox Hotel"
It will save wasting staff and visitor time having to repeat the word "Bay" again and again.
On signs and letterheads, there will be room for bylines extolling the fact the Sannox Hotel is fortunate enough to overlook Sannox Bay. This name shortening makes things a lot simpler.
Also, as a nod to the history of the building, we shall be naming part of it the:-
"Ingledene Tearoom"
Add the new:-
"Sannox Village Shop"
…into the mix and we hope that the current, sad looking site will be returning to a useful facility in the local community.
---
Earlier Updates…
---
Scotslion Update: September 2018
Sannox Hotel Project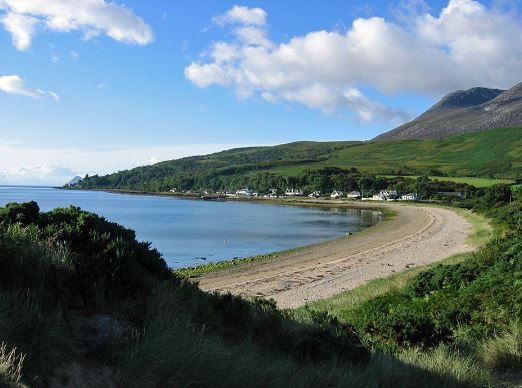 Sannox Bay. The Hotel Is Second Building In From The Right
Scotslion Ltd., is one of a dozen companies within our group structure. Our aim is simple:-
1] To purchase empty shops; closed down hotels, redundant factory units. Then refurbish them and provide newstart business with working capital and mentor these enterprises back into a meaningful existence. Thereby achieving our groups second objective…

2] To create jobs.
The Sannox Bay Hotel has been closed down for two years and is our latest purchase spanning a 20 year period. It is our 28th project to date.
Once the refurbishment stage is completed, there will be 6 permanent jobs at the hotel…

Sannox Bay Hotel + Sand + Sea + Scenery + Lots of Island Adventures
Firstly, we set about securing a top quality roofing contractor to repair and overhaul the roof at the hotel. Further specialist contracts were made to sort out a damp proof course and provide modern day specification insulation for what is a substantial building. There is a lot of work onsite, but we are confident that the hotel can be brought back to a meaningful life.
In addition we are considering the provision of a hotel SHOP. A modest facility where local residents of Corrie and Sannox, along with hotel guests and visiting members of the public can buy a pint of milk, a newspaper, some groceries and a selection of normal village shop items.
Our Scotslion/Real Dragons' Den group believes strongly in helping to keep local communities alive. Anyone who has read this website will understand it was local community desire to reopen closed buildings in local villages and towns that prompted us to start buying old closed buildings and renovate them. Thereby creating 111 jobs so far in the 20 years that these projects have been running.
A viable and fully functional village shop is one of the ingredients in helping to sustain the cohesiveness of local communities. Any local resident who has returned to their home in Sannox from shopping at Brodick and realised you have forgotten to buy a pint of milk can be particularly frustrated. A village shop halfway between Brodick and Lochranza is not too big a thing to ask for.
Before any naysayers suck their teeth and gripe that a village shop will not work, we would simply point out that our group of friends have reopened many closed shops and made many successes. If the overheads are kept right down and the shop managed well – plus local folk and visitors use it, then it will be viable. The saving grace for many shops we have helped reopen is the internet. The general retail element (customers through the front door) will help pay the overheads such as electricity/telephone/wages. If you add some internet retail into the mix, this can mean the difference between being viable and not.
If in doubt, check out our sister internet website (here).

That internet website bought our lighthouse station. Not a phrase you often hear. Surely this is proof positive that the world wide web is a powerful resource.

Why not harness that e-commerce resource to keep village shops open?
Only one way to find out? Open the hotel shop for a trial 12 months. If it is utilised and supported by local folk, then we will keep it going. If not, then it shall have an interesting, real life lesson to study and learn from. More details on this website in due course.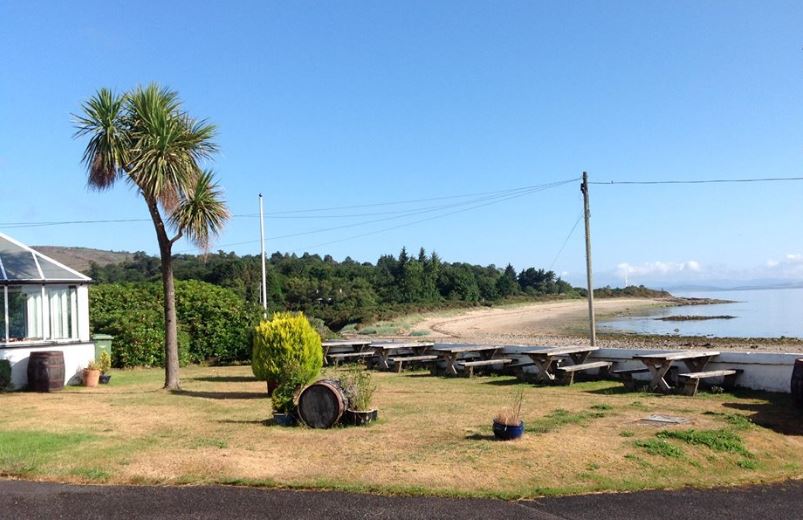 View From The Sannox Bay Hotel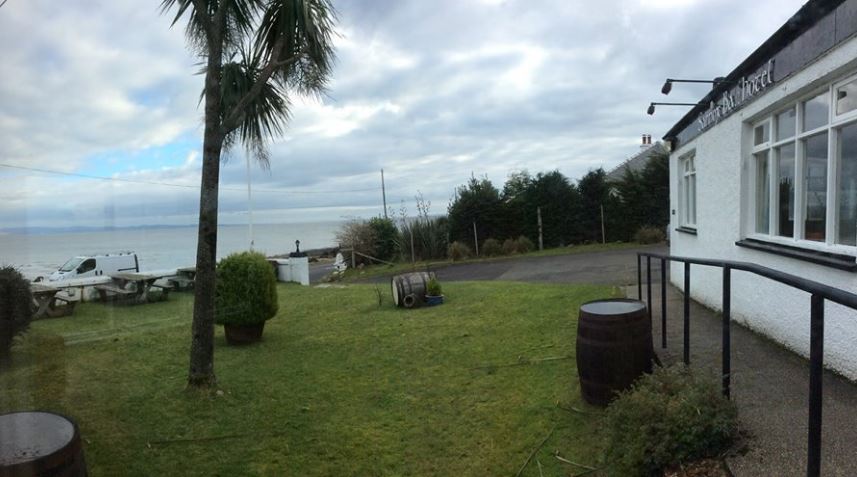 External Disability Access Is Good. Internally We Need To Improve This Element
The Sannox Bay Hotel has been kept in good condition during the period of closure…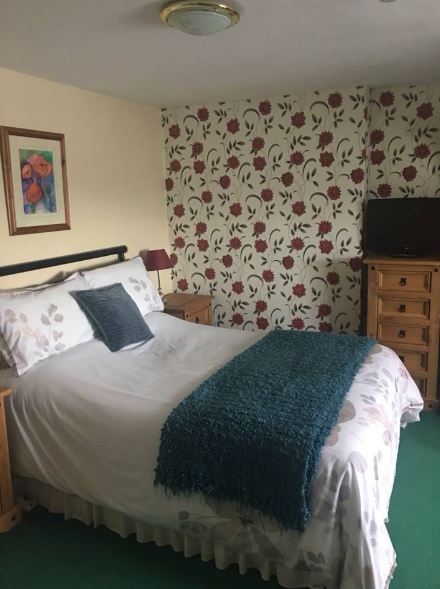 Sannox Bay Hotel – Ensuite Bedrooms Will Be Completely Overhauled
Sadly, the appearances held some long-standing issues with leaky roofs, worn-out double glazing, absence of insulation and pervasive damp problems.
The old electrical wiring including ancient "lead sheathed" (live) wires from the 1930s.
and needed completely replacing, as did the emergency fire system. The plumbing also neede completely renewing as did the central heating system.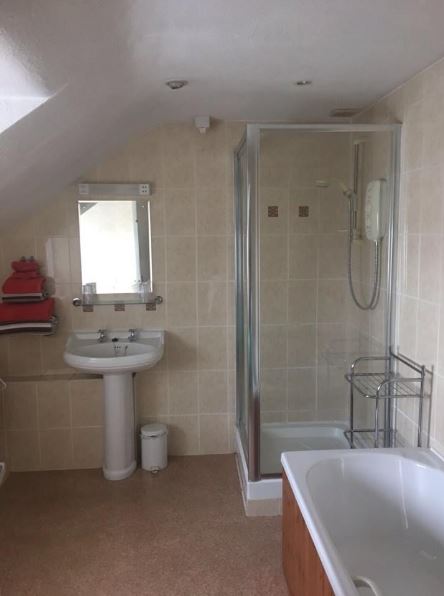 Sannox Bay Hotel: Ensuite Bath & Shower Rooms
There are also significant headaches areas requiring a major amount of repair work…
Previous Owner In The Middle of Refit
Sadly, the work started by the previous owners was unable to be completed. The hotel and it's owners/staff had a first rate reputation for excellent cuisine over their 14 years in business at this site. But the hard work seems to have taken a toll. Anyone who has run a hotel knows it is a great life, but not a job for anyone allergic to work. Just keeping a 100 cover restaurant plus a the bar and the rooms in a full operational state is hard enough.
Trying to maintain the building after a 16 hour day running the hotel had its challenges.
The fabric of the Sannox Bay Hotel is needing significant repairs in various areas such as the flat roof at the seaview lounge…
The Flat Roof Ceiling Coming Down By Itself Its Own!
The Sannox Bay Hotel has been bought by our group for renovation.
An example of tired and leaky roof shown by the patchwork tar and felt atop…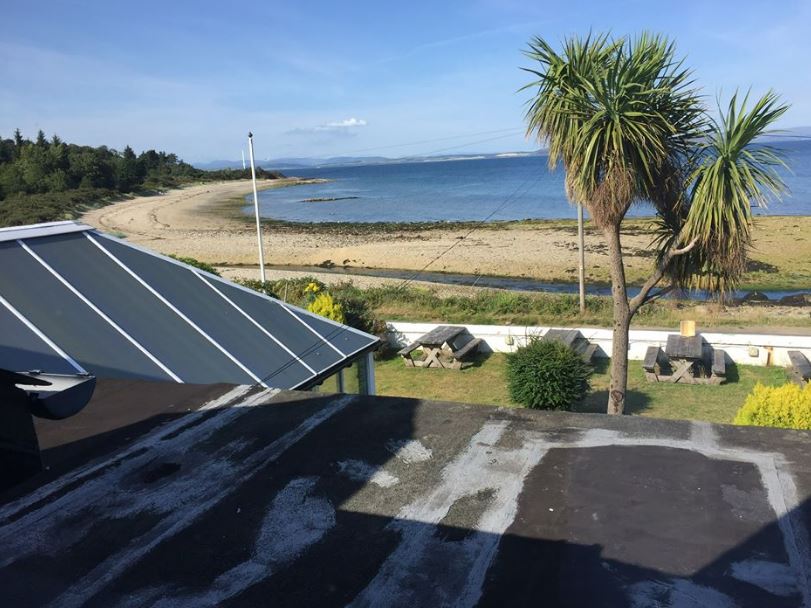 The Old Flat Roof Has Had Its Day. A Major Overhaul On The 'To Do' List
The reason we are comfortable with what might seem a bad thing, is it confirms to us exactly what work is needed. Especially the fact there was no insulation in the old flat roof.
So now, during the closure period, we can attend to the needs of the building. The parts of the hotel currently requiring works, such as damp proof course, modern day insulation, replastering and redecorating shall be included in the Schedule of Works.
Please don't forget, we are looking to hire two people to work with our team to help refurbish the building and also have several contractor led items to complete. Even if you aren't looking for a job, if you know someone suitably qualified, please can you let them know we are currently hiring.
Not just new jobs at the Sannox Bay Hotel refurbishment. We are already looking at other projects on the Island of Arran to reopen closed buildings and create jobs. There is a real buzz when we get to the stage of reopening and everything comes together. Where ever you are in the UK, we would highly recommend you give this sort of thing a go. This is the 28th project we have tackled. and with the exception of just one (a brief tenant who went off the rails), it has been great fun.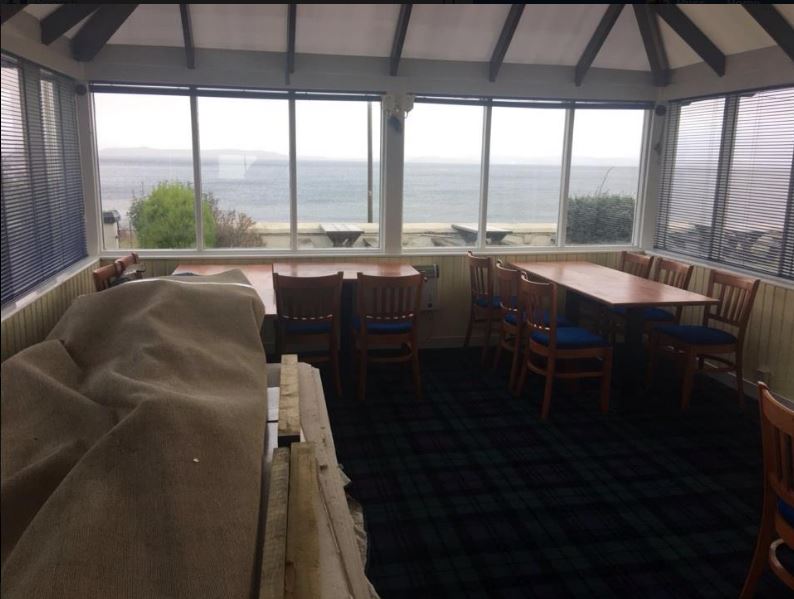 The Old Conservatory Before The Current Planning Permission
Granted A Newbuild Apartment: Click Here.
***********
---
Earlier Updates…
---
Local Stakeholder Consultation
For A New Village Shop + Post Office + Free ATM 
Here are some excerpts from the Island of Arran community Forum website. Membership 4,901 which is empirically 100% of the island. Though the numbers are far more sophisticated than that.
The new social media way of finding out local opinions online through social media works very well. Especially when we can then respond by listening and taking on board the one or two concerns thsatwe have found to exist from approaching our neighbours and friends pro-actively. 
For example by adding extra off-street parking and halving the number of covers in the restaurant halved. We spoke to our neighbours; we listened and we took solid measures to remedy their concerns.
Also replacing the bar with three new en-suite bedrooms hands other local restaurant businesses a fair chance of survival once the hotel re-opens.
Here Is The Arran Community Forum Narrative.
More detailed narrative for those friends, neighbours and islanders who were seeking further information…
***********
---
Local Stakeholder Consultation II
Knocking On Neighbours Doors &
Inviting Neighbours To Inspect The Hotel Renovation Progress
Twenty years ago when we started renovating old shops and hotels, we learnt very early on that a successfully re-opened business can harm other businesses and jobs that have become used to the extra business since that hotelo or shop closed down. So, ever since then, we make special efforts to visit local competitors and make best efforts to re-open our business in a way that avoids harming the jobs and services they provide.
We have finely tuned the number of restaurant "covers" and by halving those and closing the Sannox Hotel pub, we are endeavouring to ensure all businesses in the area continue to remain viable. That all can continue to employ people. Incidentally, the Sannox Hotel bar was already closed 5 years ago. We just won't re-open it as the Corrie Hotel as a perfectly viable pub in the twin village of Corrie next to Sannox.
Our interest is in creating jobs.
Many of us who live in towns and villages where the last village shop, or the last bank in town has been closed realise the damage tis does to the community. Jobs are lost, disabled and elderly folk have to travel miles on buses to secure even the most basic of services. There is a better way. We know this as each time we are told by someone: "that'll no work", the opposite becomes true. Local people do use local shops. It is important to keep rents low and get the business plans and numbers right, but we've had 22 good years of learning how to make these projects work.
Once the Sannox Hotel is re-opened, add that to our friend's project in Brodick and another of our HNW's efforts at restoring the Arbroath High Street building, and this year 2020, we should…
Achieve the 180 new job mark in our group of friends collegiate employment creation efforts.
None too shabby in the midst of the worst pandemic in 101 years.
---
Can We Help You To Create New Jobs?
Scotslion & Argyll Group of Companies: Head Office…
Contact Details: Click Here