Scotslion Project Number 28
The Sannox Bay Hotel – Refurbishment
When we have jobs and/or contract work, details will appear on this page….
UNFORTUNATELY, DUE TO AN ACCIDENT ABOARD THE CALMAC FERRIES  LTD., VESSEL MV CALEDONIAN ISLES ON 19TH APRIL 2019, EX-BRODICK 11.05, ONE OF OUR COMPANY OFFICERS WAS INJURED. THIS DETERIORATED INTO LIFE CHANGING BRAIN DAMAGE AND AS A RESULT, THE MAJOR REFURBISHMENT OF THE SANNOX BAY HOTEL IS UNLIKELY TO BE COMPLETED UNTIL THE BEGINNING OF 2020.
APOLOGIES FOR THIS DELAY. WE ARE STILL COMMITTED TO COMPLETING THE HOTEL TO A HIGH STANDARD AND REOPENING IT FOR COMMUNITY AND VISITOR USE + A NEW VILLAGE SHOP AS PART OF THE PLANNING PERMISSION, BUT THE ACCIDENT ABOARD THE CALMAC VESSEL HAS CAUSED A GREAT DEAL OF DISTRESS AND A SIGNIFICANT DELAY IN PROGRESSING THE SANNOX BAY HOTEL PROJECT.
Thankyou to all the kind people who have sent get-well cards and messages. These have been very much appreciated.
DUE TO THE POTENTIAL FOR BREACH OF SUB JUDICE RULES WE ARE UNABLE TO COMMENT FURTHER ON THIS INCIDENT ABOARD THE MV CALEDONIAN ISLES.
---
Sannox Bay Hotel – Major Renovation 2018-2019
Please call or text before visiting. Thank you.
Tel: 01770 810225.
or
Tel/Text: 07572 768795.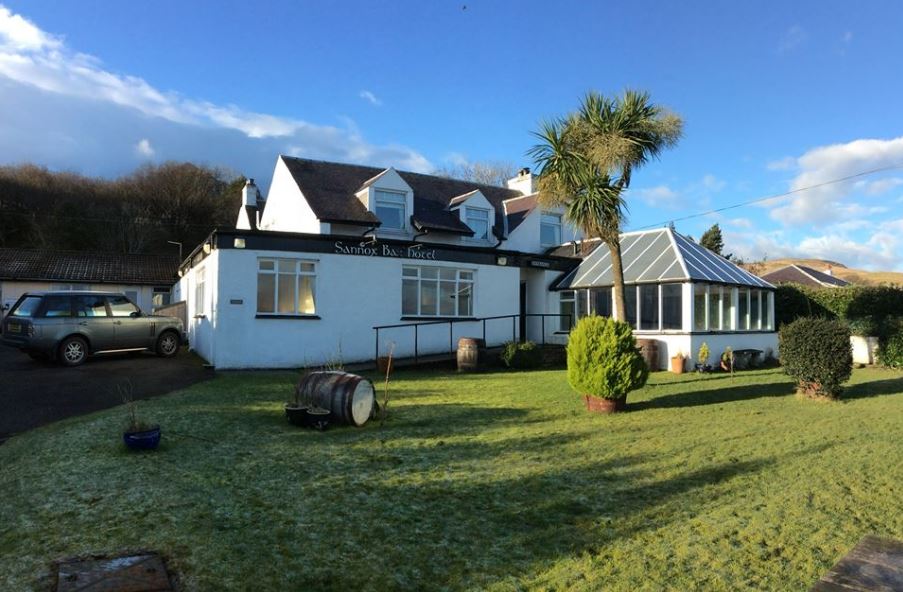 Latest Purchase: The Sannox Bay Hotel, Sannox, Isle of Arran, KA27 8JD.
We purchased the Sannox Bay Hotel in March 2018. It was closed down for 2.5 years before we bought the building.
It would have been very profitable to apply for planning permission to turn the hotel into 4 holiday homes. But our company feels very strongly that enough hotels have closed on Arran and been given away holiday home use.
So the decision was taken to apply for planning permission to re-open the hotel: fully refurbished.
More than just re-open the Sannox Bay Hotel: we are increasing the number of ensuite guest bedrooms, ensuring a tea-room is part of the new format. Keeping a restaurant element and function room for weddings. Even adding staff accommodation against the previous retrograde steps in earlier years/ownership of selling off staff accommodation for short-term profit to the holiday home market.

We are also ADDING a NEW VILLAGE SHOP at the Sannox Bay Hotel site.

To all those who suck their teeth and say "that'll never work" we offer this: our group of companies have re-opened in excess of 16 closed shops with a considerable record of success.
Village communities and town centres do not have to die.
With careful planning, and we commend North Ayrshire Council on this, it is possible to bring back hotels and village shops rather than surrender them for a quick buck and lose the heart of the community.
To view the full planning permission.
The Sannox Bay Hotel is currently undergoing a major renovation now: with brand new emergency fire system, new eco-efficient wall insulation; new central heating system, full rewire, new double glazing, replastered and redecorated throughout. All beneath an overhauled roof. A major renovation and new life for this fine old village hotel. 
***********
Name Change
This is a minor point, but we are shortening the name of this property to:-
"Sannox Hotel"
It will save wasting staff and visitor time having to repeat the word "Bay" again and again.
On signs and letterheads, there will be room for bylines extolling the fact the Sannox Hotel is fortunate enough to overlook Sannox Bay. This name shortening makes things a lot simpler.
Also, as a nod to the history of the building, we shall be naming part of it the:-
"Ingledene Tearoom"
Add the new:-
"Sannox Village Shop"
…into the mix and we hope that the current, sad looking site will be returning to a useful facility in the local community.
***********
Earlier Updates….
***********
Scotslion Update: September 2018
Sannox Bay Hotel Project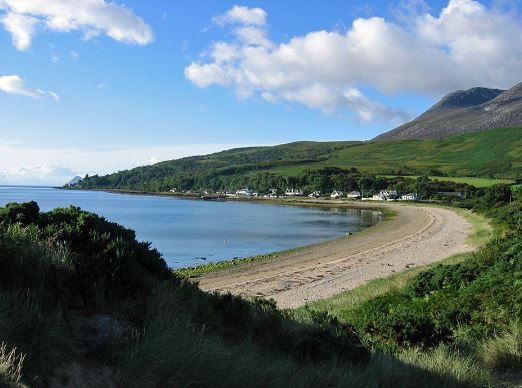 Sannox Bay. The Hotel Is Second Building In From The Right
Scotslion Ltd., is one of a dozen companies within our group structure. Our aim is simple:-
1] To purchase empty shops; closed down hotels, redundant factory units. Then refurbish them and provide newstart business with working capital and mentor these enterprises back into a meaningful existence. Thereby achieving our groups second objective…

2] To create jobs.
The Sannox Bay Hotel has been closed down for two years and is our latest purchase spanning a 20 year period. It is our 28th project to date.
Once the refurbishment stage is completed, there will be 6 permanent jobs at the hotel…

Sannox Bay Hotel + Sand + Sea + Scenery + Lots of Island Adventures
As for the Sannox Bay Hotel refurbishment, we shall be making efforts to increase the accessibility for people with disabilities. Three of our wider group of 366 shareholders and Scotslion/RDD/Argyll Group members have had various spinal surgeries and wish to visit the Sannox Bay Hotel. Plus it is incumbent upon us to ensure the premises are disability statute compliant.
We had originally aimed to have the hotel fully renovated and ready to reopen in time for Spring 2019. The guest bedrooms and dining facilities along with kitchen and rest-rooms will be completely refurbished.
UNFORTUNATELY, CALMAC FERRIES SENIOR MANAGEMENT HAVE BEEN UNABLE TO OPERATE A RELIABLE SERVICE FOR 14 MONTHS WITH 601 CANCELLED SAILINGS IN 2018. ADD THIS TO THE INJURY SUSTAINED BY ONE OF OUR COMPANY OFFICERS ABOARD THE CALMAC VESSEL MV CALEDONIAN ISLES ON 19TH APRIL 2019 WE ARE UNABLE TO COMPLETE THE RENOVATION OF THE SANNOX BAY HOTEL UNTIL THE BEGINNING OF 2020.
THE PROBLEMS AND DAMAGE CALMAC SENIOR MANAGEMENT ARE CAUSING TO THE WHOLE ISLE OF ARRAN ECONOMY HAS BEEN RAISED AT BRODICK HALL ON 9TH APRIL 2019…
***********
Sannox Bay Hotel Earlier Update
Firstly, and most importantly, we have to repair and overhaul the roof at the hotel. As well as sorting out a damp proof course and provide modern day specification insulation for what is a substantial building. There is a lot of work onsite, but we are confident that the hotel can be brought back to a meaningful life.
In addition we are considering the provision of a hotel SHOP. A modest facility where local residents of Corrie and Sannox, along with hotel guests and visiting members of the public can buy a pint of milk, a newspaper, some groceries and a selection of normal village shop items.
Our Scotslion/Real Dragons' Den group believes strongly in helping to keep local communities alive. Anyone who has read this website will understand it was local community desire to reopen closed buildings in local villages and towns that prompted us to start buying old closed buildings and renovate them. Thereby creating 111 jobs so far in the 20 years that these projects have been running.
A viable and fully functional village shop is one of the ingredients in helping to sustain the cohesiveness of local communities. Any local resident who has returned to their home in Sannox from shopping at Brodick and realised you have forgotten to buy a pint of milk can be particularly frustrated. A village shop halfway between Brodick and Lochranza is not too big a thing to ask for.
Before any naysayers suck their teeth and gripe that a village shop will not work, we would simply point out that our group of friends have reopened many closed shops and made many successes. If the overheads are kept right down and the shop managed well – plus local folk and visitors use it, then it will be viable. The saving grace for many shops we have helped reopen is the internet. The general retail element (customers through the front door) will help pay the overheads such as electricity/telephone/wages. If you add some internet retail into the mix, this can mean the difference between being viable and not.
If in doubt, check out our sister internet website (here).

That internet website bought our lighthouse station. Not a phrase you often hear. Surely this is proof positive that the world wide web is a powerful resource.

Why not harness that e-commerce resource to keep village shops open?
Only one way to find out? Open the hotel shop for a trial 6 months. If it is utilised and supported by local folk, then we will keep it going. If not, then it shall have an interesting, real life lesson to study and learn from. More details on this website in due course.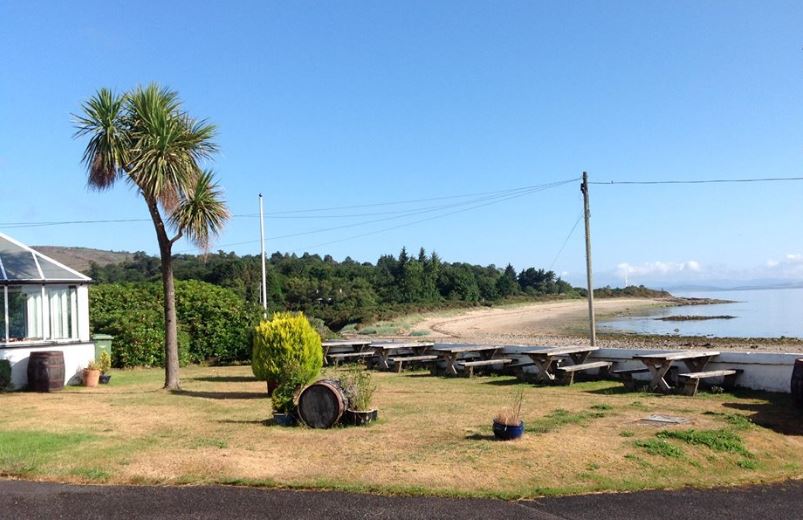 View From The Sannox Bay Hotel – July 2018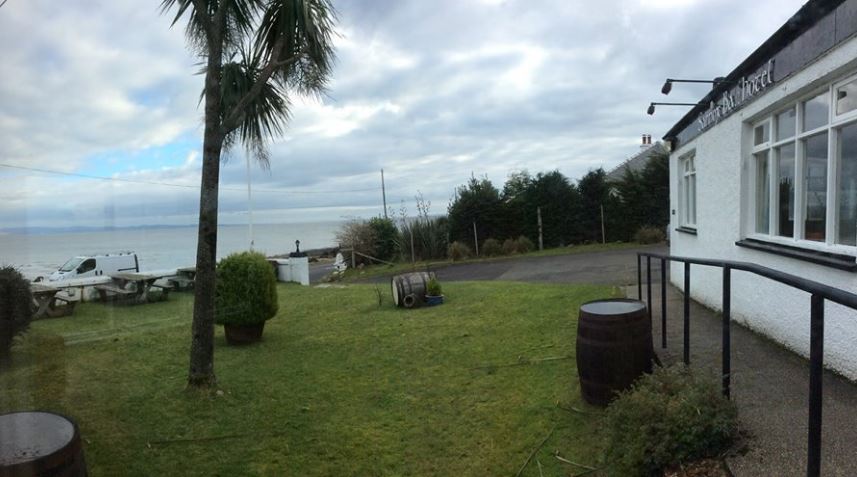 External Disability Access Is Good. Internally We Need To Improve This Element
One of the other key features of modern day life – including hotels – is the internet and virtual presence. We have now been fortunate in securing the lapsed domain name…
So if anyone wishes to see the latest news and update, we shall be ensuring the hotel's internet site goes live during the next few weeks. Please be patient whilst we get the dedicated Sannox Bay Hotel website back into full service.
Until the www.sannoxbayhotel.co.uk website is fully functional, we will post any updates on this, our Scotslion website. Please check back regularly for news,
The Sannox Bay Hotel has been kept in good condition during the period of closure…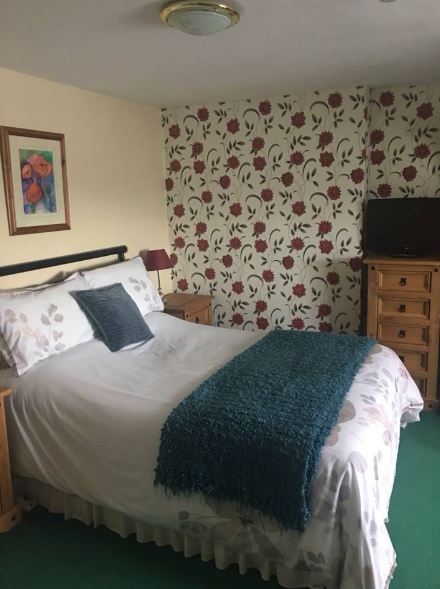 Sannox Bay Hotel – Ensuite Bedrooms Will Be Completely Overhauled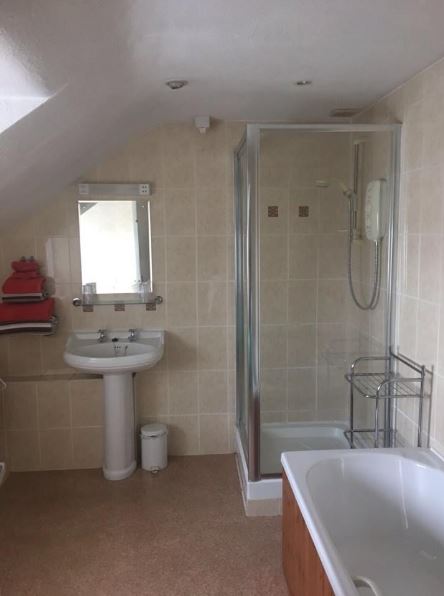 Sannox Bay Hotel: Ensuite Bath & Shower Rooms
There are also significant headaches areas requiring a major amount of repair work…
Previous Owner In The Middle of Refit
Sadly, the work started by the previous owners was unable to be completed. The hotel and it's owners/staff had a first rate reputation for excellent cuisine over their 14 years in business at this site. But the hard work seems to have taken a toll. Anyone who has run a hotel knows it is a great life, but not a job for anyone allergic to work. Just keeping a 100 cover restaurant plus a the bar and the rooms in a full operational state is hard enough.
Trying to maintain the building after a 16 hour day running the hotel had its challenges.
The fabric of the Sannox Bay Hotel is needing significant repairs in various areas such as the flat roof at the seaview lounge…
The Flat Roof Ceiling Coming On Its Own!
The Sannox Bay Hotel has been bought by our group for renovation.
An example of tired and leaky roof shown by the patchwork tar and felt atop…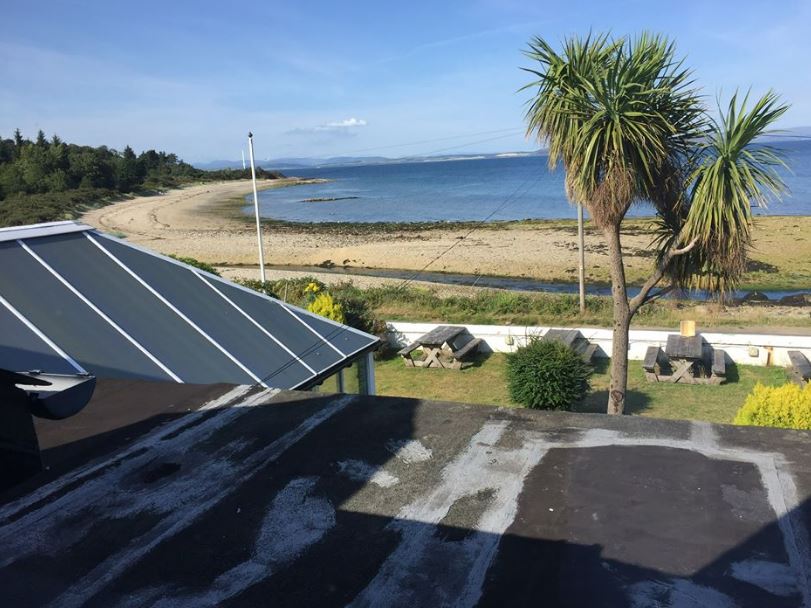 The Old Flat Roof Has Had Its Day. A Major Overhaul On The 'To Do' List
The reason we are comfortable with what might seem a bad thing, is it confirms to us exactly what work is needed. Especially the fact there was no insulation in the old flat roof.
So now, during the closure period, we can attend to the needs of the building. The parts of the hotel currently requiring works, such as damp proof course, modern day insulation, replastering and redecorating shall be included in the Schedule of Works.
Please don't forget, we are looking to hire two people to work with our team to help refurbish the building and also have several contractor led items to complete. Even if you aren't looking for a job, if you know someone suitably qualified, please can you let them know we are currently hiring.
Not just new jobs at the Sannox Bay Hotel refurbishment. We are already looking at other projects on the Island of Arran to reopen closed buildings and create jobs. There is a real buzz when we get to the stage of reopening and everything comes together. Where ever you are in the UK, we would highly recommend you give this sort of thing a go. This is the 28th project we have tackled. and with the exception of just one (a brief tenant who went off the rails), it has been great fun.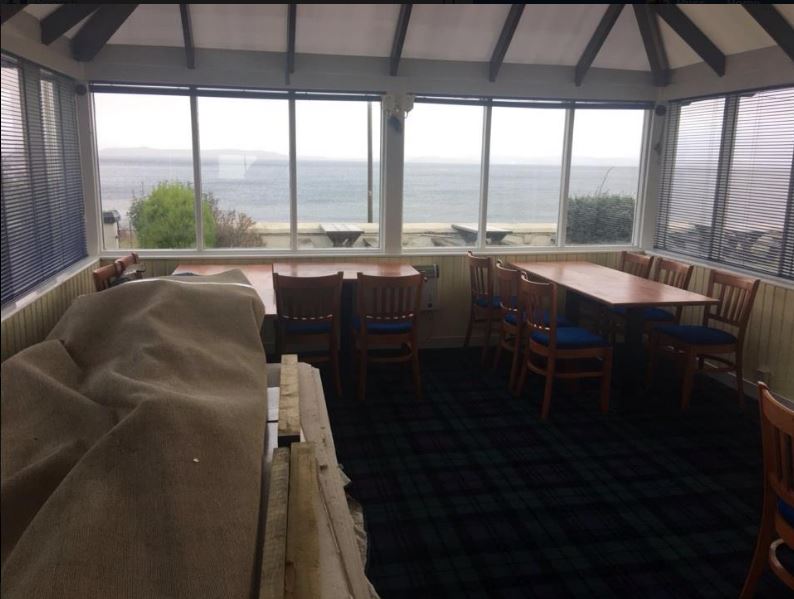 The Conservatory Is In Need of Repair & Overhaul
This page has been updated during May 2019.
Please Click Here For The Next Page