Are Parts of Your Town Centre Run Down?
Does Your Village Appear Tired?
Is the blight of closed down shops or disused hotels and boarded-up light industrial units?
We may have a remedy for you.
Scotslion/Argyll Group have created 111 new jobs during the past 20 years. If we can do this, there is a good chance you can too. This website contains details of several projects our group of companies and friends have completed, from which we hope you can derive some inspiration.
Regular updates will appear on this website. Please check back soon.
---
***********
Latest Renovation Project
The Sannox Bay Hotel, Island of Arran, KA27 8JD.
This is building restoration number 28 in our Scotslion/Argyll Group series. 

Sannox Bay Hotel, Isle of Arran. Closed Down Since November 2015.
We bought the tired old property on 28th February 2018 and have been renovating the building in the year since then.
When re-opened, 8 new jobs will be added to the current total of 111 Scotslion/Argyll Group jobs created across 28 projects since 1997.
There would likely be more profit converting the hotel into holiday flats. However, our company policy is not to just make a profit. Indeed we have gone counter-intuitive at the Sannox Bay Hotel and applied to open a NEW VILLAGE SHOP. This is in addition to retaining the hotel and restaurant. We have also added staff accommodation as this has been flogged off in the past by developers with the unfortunate result that happens quite a lot on Arran: both locals and off-island workers can't find somewhere to live that is commutable to their place of work.
There is still ample profit to go around. But rather than be greedy, there is a decent way to manage projects so everyone wins.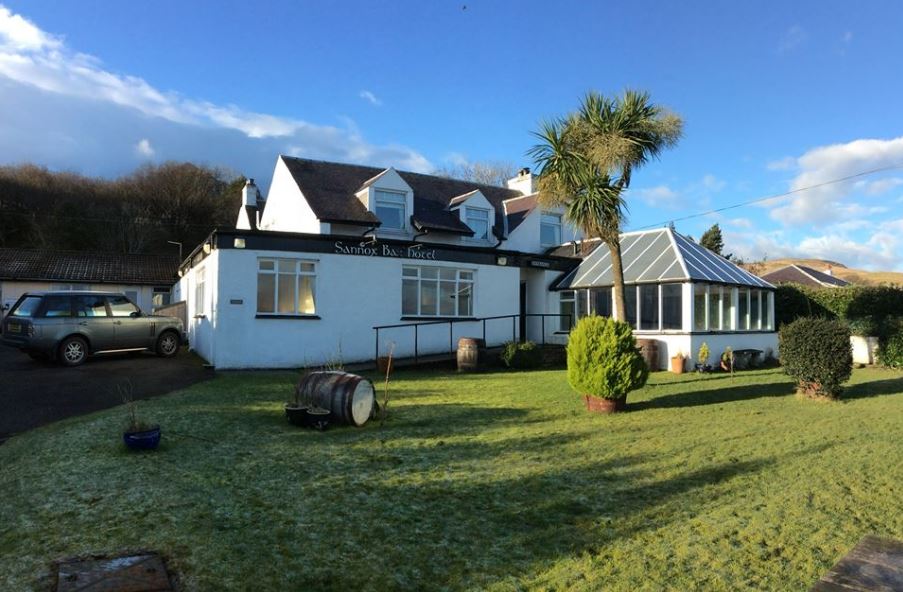 Sannox Bay Hotel on the Island of Arran. Major Renovation During 2018/2019.
For those who think that village and town shops are no longer viable, we have proven track record going back two decades. If the rents of our investment properties are kept at a fair level, and a good amount of mentoring and support given to newstart businesses, then they thrive.
Click Here to study the full planning permission.
Scotslion/Argyll Group would like to commend North Ayrshire Council, for a prompt, efficient and professional planning service.
The positive line of communication from North Ayrshire Council, and understanding that new jobs are important to the viability of local communities encourages companies such as those in our group to invest in other building renovation and job-creating projects in the North Ayrshire Council area.


To Study The Full Planning Application For Sannox Bay Hotel…
***********
---
Earlier projects…
Scotslion Ltd
Part of the former Argyll Group plc
Within the pages of this website, we share proven ways to help reopen empty shops, closed down hotels, defunct industrial units and other disused premises. Plus create jobs and enjoy the process.
For example, in 2002 the subscribers to this website purchased a derelict old pub in Argyll:-
Condition Before…

Condition After…
The interior of this old, derelict pub looked dire. It was notoriously dark and miserable – even when it was trading as a pub. The entire building was transformed after several months' hard work. The interior having every wall, floor and part rebuilt. The exterior was also overhauled; including new double glazed windows from a local company. Where possible, we make best efforts to buy locally and employ contractors from within the community.
In the instance of this old pub, of special importance was to banish the dark, notorious, seedy interior elements…
Condition Before…
Condition After…
12 Jobs Created
A blot on the town centre landscape became very busy and useful again.
The old pub was turned into a coffee shop and became busier than we could ever have imagined. An accidental success.
Not least but the purchase and eventual resale figures may be of interest to readers elsewhere in the country who are considering renovating eyesores in their town centres. The old, 3 storey public house could be located in anystreet, anytown across the UK. The net profit from this renovation project was then paid forward to the next job-creating endeavour.
Argyll & Bute Council are to be commended for their support in the planning process to transform a closed useless building into what became a very popular coffee bar and restaurant.
Scotslion director, David Rutherford spent 8 months between 2005 and 2006 project-managing the renovation works at this Bolgam Street site in Argyll and commented…
"It took a great deal of literal blood, sweat and tears to get this dingy old derelict pub back to a decent use. We were all surprised at how busy the place became and how soon the business grew." 
There is no shortage of closed shops and empty business premises. The internet giants such as Amazon and Ebay have nudged great institutions such as Woolworths into bankruptcy (here in 2008). In the Woolworths example we site, their old, closed shop buildings still exist. Indeed many have re-opened under different owners (here).
That is the point: shop closures do not have to be permanent. Don't you submit to letting the last pub; last bank or last shop in your village close.
If our group of friends and colleagues can do this and become unintended business angels, perhaps you might like to do something similar in your community? Bringing life back to closed buildings and businesses where you live.
Since 1999, the subscribers of this endeavour have renovated and re-opened 27 closed business premises so far, with number 28 on the way. Currently in excess of 111 new jobs created by our small group of family and friends.
Our intention on this website is to narrate many of the actual, real-life adventures completed by our small group. We aim to help others, if and when they consider dipping a toe into their own community, where old, tired empty buildings need to be brought back into a meaningful life.
To make all of this building renovation and job-creation effort work, a core project-management team with the requisite skillset is essential.
But to illustrate a fact that most regular folk can make a difference, we have a full spectrum of folk involved in these projects. An…
Architect, airline pilot, army officers, harbourmaster, firefighter, master mariner, teacher, farmer, police officer, doctors, IT consultant, chief engineer, Royal Navy officers, author, sailors, solicitor, accountant, nurses, university lecturer and paramedic amongst a distinguished list of professions within our tight-knit group of friends.
All of whom regularly join together and make these projects happen. Refurbishing and reopening closed buildings. The part where new jobs are created gives every one of us a thrill and can become addictive. Twenty-two years after the first project and we are permanently hooked. We all have jobs in other industries/sectors. We just choose to have this hobby as one of our favourite pastimes.
There is a real buzz each time a sad and tired old building is brought back to life.
That energy is boosted immensely when there are new jobs for folk created in the process.
Two Closed Shop In Alyth, Perthshire Renovated & Reopened
Book currently out of print. Online edition being made ready during 2020.
Whether accidental success or planned, please don't let your town centres just die off through lack of interest. We hope the various projects being added to this website help to inspire you to consider buying that last bak or pub or shop in the village and having an adventure getting it re-opened. Just pick up a copy of Yellow Pages and study the thousands of businesses in there. Surely one would fit in that closed down premises near to you.
Are you willing to take on the challenge of bringing you village/town back to life?
***********
---
Lighthouse Picture At The Head of This Page

Readers may wonder why Scotslion Ltd., has a lighthouse building at the top of our website and also affixed to the work vans and on signboards at the location at our building sites throughout the country. This lighthouse is where the company headquarters are located: Tower Office, Noss Head Lighthouse Station, Wick, Caithness, KW1 4QT.
Although due to the disability of a core, founding member, we are looking to move our office headquarters to the Angus/Aberdeenshire/Perthshire/Tayport area.
There is a £100 finders fee if you can locate a building that Scotslion/Argyll Group/Unique Property Bulletin progress to the point of purchase…
If you know of any suitable, old, closed buildings for sale, ideally with some character and uniqueness, please can you let us know…
David Rutherford. Tel/Text: 07791 342742.
Or post to our current office:-
Tower House, Noss Head Lighthouse Station, Wick, Caithness, KW1 4QT
Thankyou.
***********
---
Earlier Updates
Time For Tea & A Read?
Perhaps make yourself a cup of tea and read some of the real-life ventures we have to share with you. It is possible to get the closed buildings back to life and create jobs in the process. 

Curious?
Would you like to re-open a closed down shop, hotel, library, cinema, village hall or light industrial unit near to you?
Perhaps time to put the kettle on, make a cup of tea, and spend half an hour with us, reviewing some of the Scotslion and Real Dragons' Den adventures.
You never know, it might be something you take a shine to. If you do decide to take on a similar project to the ones we describe here, please let us know how you get on?
–new server 2019–