Are Parts of Your Town Centre or Village Looking Tired & Run Down?
Do you have a blight of closed down shops or disused hotels and boarded-up light industrial units?
We may have a remedy for you.
Scotslion/Argyll Group have created 111 new jobs during the past 20 years. If we can do this, there is a good chance you can too. This website contains details of several projects our company and group of friends have completed and from which we hope you can derive some inspiration.
Regular updates will appear on this website. Please check back soon.
***********
Latest Renovation Project
The Sannox Bay Hotel, Island of Arran, KA27 8JD. 

For Sannox Bay Hotel News.
**********
*
Earlier projects…
Scotslion Ltd
Part of the former Argyll Group plc
Within the pages of this website, we share proven ways to help reopen empty shops, closed down hotels, defunct industrial units and other disused premises. Plus create jobs and enjoy the process.
For example, in 2002 the subscribers to this website purchased a derelict old pub in Argyll:-
Condition Before…

Condition After…
The interior of this old, derelict pub looked dire. It was notoriously dark and dingy – even when it was trading as a pub. The entire building was transformed after several months' hard work, with the interior having every wall, floor and part rebuilt. Of special importance was to banish the dark parts…
Condition Before…
Condition After…
12 Jobs Created
A blot on the town centre landscape became very busy and useful again.
The old pub was turned into a coffee shop and became busier than we could ever have imagined. An accidental success…
Not least but the purchase and eventual resale figures may be of interest to readers considering renovating eyesores in their town centres…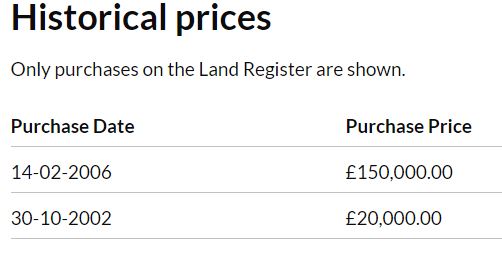 This old, 3 storey public house was bought for £20,000 in 2002 and sold in 2006 for £150,000.
If we can do this and become unintended business angels, perhaps you might like to do something similar in your community? Bringing life back to closed buildings and businesses where you live.
Since 1999, the subscribers of this endeavour have renovated and re-opened 27 closed business premises. Currently in excess of 111 new jobs created by our small group of family and friends.
Our intention on this website is to narrate many of the actual, real-life adventures completed by our small group. We aim to help others, if and when they consider dipping a toe into their own community, where old, tired empty buildings need to be brought back into a meaningful life.
If our group of family and friends can manage over two dozen successful property projects and create in excess of a hundred new jobs, you might like to give this style of enterprise a go too. 
A core project management team with the requisite skillset is essential.
But to illustrate that most folk can make a difference, we have a soldier, sailor, solicitor, accountant, architect, harbourmaster, firefighter, airline pilot, master mariner, teacher, farmer, police officer, doctor, IT consultant, and paramedic in our tight-knit group of friends who regularly join together and make these projects happen. Refurbishing and reopening closed buildings. The part where new jobs are created gives every one of us a thrill and can become addictive. Twenty one years after the first project and we are hooked. Perhaps there are empty buildings in your town just waiting for you to take on such a challenge?
***********
Lighthouse Picture

Readers may wonder why Scotslion Ltd., has a lighthouse building at the top of our website and also on location at our building sites. This lighthouse is where the company headquarters are located: Tower Office, Noss Head Lighthouse Station, Wick, Caithness, KW1 4QT.
***********
Earlier Updates
***********
Latest Project – Number 28
Sannox Bay Hotel
The current renovation site for Scotslion is on the beautiful island of Arran: Click Here for the dedicated page and news.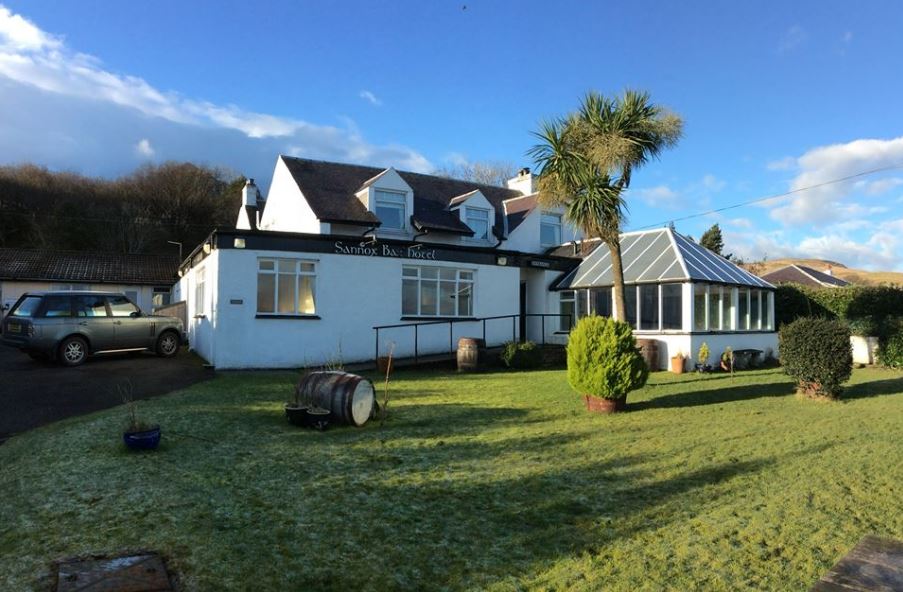 Sannox Bay Hotel, Isle of Arran.
This is close to the founder of Argyll Group plc's childhood home at Blackrock House B&B, Corrie. So in a way, the whole journey of 28 building renovations has come full circle – half way around the world in fact – and returned to Corrie & Sannox.
At the time of updating this website, North Ayrshire Council have been very helpful and just granted Full Planning Permission to completely renovate the Sannox Bay Hotel, adding 3 new ensuite guest bedrooms taking the total up to 6. Placing the owner's accommodation on the ground floor in order to accommodate a disability problem (spinal surgery). There will be a new restaurant area and tea-room for light bites. Increased car parking at a new layby will add four much needed parking spaces (on the hotel side of the road). Parking might not appear that sexy, but it is especially important in ensuring the business' viability.
Scotslion have added an extra ensuite bedroom for a staff member and hope to increase the facilities to 2, possibly 3 staff bedrooms. The provision of accommodation for folk who live and work on the island is a controversial issue. The new 97 guest bedroom hotel development in Brodick has been heavily criticised for having a meagre 5 staff bedrooms (here).
A favourite part for our group – swimming against the flow of shop closures and dying High Streets is the addition of a new village shop at the north side of the Sannox Bay Hotel.
The received wisdom, at least from those teeth sucking Victor McMeldrew types is: "a village shop will never do".
Well after renovating and re-opening 16 closed-down shops in the UK and overseas during the past 20 years, we've learnt a thing or two about keeping them open. The pages of this website are intended to help others do the same and will cover several techniques to ensure new and/or reopened shops are kept viable. As for the Sannox Bay Hotel renovation and opening a brand new village shop, we aim to make a point. They can work and stay in business. Victor might change his catchphrase…
Uniquely, you might just ask the man himself.
Actor Richard Wilson played the curmudgeonly Victor Meldrew in the television series One Foot In The Grave for 11 years.
What many folk, don't know is that Mr Wilson spent several holidays at the Ingledene Hotel during his formative years (here). That hotel is now named the Sannox Bay Hotel and we got in touch with Mr Wilson's agent to ask if he would do the honours when the time comes to re-open the renovated hotel. Things are looking good on that front.
PLEASE NOTE
THE SANNOX BAY HOTEL WAS SCHEDULED TO REOPEN AUTUMN 2019
BUT DUE TO PROBLEMS CAUSED BY CALMAC FERRIES THE REOPENING DATE OF THE SANNOX BAY HAS BEEN DELAYED.
SO PLEASE CHECK WITH THE HOTEL BEFORE TRAVELLING
Tel: 01770 810225.
or Text: 07572 768795.
The Sannox Bay Hotel renovation process is being completed thoroughly and we want to make sure it is held to a decent standard. The hotel had been closed for two and a half years before we bought it. In our view, better to ensure that the building is fully restored to its former glory, than open prematurely with a job that isn't top notch.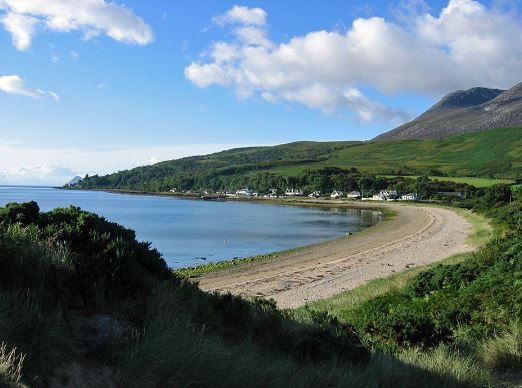 Views Across Sannox Bay, Isle of Arran.
The hotel roof is being overhauled/replaced where necessary; new double glazed windows installed; rewired; replumbed; full thermal insulation in all interior/exterior walls, as there are many folk walking down Glen Sannox, we want to make sure they the first hotel they see, is warm, clean, freshly decorated and comfortable. Conversely, it is crucial to the viability of the hotel to make sure that extensive insulation means the heating bills don't cause the finances to go out of kilter. The old plastic roofed conservatory is being rebuilt with a slate roof to fit in with the Isle of Arran vernacular. Plus a host of other improvements. More details to follow, within the interior pages of this website.
***********
Disrupted Projects
Lochmor at Noss Head Lighthouse Station. Photo from Russ McLean.
A heartfelt thank you to friends and family following recent accident. Apologies for the delay in Unique Property Bulletin and other projects. Your kind messages have been incredibly important during recovery. Now out of hospital. Will endeavour to answer all of these, and also many emails in the backlog. Very best wishes, Russ.
***********
Time For Tea & A Read?
Perhaps make yourself a cup of tea and read some of the real-life ventures we have to share with you. It is possible to get the closed buildings back to life and create jobs in the process. 

Curious?
Would you like to re-open a closed down shop, hotel, library, cinema, village hall or light industrial unit near to you?
Perhaps time to put the kettle on, make a cup of tea, and spend half an hour with us, reviewing some of the Scotslion and Real Dragons' Den adventures.
You never know, it might be something you take a shine to. If you do decide to take on a similar project to the ones we describe here, please let us know how you get on?
–new server 2019–