Real Dragons' Den
Here we share proven ways to help reopen closed shops and other premises, plus create jobs and have fun in the process.
If we can do this and become unintended business angels, so might you in your community. Bringing empty shops, failed hotels, and disused factories back to life.
Since 1998, 24 closed business premises have been re-opened and over 100 new jobs created.
But there is much more to Real Dragons' Den than that. You are warmly welcome to study these pages and perhaps have an adventure yourself. If we can help you re-open closed buildings and create new jobs in your community, please feel free to get in touch: click here.
Our Real Dragons' Den Group Purchased The Putechan Lodge Hotel In 2001
This was a relatively easy project to progress with the help of an exceptionally talented manager. Eight Jobs created.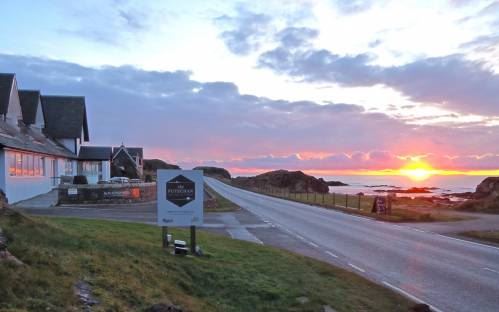 The Putechan Lodge Hotel, Kintyre, Argyll, PA28 6QE
The sublime seaviews across the Atlantic made this a delightful project to be part of.
The Putechan Lodge Hotel was the fourth hotel in our Real Dragons' Den series. One of the favourites due to location, condition of the buildings and the fact a beautiful segment of the seashore that was included in the purchase.
The Putechan Lodge Hotel, Kintyre, Argyll – Title Deed Plan
This amazing property had the rarity of seashore being included. Many memorable walks were enjoyed there. Business Angelling is a very enjoyable vocation.
This Real Dragons' Den and Business Angel process started quite by accident. Way back in 1998 when three friends bought a closed-down, derelict hotel on the Mull of Kintyre. An accidental £76,000 profit from this purchase and resale was made. More of that financial good fortune later in this journey. For now we summarise the Real Dragons' Den general essence on this front page.
If you give yourself a spare hour or so to read the details within this website, you may well end up replicating the sorts of project we have managed to complete. Many jobs and a decent level of profit can be created along the way. The essential process is to buy an empty building, refurbish it, supply a modest amount of startup to help the tenant (if needed). Add some business-angel style mentoring. Then generally after a year or two, the tenant is offered the opportunity to buy the building. If they prefer to continue renting, we sell the property with tenant in situ, and roll the funds into the next property re-opening initiative. A by-product of these resales are profits. If you apply some of the positive lessons learned on this website, you should end up creating jobs. You might also repeat our £76,000 profit, or the £54,500 profit. Perhaps even the £130,000 profit and more. Curious? Read on.
Example of Real Dragons' Den Refurbished Premises.
Reopened & Two New Jobs Created.
An example of one old shut-up shop brought back to life is shown in the picture above. Trading as a branch of RS McColl newsagents for decades before it closed-down. The property then lay empty for several years. Blighting an otherwise pretty part of town – complete with seaview, as can be seen with the interactive Google Streetview: click here (if you are accessing this from a mobile phone and the Google site flickers, just click the phone picture icon at the bottom right of your screen to correct this). 
After we purchased and refurbished the old newsagent shop – then got it back open, our photographer was taking the picture, as shown above. He waited several minutes to try and get a 'clear' image of the reopened building. Then it dawned on him – the photograph being 'blocked' by 6 people looking in the windows (plus 3 customers inside) vividly show how busy the place has become since being brought back to commercial life. Even the Labradors were having a look! Two new jobs created here.
In addition to purchasing and refurbishing empty shops, closed hotels and boarded up industrial units, we have also supplied seedcorn capital. A couple of thousand pounds here, several thousand pounds elsewhere. Though we do insist that new business startups raise 50% of the operating capital themselves. Not borrow it, but create it by demonstrating some business acumen in the first place.
Moving on – this website aims to show the full range of properties tackled and job creation efforts made, when friends and colleagues group together and decide to take action. This venture capital and business-angel process is something you might like to consider for your own town and community.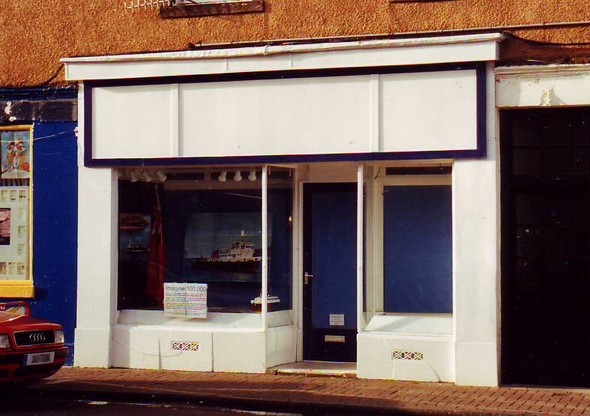 Just One Shop of Many Before Refurbishment – 30% Of Our High Street Was Closed Down – Something Needed To Be Done.
Photograph (c) 2003 Argyll Group plc.
The above empty shop is an all too familiar a sight in any High Street to be found in England, Wales, Scotland and Northern Ireland. Do you have blots and eyesores on your local Main Street? There is a great deal of enjoyment to be had bringing them back to life. Plus there are several cases of accidental profits to consider too. Read on to find out the ways and means…
*************
How Are Closed Businesses Brought Back To Life?
Can the Real Dragons' Den style of process help your community?
In our updated 2017 website, we detail some of the 24 closed buildings brought back to life since 1999 by our group of friends and family – plus the next project (number 25: click here) and the one after that (number 26: click here). The purpose of this website is to illustrate how we have progressed, and encourage other communities to follow a similar path. To reverse the trend of High Street shop/business closures and loss of community facilities. When you study how this happens, it shows a process that isn't actually very hard. We trust that this website can be of use to others wanting to re-open empty shops, closed hotels and bankrupt industrial units in their community.
The biggest buzz we get is when the jobs are created. Followed by a close second – seeing buildings that have fallen into disrepair being renovated and reopened.
One of Many Empty Premises Brought Back To Meaningful Use.
Photograph (c) 2009 Real Dragons' Den.
The two shops pictured above were numbers 23 and 24 in our process. Both refurbished from being empty, closed and cold. Then reopened with some modest venture capital support in 2009. One shop as a bridal salon, the other as a printing and publishers, plus bookshop. After a couple of years, both businesses moved, and there is a new occupant in the form of a dentist. In fact, three dentist and three staff work here (as of 2017). 6 new jobs now where there were none when we bought the empty building.
New Dentist In Town. Our Most Recent Shop Reopening Here. Picturesque Location.
Photograph (c) 2012 Real Dragons' Den.
So how have a small group of friends managed to create dozens upon dozens of jobs and bring life back to so many old, closed buildings? Who does this sort of thing? The main subscribers' primary professions are disparate…
Our group of business angels include a doctor, a firefighter, a harbourmaster, an army officer, a university professor, a retired police officer an electrical engineer a college lecturer; an airline pilot a merchant navy chief engineer and an architect to indicate just a few of the professions amongst our 17 core members.
Indeed since we ended up being obliged to establish a public limited company (plc) in 1999 for several years, this has ensured our resource of people mentoring newstart businesses has grown. We now have some 72 friends and colleagues within the rebooted Real Dragons' Den group. A wealth of experience to help support a broad range of business start-ups.
This whole building refurbishment and job creation endeavour came about by accident. Beginning with that £76,000 profit mentioned from the old Keil Hotel on the Mull of Kintyre. Not bad for a hobby gone wrong. Plus the whole process has been cost-neutral to the taxpayer. Of significant note along the journey is the fact that we have found High Street banks do NOT come out of this with any glory. The provision of finance to new businesses is so very important to what we, and others do. What many involved in starting a company struggle with…
Funding
The provision of start-up capital and operating finance is crucial to the whole process. So much so, that we have devoted a specific section on funding for new business. Including the role played by the banking industry. In fact we ended up buying an old, closed bank branch to make a very pertinent point. This is covered in the forthcoming pages.
We Bought An Old, Closed Bank – Partly To Make  A Point.
Photograph (c) 2006 Real Dragons' Den.
Banks are vital to business. From the survival of a small corner shop to the workings of a public limited company. Yet instead of supporting new ventures and jobs – the lifeblood of society, the banks are behaving in a disgraceful manner and closing viable businesses to satisfy their corporate greed. Fact: click here. Without a decent and properly functioning banking system, small businesses will fail. New companies will be killed off before they have a chance to become established. It doesn't have to be this way: just check out what happens when newstart businesses are nurtured: click here. Tens, then hundreds, even thousands of jobs are created.
The UK banking sector have been so bad for so long, that our group have managed to deliberately function without bank mortgages since 2001. In fact we have thrived after giving banks their P45 marching orders. We now prefer 100% equity. No more bank loans. Once we stopped being slaves to greedy banks, our business and that of others we share a similar path with have flourished. So much so, this was one of the reasons we had to progress our venture into a public limited company (plc).
More importantly than our own part of these endeavours, many other start-up companies have benefited directly from avoiding Dickensian banks. Dumping the bank mortgage system of lending on commercial property and replacing it with the pooling of family and friends' resources has worked extremely well. Though for the avoidance of doubt and to defer to regulatory statutes by which we must all abide, there is always a risk in what is effectively an investment. Whether it be 3 members of a family or a fully fledged plc, folk looking at this sort of process should take independent financial advice.
It isn't just the reopened shops and hotels, or the dozens of jobs created. These new businesses we help to get started all pay tax – VAT, Non-Domestic Rates, Corporation Tax, PAYE, Excise Duty, Road Fund Duty, Insurance Tax etc. Without this civic/commercial revenue, there would be much less money for society to pay to the NHS, schools, emergency services, and so many of the good things that happen in a civilised society. 
Our view is that the scandal ridden banking system is almost beyond redemption, which is something that our elected politicians might like to consider. This isn't just a vague complaint, but a focused problem based on real life experience. We really mean it when stating that politicians should take note. If a relatively small group of individuals can create over 100 jobs in spite of the banking system, then with new and carefully considered legislation on the banking sector, millions of jobs could and should be created.
Back to this website's introduction: the Real Dragons' Den initiative has a series of real life property projects to study. In order to narrate these ventures and draw useful lessons, we detail several genres. For example public houses. One of our crew who served as a police officer, spent much of his time dealing with drunk people, many fighting, after closing time. A long list of avoidable arrests and related cost to the taxpayer caused by alcohol. When a derelict pub came up for sale, so did a sigh from our Dixon of Dock Green friend.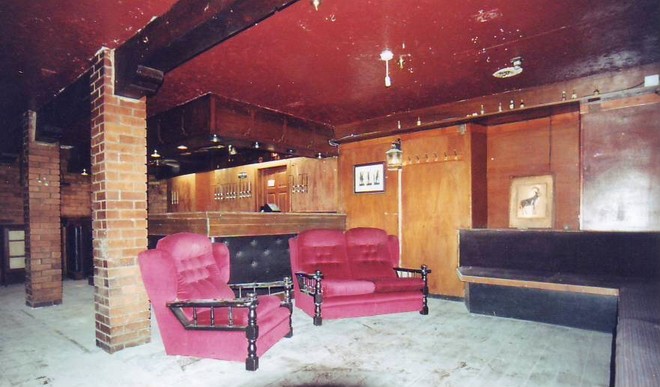 A Derelict Old Pub We Bought. Photographed Before Refurbishment.
Photograph (c) 2003 Argyll Group plc.
Rather that reopen this building as a booze bar, we went for a coffee bar instead. The local council planning department were dubious as to viability given there would be no alcohol revenue stream. But they were decent enough not to require a change of use permission and all the paperwork such processes require. That was an important concession. The RS McColl shop pictured near to the top of this page took 203 pieces of official sanctioned paper to achieve a change of use permission from a shop to an office. Such volumes of red tape are not conducive to creating new jobs. So fair play to the local planners giving us a letter of comfort consenting to no change of use being required from alcohol bar to coffee bar. Just as long as we kept a physical bar in the building!
Derelict Old Pub No More. Can You See The Difference Between The 'Before' & 'After' Photos?
Photograph (c) 2004 Argyll Group plc
As it turned out the coffee bar boomed. It cost £20,000 to buy this derelict building. Unmortgageable, so four friends put £5,000 each into acquisition. Eight months to fully refurbish. Our tenant traded for a couple of years. We offered him the building to buy, but he was happy to remain a tenant. So an open market resale at £150,000 was achieved. At 1,203 days from purchase to resale, this was one of the longer adventures. Many lessons were learnt. Much success was achieved, but mistakes were also made along the way with this particular building. We cover some of those within these pages to distil the essence of how to make a success from what is universally accepted as a dying sector – public houses. When pubs close down, consider opening coffee shops and internet cafes. In this one instance, a proven gross profit of £130,000 is a respectable result by any measure. The net profit after refurbishment and related costs was £90,159.63.
From this first page summary of what the Real Dragons' Den crew do – across the 24 projects to date…
We cordially invite readers to visit with us here on the internet for an hour or two and study the whole of this website. Think of it as a virtual paperback novel that may take you on your own adventure, help create jobs and have the likelihood of a several thousand pound profit as the twist in the tail of  the last chapter.
Hopefully, you can take information and experience of real life ventures and use them productively in your town. If you are able to apply some of the lessons we have learned over the years to your own communities, we would be delighted to hear from you.
–new server 2017–