Real Dragons' Den – Project Number 25?
Sir Thomas Crapper Building.
We will be finding a better name than that!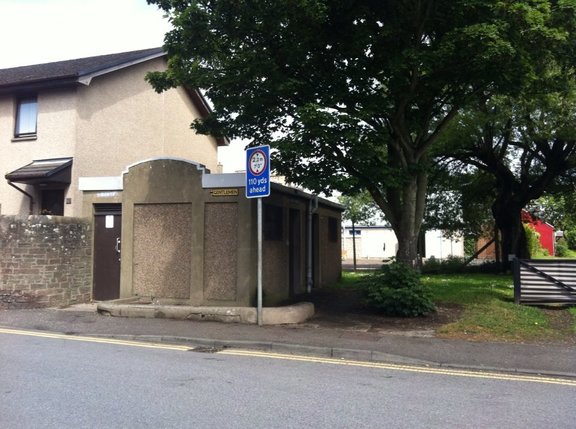 Old Closed Public Convenience – What Use Is This Building?
The banking crisis put our Real Dragons' Den efforts on hold for a while. However, in 2017 we've decided that life is too short to wait for the end of austerity. Hanging around until the banks sort out their liquidity ratios, balance sheets and regulatory stress tests is not an option.
One of our crew lived across from an old public convenience for several years. Long story short, the loo building is for sale. As a bet, he asked if we might be able to re-open it. The thing is currently a closed down eyesore. 
Not exactly our Wentworth Woodhouse adventure where we spent 4 weeks and £3,000 studying that humongous house all those years ago during 1999: click here. But hey, big or small, we'll tackle them all! There is a genuine challenge in this little loo property. What would you put into an old toilet? Some former public conveniences in London have been converted into restaurants. Really, this is a fact: click here and here if you don't believe it.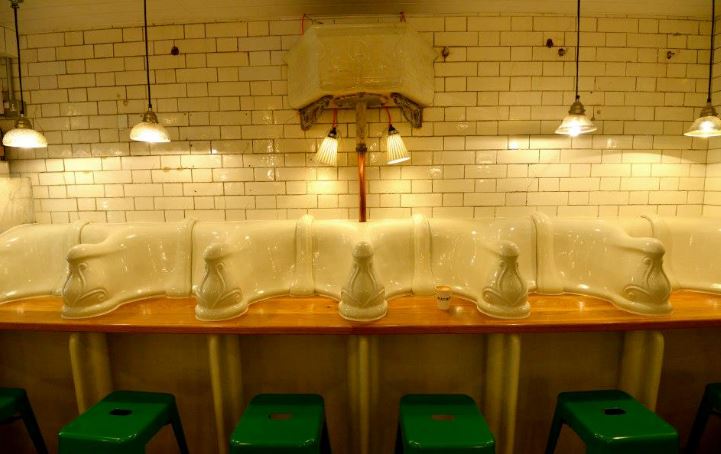 Urinal Dining – Interesting
Disconcerting Dinner At A Porcelain Pee Plinth
Sorry, but that really doesn't feel right. Maybe a bit picky, but eating food and drinking coffee at a urinal drenched in pee since Victorian times has the aroma of anything but fine dining about it. Although 10 out of 10 points for the media and publicity coverage achieved by the guys who restored the underground property and turned it into something special. This coffee loo bistro is also all over the media – example from CNN News: here.
Loo Latte – Apparently Very Popular
So what would we feel an appropriate new use for our own prospective purchase of a diminutive dumping house? What would stand a chance of being a success? 
After a few of us had a discussion – and brain storming session as to what on earth we could put into the old toilet building in front of us, an idea floated to the top. Certainly it got five of us sufficiently motivated to the point we are all comfortable taking on this project number 25. In order to get it back into meaningful use, create a job or two and have the building refurbished so it is presentable and not a blot on the street, we came up with this…
Proposed New Use of Old WC – A Dog Grooming Salon
The dog hairdressing and hygiene business is bigger than we first thought. There is room in the old loo property for this style of enterprise: click here. After discussion with a couple of companies in the area, there is at least one who is looking to move her dog makeover business from the spare room at home, to a proper commercial premise.
If you are unsure of the idea, a little more detail of what these places do and how important they are to dog owners can be seen: here.
There are an estimated 8,500,000 dogs in the UK (here).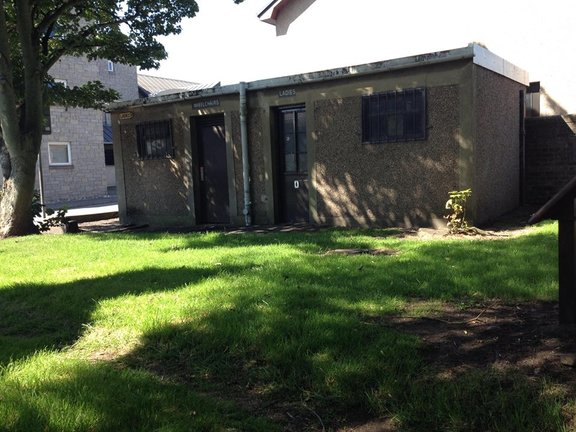 Side View of The Sir Thomas Crapper Building!
With an esteemed and knowledgeable organisation such as the RSPCA indicating that so many million dogs live in the UK, we had a brief look at what sort of revenues this genre of business earns. There are, of course very big success stories that have become major franchises. Conversely there are some small business failures in this sector. Our own considered view is that if we get the foundations right, then statistically we have many more successes than failures. This is deduced from the track record of the previous 24 newstart businesses we have assisted over the past 18 years. Getting the foundations right includes : very competitive rents for our tenants, with as little bank debt as possible. Ideally 100% equity driven on start-up.
So on this basis, and after a fair amount of due diligence offsite, 4 of us are committed to funding the purchase and refurbishment budget by pooling several thousand pounds each in order to buy the bog building. Plus have sufficient to give a new business some operating capital (if needed). As is usual we only provide a maximum of 50% operating funds. It is a basic test that a new business owner needs to have sufficient wit to raise 50% themselves – and not via credit cards!
For those who would like to follow how this new project works out – whether we can bring an old WC back into viable use and create a job or two, please check back to this page. We will post updates here.
We don't know if this old toilet building will become a dog salon, or small office, perhaps even coffee shop. What we are sure of is this little building has the capacity for as much adventure as the biggest of hotel buildings we have owned.
Check back here soon for news and updates
**********
There is also a lesson for casual readers of this website in this segment which might be a useful tool for you: Companies House.
You can access the official accounts for thousands of different businesses on this public domain facility.
An example that formed part of our research in the dog care business starts with a website: here.
We then progress to the Companies House website: Click Here.
This provides some examples of the accounting side of the due diligence and business plan research we employ.
The public domain accounts, websites and business models of dog shop companies that specialise in pet hygiene and related services found on the Companies House website are not a definitive picture of the dog grooming industry, but do provide an excellent research tool. Information is plentiful and adds to what we, and possibly you do on the business angel and venture capital support side of matters. The Companies House information is a key part of ensuring any business we, or you consider helping, has the best chance of success.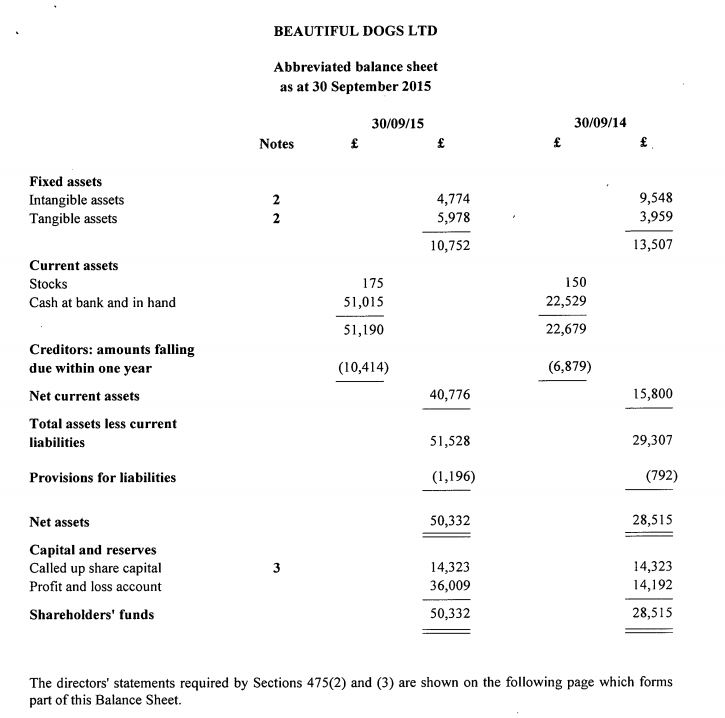 Example Dog Shop Business Accounts For 2015 & 2014
*******
Any questions, please feel free to get in touch with the Real Dragons' Den team…
Contact Page: Click Here.
*******