Scotslion Project Number 28
The Sannox Bay Hotel – Renovation
This old, closed down hotel is well into a major refurbishment.
Planning details and drawings: click here.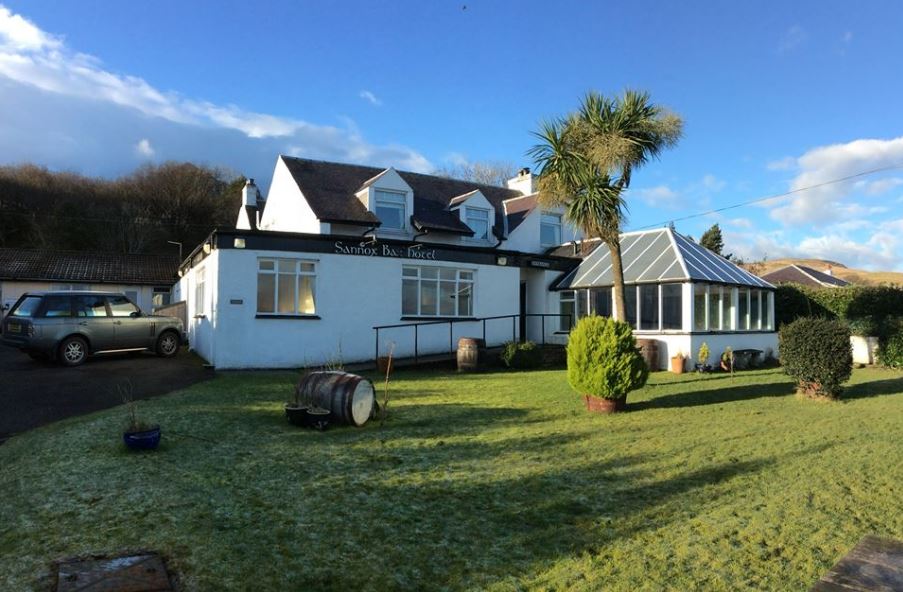 Latest Purchase: The Sannox Bay Hotel, Sannox, Isle of Arran, KA27 8JD.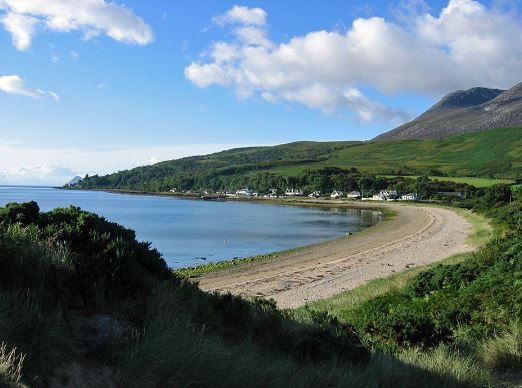 Sannox Bay. The Hotel Is Second Building In From The Right
Scotslion Ltd., is co-ordinating entity that assists over a dozen dedicated property renovation companies within our Real Dragons' Den network of business angels and venture capital individuals (eg: here). Our aim is simple:-
1] To purchase empty shops; closed down hotels, redundant factory units. Then refurbish them and provide newstart business with working capital and mentor these enterprises back into a meaningful existence. Thereby achieving our groups second objective…

2] To create jobs.
The Sannox Bay Hotel has been closed down for two years and is our latest purchase spanning a 20 year period. It is our 28th project to date.
The hotel is having a full rewire, new central heating system, new plumbing, new roof, new windows, new insulation throughout.
The old layout of 3 ensuite bedrooms is being changed. The old bar is being converted so that there will be new, disability friendly owner's accommodation on the ground floor. This will release the former owner accommodation on the first floor to provide an additional three guest bedrooms.
The new Sannox Bay Hotel will include:
6 Guest Bedrooms. All Ensuite.
Ingledene Tea Rooms & Restaurant.
New Village Shop.
Staff Accommodation.
4 Additional Car Parking Spaces.
Owner's Accommodation. 
REOPENING SUMMER 2019.
Please telephone 01770 810225 before travelling to the Sannox Bay Hotel to make sure we will be open for the period yo need. Many thanks.

Sannox Bay Hotel + Sand + Sea + Scenery + Lots of Island Adventures
Our Scotslion/Real Dragons' Den group believes strongly in helping to keep local communities alive. Anyone who has read this website will understand it was local community desire to reopen closed buildings in local villages and towns that prompted us to start buying old closed buildings and renovate them. Thereby creating 111 jobs so far in the 20 years that these projects have been running.
Sannox Bay Hotel, Isle of Arran. Location Map Courtesy of Google Inc
A viable and fully functional village shop is one of the ingredients in helping to sustain the cohesiveness of local communities. Any local resident who has returned to their home in Sannox from shopping at Brodick and realised you have forgotten to buy a pint of milk can be particularly frustrated. A village shop between Brodick and Pirnmill is not too big a thing to ask for. Otherwise it is a 17 mile round trip to Brodick, or 24 mile round trip to Pirnmill..
Before any naysayers suck their teeth and gripe that a village shop will not work, we would simply point out that our group of friends have reopened over 12 closed shops and made many successes. If the overheads are kept right down and the shop managed well – plus local folk and visitors use it, then it will be viable. The saving grace for many shops we have helped reopen is the internet. The general retail element (customers through the front door) will help pay the overheads such as electricity/telephone/wages. If you add some internet retail into the mix, this can mean the difference between being viable and not.
If in doubt, check out our sister internet website (here).

That internet website bought our lighthouse station. Not a phrase you often hear. Surely this is proof positive that the world wide web is a powerful resource.

Why not harness that e-commerce resource to keep village shops open?
Still not persuaded that this website carries facts? Here is our headquarter offices: paid for because of the internet…
Scotslion Ltd., Noss Head Lighthouse Station, Wick, Caithness, KW1 4QT
Without the internet, we would not have grown our group of companies to the point where the more exotic elements of what we dream of can come true.
You have doubts? 
Only one way to find out? Read the rest of this website. Maybe email/text/telephone or even visit us for a chat and consider replicating what has been managed here.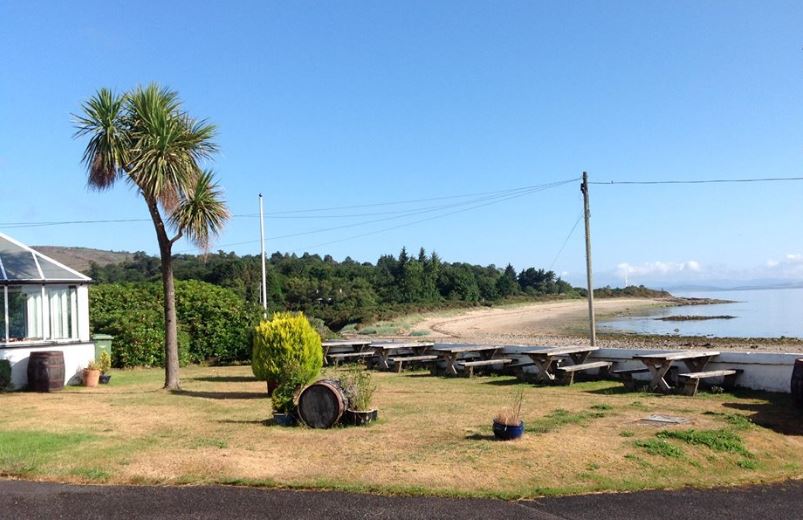 View From The Sannox Bay Hotel Across The Sound of Bute + Firth of Clyde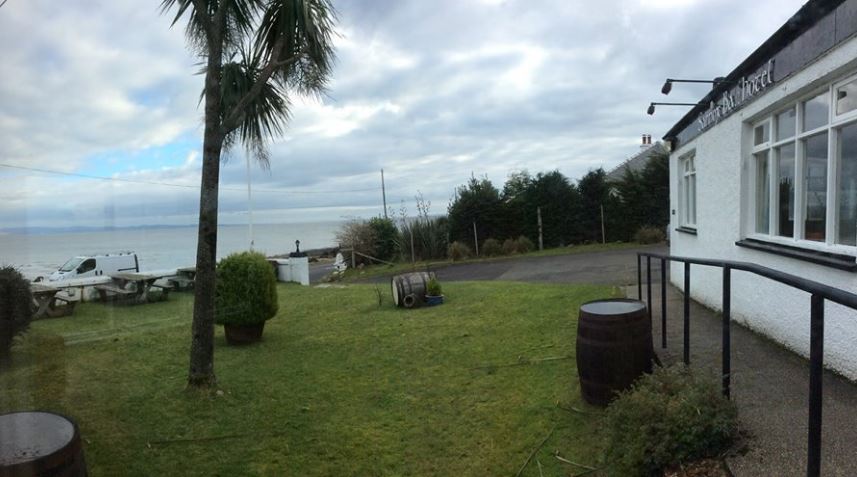 External Disability Access
In due course, we will be bringing the old (lapsed) website for the Sannox Bay Hotel back to life...
So if anyone wishes to see the latest news and update, we shall be ensuring the hotel's internet site goes live in due course (closer to the opening date in summer 2019.
Given the full planning permission and major building works – along with the fact this is on an island, we ask folk please be patient.
Until the www.sannoxbayhotel.co.uk website is fully functional, we shall post any updates on this, our Scotslion website. Please check back regularly for news,
For reference, here ais a selection of photographs taken during 2018 and which will form part of the "before" and "after" illustrative narrative of this specific hotel renovation adventure….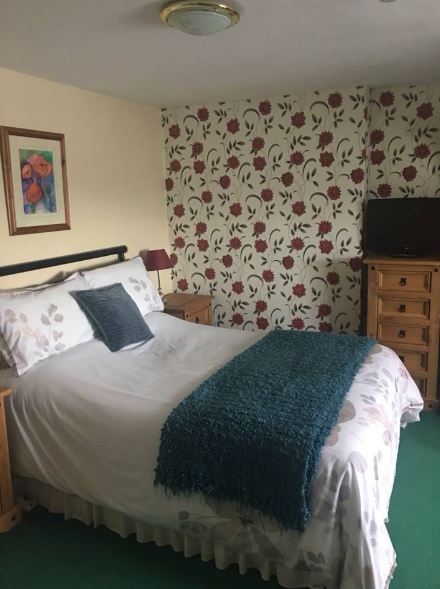 Sannox Bay Hotel – One of Three Existing Bedrooms
The new layout will have 6 ensuite guest bedrooms plus staff bedroom and owner's accommodation.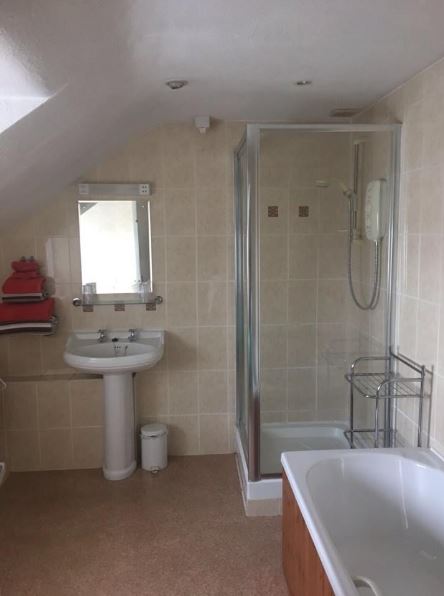 Sannox Bay Hotel: Ensuite Bath & Shower Rooms
Along with the good parts of the hotel, there are major headaches areas requiring a significant amount of repair work…
Previous Owner In The Middle of Refit – This Was The Old Bar Area
Sadly, the work started by the previous owners was unable to be completed. The hotel and it's owners/staff had a first rate reputation for excellent cuisine over their 14 years in business at this site. But the hard work seems to have taken a toll. Anyone who has run a hotel knows it is a great life, but not a job for anyone allergic to work. Just keeping a 100 cover restaurant plus a the bar and the guest rooms in a full operational state is hard enough.
Trying to maintain the building after a 16 hour day running the hotel had its challenges.
The fabric of the Sannox Bay Hotel is needing significant repairs in various areas such as the flat roof at the seaview lounge…
The Flat Roof Ceiling Coming Down Is Good
It is obvious that there is a fair amount of work to do by the state of the patchwork tar and felt atop…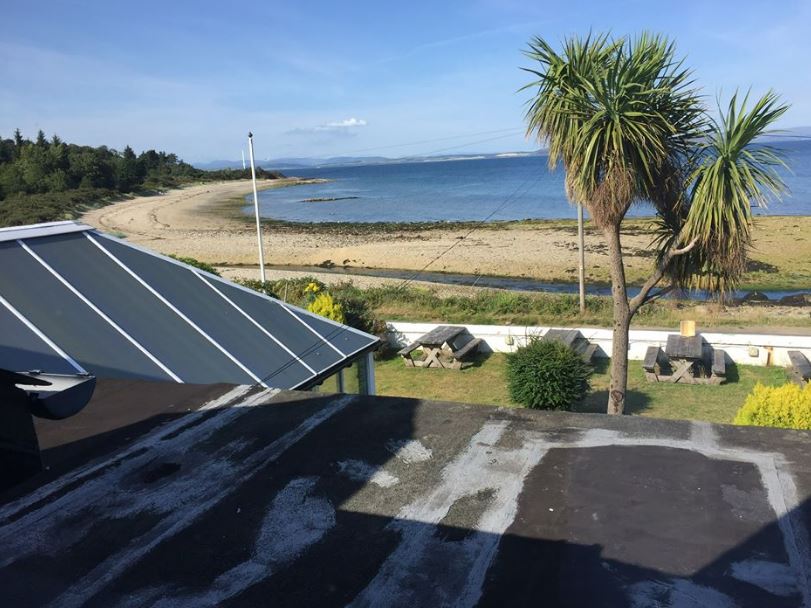 The Old Flat Roof Has Had Its Day. A Major Overhaul On The 'To Do' List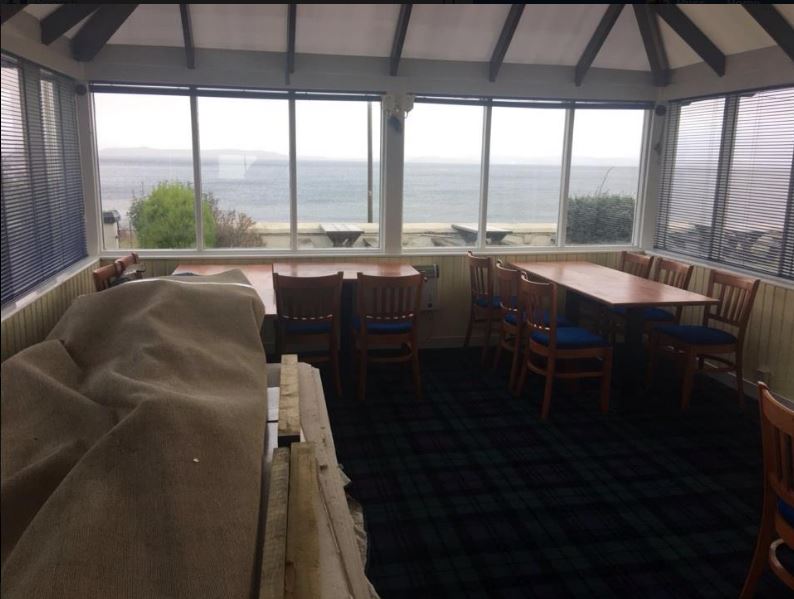 The planning applicationn will see the old plastic roof conservatory go.
The exact footprint here will have a pitch and slate roof in the traditional vernacular of these buildings.
This page is regularly updated. please check back regularly.