Small Acorns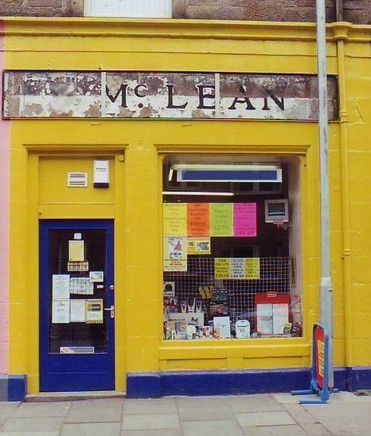 First Empty Shop Bought (c) 2000 Argyll Group plc/Scots Lion Collection
This page – Small Acorns – is actually about the first empty shop we bought. It was to make the point – that there has to be a better way than just letting empty shops rot away.
To be complete in explaining how this whole enterprise came about, we need to mention the initial seedcorn money. This was obtained from the sale of a building which we tried to renovate going through "normal channels. That is via the very well funded government "Enterprise Agency" and with bank lending: the Keil Hotel…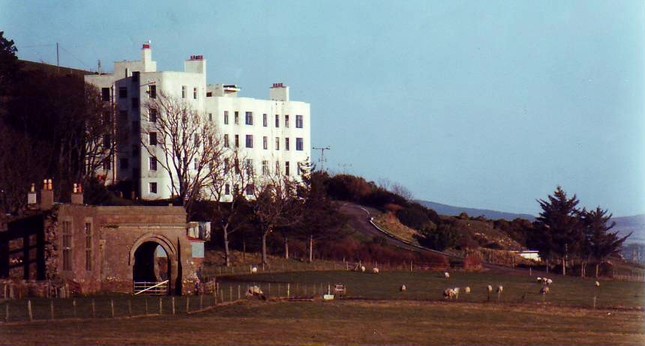 This Large Building Isn't The Literal Acorn
This hotel released funds after our purchase and resale of it. These profits then helped start this whole Real Dragons' Den adventure. Fair to say that the £76,000 profit from this was the catalyst that funded the refurbishment of many closed down shops and create a lot of new jobs.
Fat lot of use that was. The enterprise agency guy was more interested scoffing a sandwich – outwith lunch hours, and at a business meeting. In between spraying us with crumbs, he kept repeating some sort of Dad's Army style mantra "we're all doomed". An utter and depressing waste of time he was. Between greedy banks steeling business assets and lazy government funded quango enterprise agencies it's a wonder anyone manages to get a business started in the UK.
In the end, our first project at the Keil Hotel was funded WITHOUT a mortgage. Three friends put their own money up and we bought the large derelict building pictured above.
Alright, perhaps not the small acorn you were thinking of. After buying that building and banging our proverbial heads on various bank doors and civil servant's desk trying to establish a modest line of secured credit to refurbish the property – and just getting knocked back time after time, we ended up saying "enough". The tragedy is we had a whole floor of that remote hotel partly pre-let as a telephone call centre to a major London plc, with a second floor ready to sign off with another tenant. Many jobs were lost because banks and enterprise agencies couldn't get their act together.
What we hadn't expected was that with some decent marketing, and we had a good team on side, the old hotel went for four times what we paid for it. The two friends became very good friends! The third musketeer used his lump sum to buy several small acorn. All closed, and slowly, one by one, year by year each was refurbished and various tenants helped in getting a new business started.
Part of The Old, Closed Bank. Now A Thriving Small Business
The picture is just one of 24 buildings re-opened – so far. This is a hobby gone wrong – in a good way. Just a few friends who decided to have a small property adventure. One empty shop re-opening at a time. If we can do this, how about you? It is very enjoyable.
During the derelict hotel experience in 1999, there was there was a town meeting about the issue of there being so many empty shops in the area. This was, and still is, a typical problem. Closed shops blighting the High Street of Anytown, UK.
In fact it has become even more relevant in 2017 with the issue of keeping small shops from going out of business, or re-opening closed commercial buildings featuring on national news. Almost fashionable. Certainly important.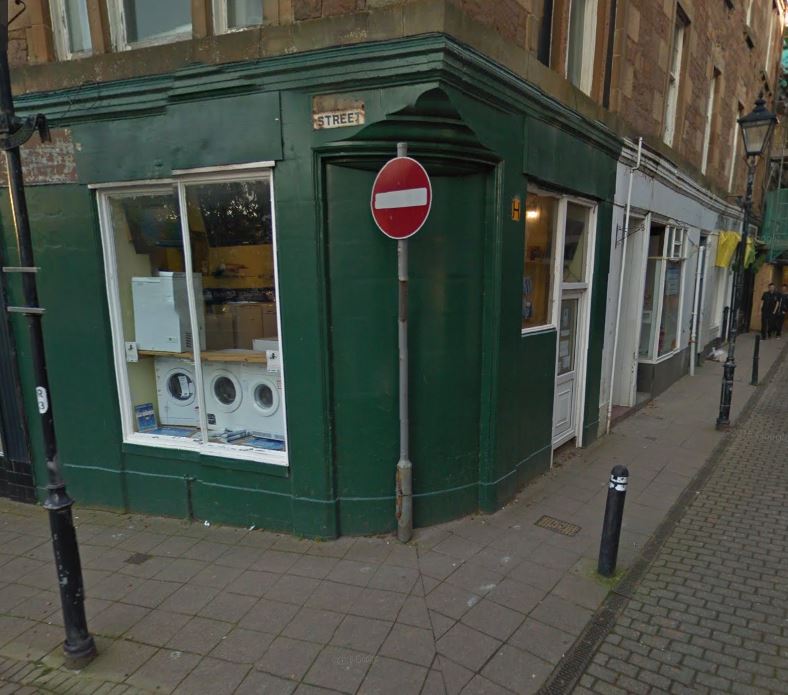 The No Entry Sign Is Metaphor For How Banks Treat Small Business
The shop? Just one of the buildings our group of friends bought, refurbished and resold.
Back in 1999, some 600 local townsfolk braved a bitterly cold January night to attend a public meeting in an effort to address the problem of closed down shops and other problems blighting a fragile rural economy. The powers that be on the stage said this was the "Tesco Effect", that small shops which were no longer viable would need to be converted into flats.
A paw from one of this website's subscribers went into the air and asked the question: "With shops being so cheap and young folk leaving the town to seek employment in the city hundreds of miles away, would it not be possible for government agencies funded and charged with revitalising the economy to reopen those small shops and create jobs to stop youngsters having to leave ?"
The response was depressingly predictable from the government "regeneration" officials. Those on stage who tried the "it'll not work" guff were almost booed off and had miserable scowls on their faces that stuck!
In order to make a physical demonstration, and with some of the spare cash left over from the derelict hotel sale, the first empty shop was bought. We have looked everywhere for the "before" photo as it really does show how run down this poor closed building was. That appears at the top of this page.
The "after" photo of this shop – and the next two we bought in this part of town are here…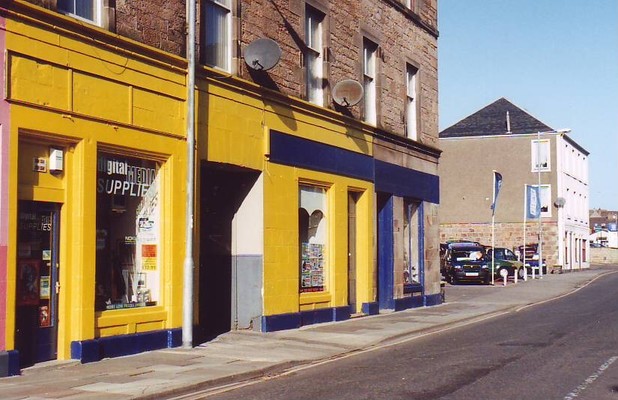 The old signage of peeling paint has yet to be finished off, but this photograph does give an indication of some progress (pictures of the completed project on the next page).
It is not that hard to get these buildings back into meaningful use. One shop here or there results in a couple of jobs. This might not seem that worthwhile, but over a decade this  has totalled over 24 shops, industrial units and hotels that have been re-opened. Over 100 jobs created.
This might seem to be small acorns to many, but these newstart businesses go on to pay rates, taxes VAT, National Insurance, PAYE, Fuel Duty, Insurance Tax – a vast range of money that goes into the NHS, education, police and fire services.
On many days, it can seem like an insurmountable struggle, but time after time we have found this Real Dragons' Den effort an incredibly enjoyable experience. We would heartily recommend you to consider this sort of venture. As to the hurdles and finance? 
Lesson: If the banks and enterprise agencies give a depressingly familiar "no", keep on exploring all other options. Just keep pressing forward – you will win through in the end.
 Please Click Here For The Next Page