Scotslion Ferries Ltd
As a lifelong islander, the founder of the Argyll based Argyll Group plc, Russ McLean (here) has been passionate about the economic impact of a good ferry service. Without doubt, the lifeline ferry operator, Caledonian MacBrayne (CalMac) is in trouble (example here and here). Even one of their most respected skippers has voiced his concerns (here). Worse, their ancient ferry replacement programme is a mess and the shipyard went bust with a questionable design over-reach (here). On the islands, CalMac are not listening to the islanders. So we have been looking at an alternate ferry service for Arran. Here is a short narrative to clarify our position… 
CalMac Ferries MV Caledonian Isles at Brodick, Arran
The founder of Argyll Group plc (later made into a private company) and Scotslion Ltd., originally hails from Arran and is looking to retire back to the island. However, since purchasing a closed down hotel on the island to renovate (and create jobs within), the CalMac lifeline ferry service between Ardrossan and Brodick to Arran has become a worsening nightmare. The staff, officers and crew do their absolute best in difficult circumstances with very old ships that break down and new ships that are bogged down in a failed effort to build them.
Our group had purchased a CalMac ferry, MV Lochmor way back in 2001 as part of Argyll Group efforts to reinstate the Campbeltown-Ballycastle service. That ship was not perfect for the route and was intended for "warm up" duties only. We subsequently offered to purchase the MV Pioneer from CalMac Ferries on several occasions. Unfortunately, despite previously good relations between our firm and CalMac, their senior management decided to sell their MV Pioneer, a state-owned asset, privately and off-market to an overseas interest. Thereby stymying our efforts in Argyll and costing 20 jobs (The Buteman: here). The final time we asked to buy MV Pioneer, the CalMac senior management said the ship was "not for sale". Then within 3 weeks they sold MV Pioneer to a company at an island off of Africa. It is not credible for a state-owned company to arrange a ship sale and complete the task within 21 days. CalMac said they did not have any other offers and even though the rules say that they should advertise state-owned assets publicly for sale to achieve best price, those rules did not apply to them. CalMac is a state-owned company.
The red mist somewhat descended. at this end of the fax machine. Legal etiquette prevents the full narrative until the CalMac ferry saga is eventually completed. The legal infraction proceeding we sought (here) have only been suspended by us and not stopped. That spat at losing MV Pioneer and our subsequent report of CalMac to the EU cost our firm over £30,800 and CalMac a wasteful £15,366,769 (here). All because CalMac sold an old ferry on the fly and refuse to behave in a decent manner. In case any readers doubt the veracity of what happens when an island-based competitor is trodden upon, the Dunoon Observer reported the details: here).
Russ McLean (Centre At Helm) Flying Bridge on MV Lochmor
This is after Argyll Group plc had bought MV Lochmor from CalMac Ferries
Sadly a good relationship was soured by CalMac senior management.
After a protracted legal endeavour, partly narrated in The Scotsman (here), we won, but is was a pyrrhic victory. We moved our interest in providing a ferry service out of Campbeltown to the Ardrossan-Brodick route. CalMac then coincidentally blocked our Brodick Pier slot with what the EU Transport Commissioner viewed as a predatory-priced, anti-competitive £600,000 pier fee for shared use of (the old decrepit linkspan) at Brodick Pier, when the rest of the network was less than £100,000 to £180,000 per annum for the size, tonnage and passenger/car numbers our vessel would have utilised…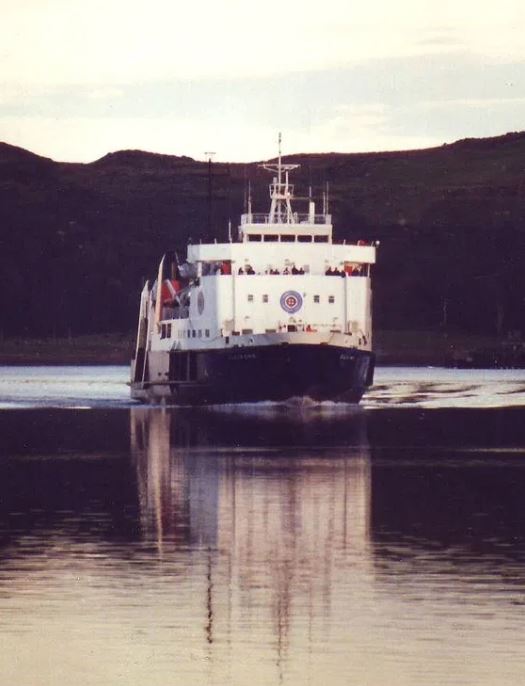 MV Claymore (here). Photo From Russ McLean
This Ferry Under Option Ultimate Holder Argyll Group plc
Given the fact Taygran Shipping and Western Ferries (Argyll) Ltd., had met with very questionable anti-competitive and subsidy practices to the point where both of those companies have been put out of business, our view was not to expose our 100% equity driven shareholders to such a risk.
For decades, the islanders have suffered a grossly expensive and inefficient ferry service. No political party has yet to grasp the thistle. It will likely be sorted out at HM Court or via a regulatory entity.
Though one piece of good news from this sorry tale. CalMac had never placed a regular second ferry on the main Arran ferry route. As soon as CalMac senior management discovered our group were serious: that our chief engineer was up at Orkney on a final inspection of MV Claymore, mysteriously the MV Saturn took our spot at Brodick pier as the second ferry on that route.
To this day, CalMac have had to continue a second ferry on this service and the good people of Arran are benefitting with a two ferry facility.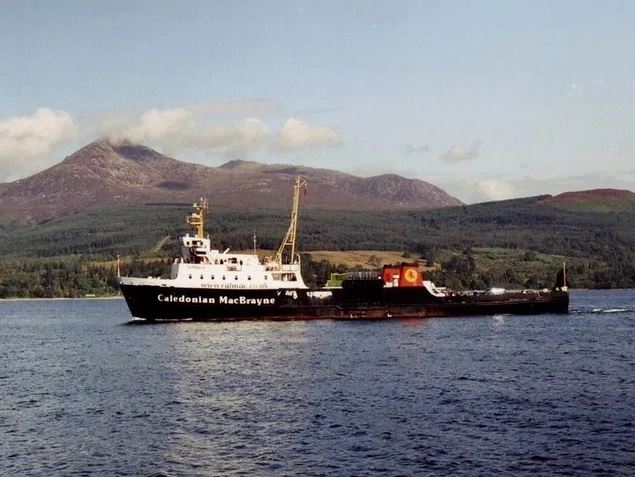 MV Saturn. Blocked Our Slot Between Ardrossan & Brodick
At that time we withdrew. The appalling ferry mess dragged on (here) with CalMac resisting efforts at reasoning. Because of the chronic failure to listen to islanders, we persisted with the complaint about unfair monopoly ferry services and the adverse impact killing off any and all competition. CalMac had its ships and piers were then removed from CalMac ownership and placed into a new firm's possession (Caledonian Maritime Assets Ltd). To this day, all the CalMac routes are now put to regular public tender (here). But so many obstructions are placed in front of the small island-based and/or local ferry companies such as Western Ferries (Clyde) Ltd and Pentland Ferries that islanders still suffer from monopoly abuse by the state-owned leviathan CalMac/CMAL.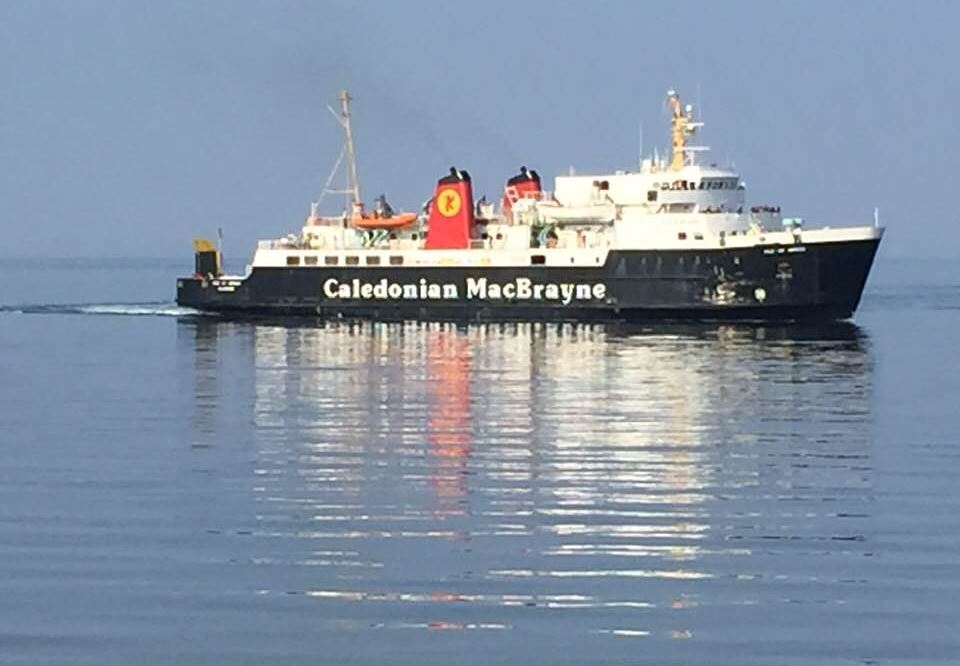 The MV Isle of Arran.
The Island Now Has Two Ferries As It Should Due To Being The Busiest In The Network
Even in 2018/2019, the ferry mess is regularly featured in the dedicated local island newspaper, the Arran Banner (here).
Frankly, the received wisdom is that Arran islanders just want a safe, reliable ferry service and not too big a subsidy.
Our company's view is if CalMac places FOUR medium sized ferries onto the Arran route of the MV Hebridean Isles size that would negate our need to start a new ferry company and reboot this dispute.
CalMac could save £50,000,000 in the wasted "eco-ferry" mess that has bankrupted Ferguson Shipyard by simply reducing the overly big ships to medium sized vessels which have a significantly lighter fuel consumption footprint due to speed/displacement dynamics.
CalMac should remove all crew cabins off of the newbuild short-haul ferries and buy some flats/houses for crew to stay in at Ardrossan and Brodick. Crew cabins on short-haul ships are ecologically stupid.
Imagine towing 6 caravans behind a bus for the driver and staff to sleep in? What would that do to the bus company/s fuel consumption?
Having four medium sized ships on shuttle runs would have excellent results all round:-
Longer ferry day. Start at 6am and end at 11pm.

More crew employed. Paid by savings elsewhere( 6 caravan analogy).

No need to book. Just turn up and drive aboard – like the Western Ferries service at Dunoon.
There is a great deal of information about ferries and how the islands have a unique relationship with the state ferry operator CalMac. A dichotomy of love and dislike. Schrödinger's ferry service!
For those wishing a very helpful study to all this, Mr Roy Pederson has written an excellent book…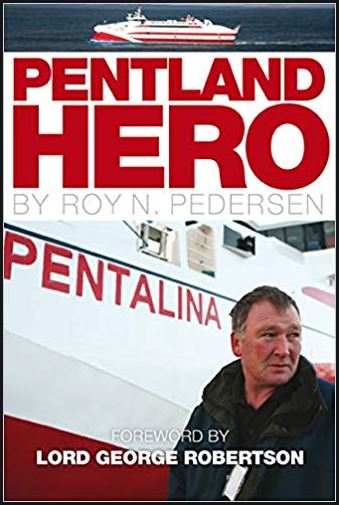 Pentland Hero: Books Available: Click Here
We would heartily recommend all islanders and visitors (and taxpayers) read this book.
CalMac + CMAL + Transport Scotland currently squander a billion pounds in subsidy every six years. Plus newbuild ship failure (here).
The two private ferry companies do not. Western Ferries receive NO operating subsidy and NO free ships. The same applies to Pentland Ferries. They pay to build their own ships.
We are non-political, but despair at £100,000,000 being wasted every 6 years by Scottish Governments of various political; parties. All when permanent austerity is costing society so much. How many hospitals + new schools + ecologically sound transport solutions could be built for that wasted billion pound subsidy?
***
Please note, Scotslion Ltd and Scotslion Ferries Ltd are two separate legal entities. For further information on the efforts to remedy the Arran ferry problems, please…
***********