This website is currently being overhauled due to extra property acquisitions needing to be added. Please check back soon.
---
COVID19: THE HIGH STREET DOES NOT NEED TO DIE.
Are Parts of Your Town Centre Run Down?
Does Your Village Appear Tired?
Do you have a blight of closed down shops or disused hotels and empty industrial units?
We may have a remedy for you.
Scotslion/Argyll Group have created 131 new jobs during the past 22 years. If we can do this, there is a good chance you can too wherever you live. Please feel free to get in touch if we can be of help to you (click here). This website contains a small selection of several projects our group of companies and friends have completed and/or are working on, from which we hope you can derive some inspiration.
Updates will appear on this website. Please check back regularly.
Contact Page: Click Here.
***********
---
Latest Acquisition
Abbey Studios, 280 High Street, Arbroath, Angus, DD11 1JF
Currently being renovated.
This will become a business incubator unit. The property is three-storey corner building and extends right round from Arbroath High Street (A2 Class Corner Shop Unit) along into James Street. In total there are TEN big glass windows at the ground floor that will prove useful in helping our tenants grow their businesses.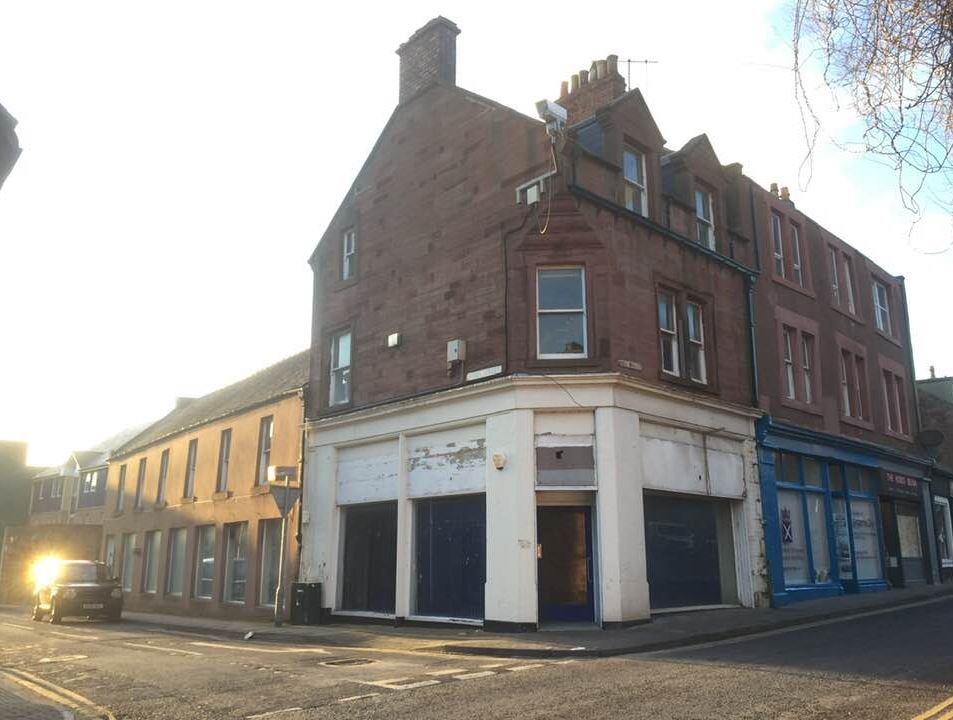 Our Tayport Group Ltd., Company Bought This Three-Storey
HQ Building on 28th February 2020
Covid19 has delayed the renovation, but we are still managing to make progress.
Enough room for our own HQ function plus 12 offices for newstart and embryonic businesses to have a professional High Street presence.
There is also a two-storey building included in the James Street elevation…
1 James Street, Arbroath, DD11 1JF
This will be part of the new business incubator office block.
Following the purchase of our new HQ premises in Arbroath, we will soon be rolling out the program of helping small business move out of their home-based "garage-start-up" of "garden-office" into an affordable High Street presence. With premises and town centre frontage to advertise and work from at an affordable price.
We help nurture our tenant businesses (if they wish) to the point when they may be ready for their own larger premises. We are happy to purchase/renovate empty shops elsewhere in the town centre. By keeping the rents low, we help each business have the grace to grow and that, in turn creates more jobs.
Maybe not quite the classic Apple or Google start-up success story, but here at Scotslion we have re-opened dozens of empty/closed High Street premises over the past three decades.
These next two classics are NOT ours, though we wished they had been! But the point is well made. Every big business has to start somewhere. From humble beginnings evolve some very exciting projects.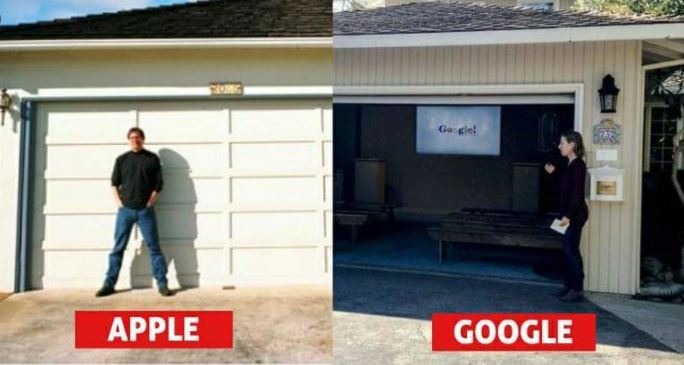 $700 Billion Apple Inc., DID Start Out In This Very Garage
But a lot of work was done at the next premises as Steve Wosniak explains: here
A little bit of myth, but has a decent amount of truth for many fledgling businesses.
The next step is for us to help nurture the small businesses from the Abbey Studios Business Centre and buy larger, bespoke property for our tenants. Once each has a decent set of accounts, they can either buy the shop, or garage or light industrial unit off of us or for many, they are happy to continue renting.
The key to helping businesses grow into viable entities is keeping the rent low/affordable and providing wise counsel whenever it is needed.
We have made our fair share of mistakes and learned enough to help our tenants avoid many pitfalls.
Rent at Abbey Studios will start from…
£23 per office.
Reception & PAYE services etc., can be added on
We were going to "hot desk" one of the areas, but with Covid-19 there will be scars on the psyche of all first world countries and businesses that will last decades. So OPEN PLAN offices are being phased out in all of our buildings.
HEPA-ventilated small, private, self-contained offices will replace the coughing germ-festival that has become the hallmark of many open-plan, hot-desk call centres.
Our founding director has three decades of experience helping newstart companies become established. This includes assisting with working capital finance. When our nurturing of these growing businesses has reached the end of the phase where we help at the Abbey Studios building, they move onwards, and into bespoke premises that we are more than happy to buy.
Our philosophy is to make the transition of each new business from their home-office start-up to professional premise and then tailored shop/industrial unit as painless as possible.
This enables the talent behind each venture to concentrate on what they do best: whether that be to invent the next Ipad, or to start a chain of High Street retail outlets when most folk reckon the High Street is dead.
In fact the High Street is becoming VERY affordable and is far from deceased. It will be having something of a renaissance. We know this for fact within our own network and shall drill down into the logic, proof and cases in due course.
If we can help, please feel free to get in touch
***********
---
Growing Pains
Bigger Premises Needed Please
There is a £100 finders fee if you can locate another building that Scotslion/Argyll Group/Unique Property Bulletin progress to the point of purchase…
If you know of any suitable, old, closed buildings for sale, ideally with some character and uniqueness, please can you let us know…
David Rutherford. Tel/Text: 07791 342742.
Or post to our current office:-
Abbey Studios, 280 High Street, Arbroath, Angus, DD11 1JF.
Thankyou.
***********
---
An Earlier Renovation Project
The Sannox Bay Hotel, Island of Arran, North Ayrshire, KA27 8JD.
This is building restoration number 28 in our Scotslion/Argyll Group series. 

Sannox Bay Hotel, Isle of Arran.
Closed down since November 2015.
Magnificent outside views. Great location, just by the beach.
Inside was a sad story of emptiness and long distant times of being a lively, useful place…
Tired!
Sannox Hotel was very sad looking inside the building.
This was the old bar ~ the very day we bought the hotel.
We purchased this tired old property on 28th February 2018 and have been renovating the building to get it up to as high a standard as is within our ability.
Sannox Hotel was scheduled to re-open during March 2020 with 5 + 6 new jobs added to the current total of 131 new jobs created by Scotslion/Argyll Group, across 28 projects since 1997.

Unfortunately, the Coronavirus had other ideas about opening hotels. Most folk in the world know what has happened. As for this hotel, on 23rd March 2020, to protect lives all hotels and other publicly accessible buildings (excluding hospitals and nursing homes) were ordered to close. Quite rightly so, and it has worked.
Fortunately, at Sannox Hotel, we only had three new staff appointed at the time the government made the closure announcement. Sadly we fell through the gaps in Central Government recovery schemes and just missed the "Furlough" assistance. 
Luckily, we do not have any mortgages nor debt. The hotel is owned outright by a group of friends and there is no peril of closure due to the scandalous conduct of certain banks, as happened during the last financial recession.
Why do we ban bank borrowing on our projects? The Royal Bank of Scotland plc and Santander Bank plc still have serious questions to answer regarding their catastrophic conduct in closing viable businesses during the last recession. Allegedly the banks created dodgy asset stripping companies via third parties. The banks closed down their customers' businesses, then their dodgy asset buying companies went in by the back door and "bought" the owners's assets on the cheap using one of their alternate Global Restructuring Group companies. When the banks ripped of their customers and made a profit from killing off jobs, that sickened us beyond ever wanting to deal with these organisations in a meaningful way ever since. If you have doubts, all the information is there at Companies House + the Land Registry + Financial Conduct Authority.
Making  a profit out of the carnage and job losses these banks caused: click here and here. This is the reason our policy is to have NO mortgages and NO bank debt.

If you can progress your business to become free of bank borrowing, we recommend doing this as soon as is possible.
We are in a fairly robust situation and in a financially healthy state. So much so, that we have just agreed to purchase the property adjacent to Sannox Hotel, into which we can move the new village shop we received planning permission for in 2019 (here).
That is a £400,000 investment (£296,000 + £104,000) that will bring about more jobs and restore local amenities at a time where focus on saving livelihoods from Covid19 is becoming ever more important to folk worried about losing their jobs.
Corrie and Sannox used to have three village shops. For the past few years the twined villages have had no village shop. With the constructive advice of various important stakeholders and an excellent local authority we aim to remedy that lack of local amenity by re-opening both the hotel and a new village shop.
There would likely have been more profit converting this old hotel into holiday flats. However, our company policy is not just to make a profit. Indeed we have gone counter-intuitive at the Sannox Bay Hotel and applied for planning permission to open a small VILLAGE SHOP within the hotel premises. This is in addition to retaining the hotel and restaurant. We have also added new staff accommodation as the old staff bunkhouse (Sannaig Cottage) had previously been sold off in the past by developers with the unfortunate result that happens quite a lot on Arran: both locals and off-island workers can't find somewhere to live that is commutable to their place of work. The reopened Sannox Hotel will have new staff accommodation as part of our planning application.
There is still ample profit to go around. But rather than be greedy, there is a decent way to manage projects so that everyone wins.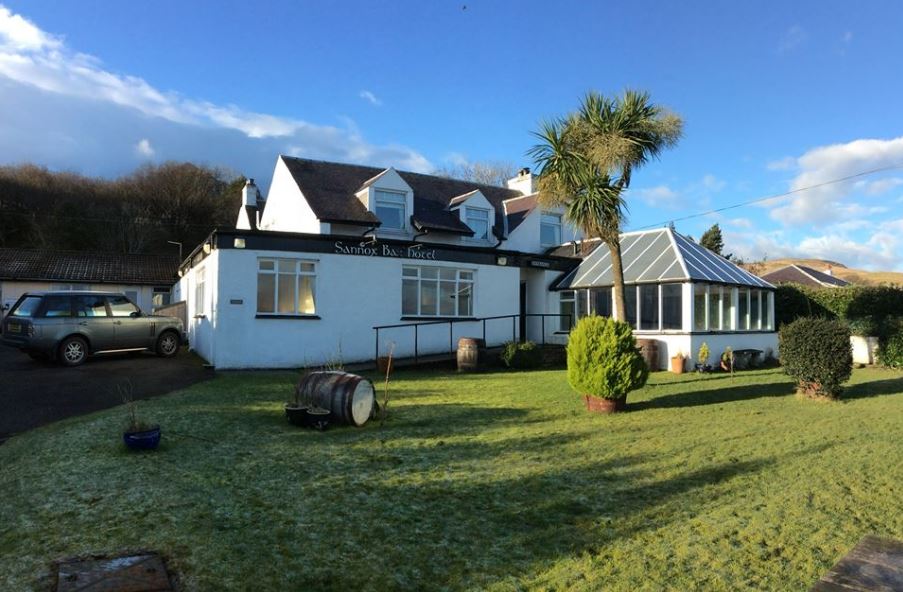 Sannox Bay Hotel on the Island of Arran. Major Renovation During 2018/2019.
For those who think that village and town shops are no longer viable, we have proven track record going back two decades. If the rents of investment properties are kept at a fair level, and a good amount of mentoring and support given to newstart businesses, then they thrive.
Click Here to study the full 2019 planning permission.
Scotslion/Argyll Group would like to commend North Ayrshire Council for a prompt, efficient and professional planning service. In fact we would go further than just saying "thank you".

In an unprecedented move, we are commending North Ayrshire Council and have decided to publicise the fact that it has been our positive impression from this decent, fair mnded council in granting our 2019 planning application that has resulted in our group committing to invest an ADDITIONAL £296,000 at the site next door to Sannox Hotel and create SIX MORE new jobs on Arran.
The positive line of communication from North Ayrshire Council, and the staff understanding that new jobs are important to the viability of local communities is summed up by our appreciation…
Our group of friends and fellow shareholders from the old Argyll Group plc days have dealt with the majority of Scotland's 32 local authorities during the past 21 years.
This month, April 2020 in the midst of Covid-19 and without a doubt at a time of great upheaval for the 32 councils, we have come to the conclusion North Ayrshire Council is the best in Scotland.
We rank North Ayrshire Council number one, based on our experience during 2018/209 when this council worked with us to map out a plan for renovating and reopening the long-time closed-down Sannox Hotel.
These efforts by a local authority matter. We cannot emphasise that enough.
Our group of shareholders do not need to invest in any particular location. We have a choice. 
Credit, where it is due: the local authority for Arran has genuinely helped our efforts in reopening Sannox Hotel and the consequence of that has ensured a further 6 jobs are in the pipeline for Arran.
We are pleased to advise an agreement has now been reached with the owner of the building adjacent to Sannox Hotel to sell their property to us. The plan is to demolish that old structure and build a decent-sized convenience store for the north end of the island. The south end from Brodick to Lamlash and Whiting Bay has many shops and three excellent supermarkets. The north-east part of Arran has no shops at all. Yet it lays between two of the busiest ferry routes in Scotland (Ardrossan-Brodick and Lochranza-Claonaig).
Just one other ingredient was needed to see if this new Sannox Convenience Store is worthwhile pursuing: to ask the local community.
Arran is a tight-knit island and local support is important. 
This is what happened when we asked the question.
The island of Arran on the Community Forum answered in style…
The result?
Thanks to North Ayrshire Council and the local community support, in the midst of the Coronavirus nightmare, we have a little bit of good news.
Arran is destined to have an additional £296,000 investment in spite of Covid-19.
This is 100% equity funded. It may seem unusual, but BAN any bank borrowing. Franky, banks don't have the best of reputations in helping new business nor creating jobs. A  horrendous example of banks closing down viable businesses occurred in the notorious "Dash For Cash" during the 2007/2008 banking crisis. Bank scandal ~ click here. Therefore, our own business model of full equity funding by shareholders provides safety, security and certainty. For those who are in business trying to secure bank support, the majority would attest to how difficult banks make it. Hence we stick to 100% equity funding principle. That means these new jobs are very likely to go ahead.
Our work will now focus on sorting out a new convenience store for the north-east end of Arran. Plus Post Office and FREE ATM cash facility.
There will be 6 new jobs created.
All this at a time when we will all, hopefully, be coming out of Covid-19 and trying to rebuild our own lives and help our friends dust themselves off and get back to work and some form of normality.
What started in our 2019 planning permission as a 144 square feet small village shop will hopefully now be a decent sized 2,000 to 2,500 square feet convenience store for the north end of the island of Arran.
To read more about this specific project and the ELEVEN new jobs for Arran…
---
The 2019 Planning Permission
This helped encourage further investment on Arran and more new jobs.
Our shareholders have now set aside £296,000 in order to remedy the fact that the north-east of Arran has no shops. We intend adding a Post Office and ATM cash machine facility to the site.
North Ayrshire Council encourages companies such as those in our group to invest in other building renovation and job-creating projects in the local authority area.


To Study The Full Planning Application For Sannox Bay Hotel…
***********
---
Earlier projects…
---
Scotslion Ltd
Part of the former Argyll Group plc
Within the pages of this website, we share proven ways to help reopen empty shops, closed down hotels, defunct industrial units and other disused premises. Plus create jobs and enjoy the process.
For example, in 2002 the subscribers to this website purchased a derelict old pub in Argyll:-
Condition Before…

Condition After…
The interior of this old, derelict pub looked dire. It was notoriously dark and miserable – even when it was trading as a pub. The entire building was transformed after several months' hard work. The interior having every wall, floor and part rebuilt. The exterior was also overhauled; including new double glazed windows from a local company. Where possible, we make best efforts to buy locally and employ contractors from within the community.
In the instance of this old pub, of special importance was to banish the dark, notorious, seedy interior elements…
Condition Before…
Condition After…
12 Jobs Created
A blot on the town centre landscape became very busy and useful again.
The old pub was turned into a coffee shop and became busier than we could ever have imagined. An accidental success.
Not least but the purchase and eventual resale figures may be of interest to readers elsewhere in the country who are considering renovating eyesores in their town centres. The old, 3 storey public house could be located in anystreet, anytown across the UK. The net profit from this renovation project was then paid forward to the next job-creating endeavour.
Argyll & Bute Council are to be commended for their support in the planning process to transform a closed useless building into what became a very popular coffee bar and restaurant.
Scotslion director, David Rutherford spent 8 months between 2005 and 2006 project-managing the renovation works at this Bolgam Street site in Argyll and commented…
"It took a great deal of literal blood, sweat and tears to get this dingy old derelict pub back to a decent use. We were all surprised at how busy the place became and how soon the business grew." 
There is no shortage of closed shops and empty business premises. The internet giants such as Amazon and Ebay have nudged great institutions such as Woolworths into bankruptcy (here in 2008). In the Woolworths example we site, their old, closed shop buildings still exist. Indeed many have re-opened under different owners (here).
That is the point: shop closures do not have to be permanent. Don't you submit to letting the last pub; last bank or last shop in your village close.
If our group of friends and colleagues can do this and become unintended business angels, perhaps you might like to do something similar in your community? Bringing life back to closed buildings and businesses where you live.
Since 1999, the subscribers of this endeavour have renovated and re-opened 27 closed business premises so far, with number 28 on the way. Currently in excess of 111 new jobs created by our small group of family and friends.
Our intention on this website is to narrate many of the actual, real-life adventures completed by our small group. We aim to help others, if and when they consider dipping a toe into their own community, where old, tired empty buildings need to be brought back into a meaningful life.
To make all of this building renovation and job-creation effort work, a core project-management team with the requisite skillset is essential.
But to illustrate a fact that most regular folk can make a difference, we have a full spectrum of folk involved in these projects. An…
Airline pilots, doctors, army officers, harbourmaster, firefighters, master mariners, teacher, farmers, police officers, IT consultants, chief engineer, Royal Navy officers, authors, movie crew, merchant navy officers + sailors, solicitors, venture capital specialists, accountants, G.Ps., Q.C., nurses, electricians, joiners, plumbers, university lecturers and paramedics amongst a distinguished list of professions within our tight-knit group of 64 friends.
All of whom regularly join together and make these projects happen. Refurbishing and reopening closed buildings. The part where new jobs are created gives every one of us a thrill and can become addictive. Twenty-two years after the first project and we are permanently hooked. We all have jobs in other industries/sectors. We just choose to have this hobby as one of our favourite pastimes.
There is a real buzz each time a sad and tired old building is brought back to life.
That energy is boosted immensely when there are new jobs for folk created in the process.
Two Closed Shop In Alyth, Perthshire Renovated & Reopened
Book currently out of print. Online edition being made ready during 2020.
Whether accidental success or planned, please don't let your town centres just die off through lack of interest. We hope the various projects being added to this website help to inspire you to consider buying that last bak or pub or shop in the village and having an adventure getting it re-opened. Just pick up a copy of Yellow Pages and study the thousands of businesses in there. Surely one would fit in that closed down premises near to you.
Are you willing to take on the challenge of bringing you village/town back to life?
***********
---
Lighthouse Picture At The Head of This Page

Readers may wonder why Scotslion Ltd., has a lighthouse building at the top of our website and also affixed to the work vans and on signboards at the location was based. But we strugglked to get any replies to pre-planning application via Highland Council. That cost the Highlad Council areea dozens of jobs.
We would be delighted to inward invest ito the Highland CCouncil area.
If you live there and have NO job but are looking for employment, the maybe write to your local Highland Council councillor and ask them why a company with half a million pounds ready to invest walked away?
If Highland Council would like some inward investment, it is still sitting here. We are happy to talk. But PLEASE at least answer your phones and/or phone baclk when you promise. This all happened in pre-covid times and was to do with relocating the closed down Homebase store to one of the scandalously long-term empty advance units that sit near the Wick branch of Tescos.
That opportunity for new jobs to be created in Wick and Thurso has gone.
BUT if Highland Council wpould like inward investment and new jobs at these hard times of Covid19 and 4,000,000 unemployed, we are happy to discuss inward investment.
All it needs is for someone at Highland Council with initiative and plain good manners to lift up their telephone and get in touch? We are still waiting for Highland Council to call back from FIVE messages we left with them in 2018!
For the avoidance of doubt to any of the good folk in Highland Council who want a job, please consider writing to your local councillor and asking them why they don't seem to care about inward investment and are uninterested in companies creating new jobs in ther area?Our new Head Office is NO LONGER at Highland Council, it is here…
Abbey Studios, 280 High Street, Arbroath, Angus, DD11 1JF
All correspondence should be directed to our Arbroath offices, please.
***********
---
Earlier Updates
---
Examples: One of 44 Rooms
At To Sannox Hotel Being Renovated
Here are a selection of "before", "during" and "after" renovation photographs so that folk can see just some of the work completed in order to bring the Sannox Hotel back to life.
All rooms in this building are now, safe, dry, clean, warm and comfortable.
This is the flat roof around the front and side of Sannox Hotel. The structure here is utterly rotten and very leaky…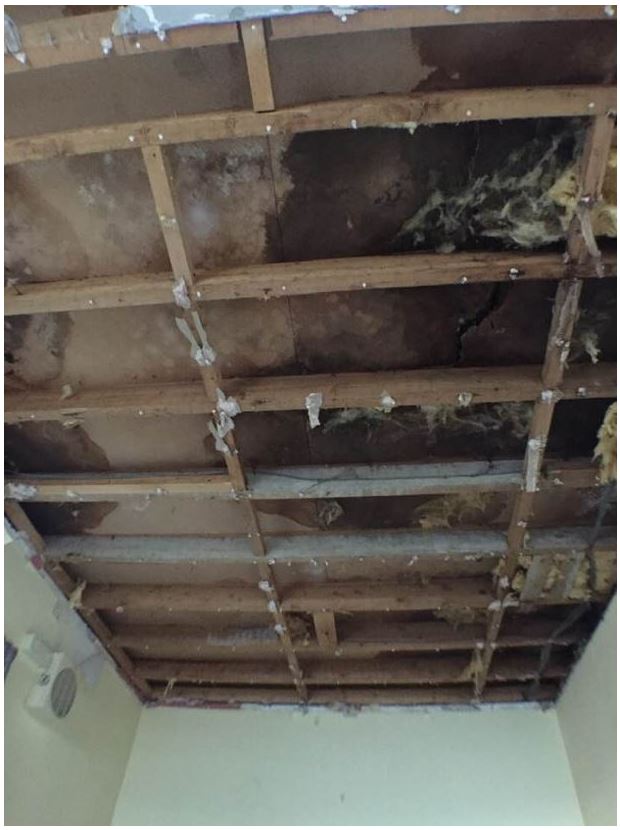 The Rotten Ceiling Is Clear To See
The leaky flat roof made the room fit for fish and seals. After removing all of the rotten roof, damaged timber, tar and detritus, new structure was installed where necessary.
The New Flat Roof Element Being Installed
Scotslion have details of the Northern Lighthouse Board's supplier of flat roofing "systems". Rather than use old tar which tends to require patches fairly early on in its life and those are prone to fail causing more wretched leaks, we are glad we got the lighthouse experts in and installed the Rolls Royce of flat roofing. 
A specialist rubber bonded system that can take a lot of punishment from Scottish weather.
With a new, waterproof roof in place, we could confidently treat the timbers and install a great deal of ceiling and wall insulation. This keeps guests warm. It also saves fuel and reduced the environmental harm from greenhouse gasses.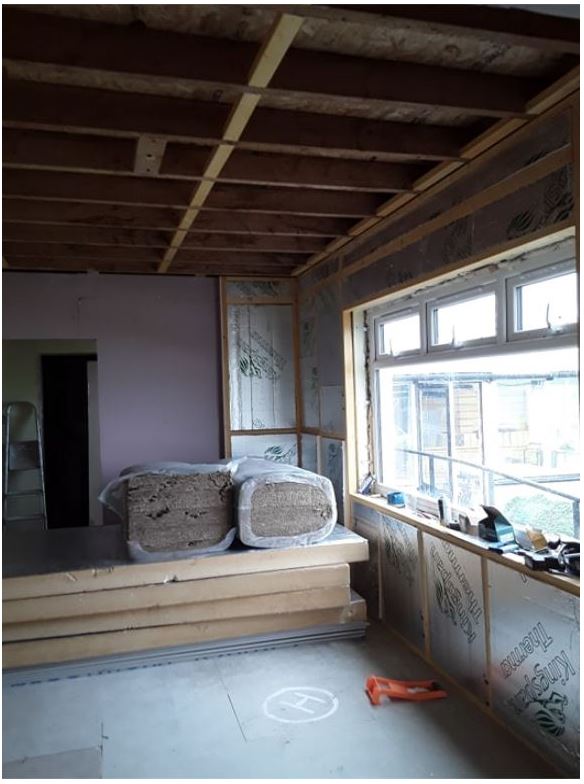 Of some additional merit is the fact that many rural hotels can be challenging to run and maintain a modest profit. By ensuring the bills are kept low through lots of insulation, including new double glazed windows, without losing quality, the reduced running costs help keep the reopened hotel viable and guest accommodation prices competitive.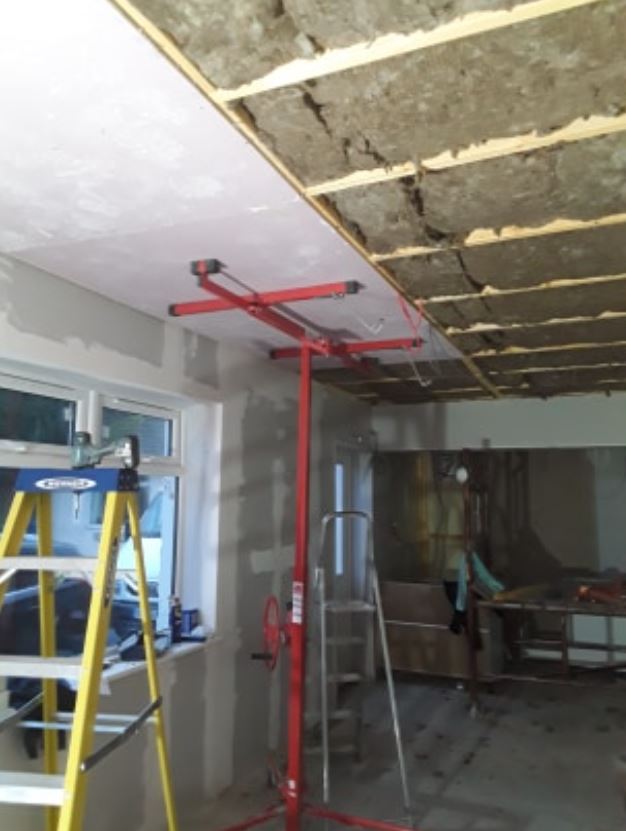 That leaky roof caused more damage when the torrents of water hit the deck. The floor was dangerously compromised in several waterlogged areas.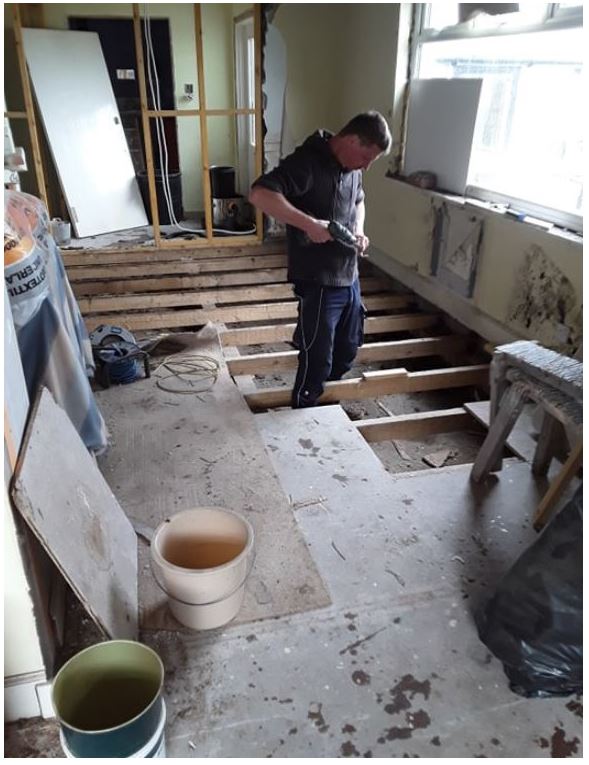 Poor Old Sannox Hotel. The Floor Had been Damaged By The Leaky Roof Too.
The final photos in this set show the morning breakfast room after renovation, insulation, rewiring, replumbing, central heating and fire safety systems were installed…
Getting close to the new floor on top of this current flat surface. Then this room can be set and dressed set for afternoon coffee with high teas later. 
The sea views are wonderful. But not when water is bucketing down on your head. After a great amount of work, this room had new floors, new (insulated) walls and a new roof.
The view is what really makes this breakfast/lunch/dining room (one of three ffunction rooms). We have a temporary photo taken from bedroom 3 at the side, upstairs. This will be replaced with a photo of the actual view from the morning breakfast room soon.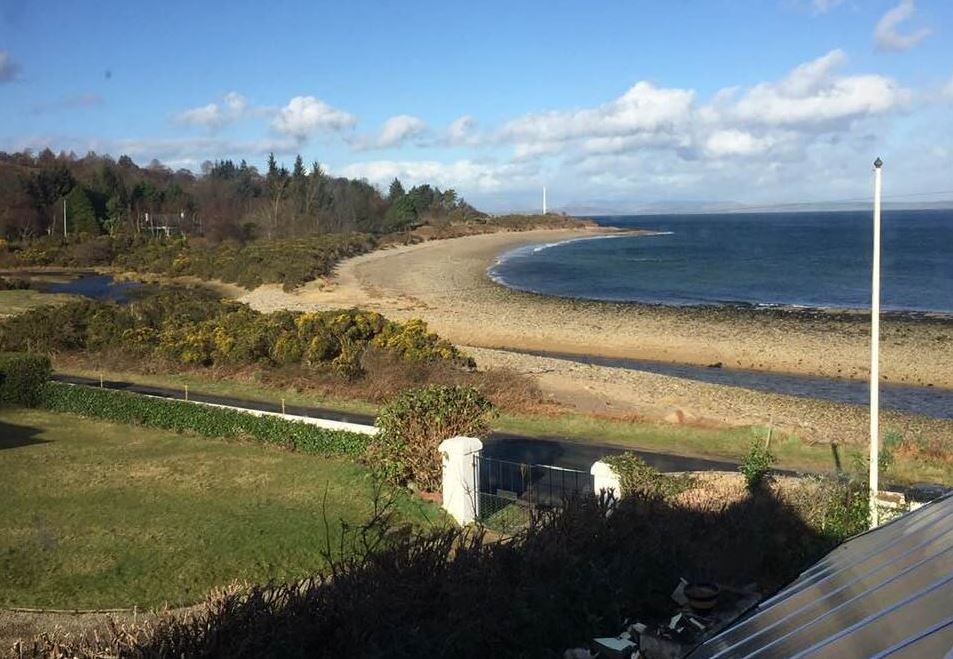 View From Ensuite Bedroom Number 2 of Sannox Hotel
Thank you for watching tis short series of pictures. There is a lot of work, love and care gone into this restoration. Multiply the effort in this room by 43 additional rooms and you get an idea of what has gone into bringing this hotel back from the edge. 
The whole hotel has new plumbing, new central heating, new windows a ton of insulation, including between the guest bedrooms so all visitors can have a good nights sleep. Without being woken by a loud television next door.
---
Earlier Updates
Time For Tea & A Read?
Perhaps make yourself a cup of tea and read some of the real-life ventures we have to share with you. It is possible to get the closed buildings back to life and create jobs in the process. 

Curious?
Would you like to re-open a closed down shop, hotel, library, cinema, village hall or light industrial unit near to you?
Perhaps time to put the kettle on, make a cup of tea, and spend half an hour with us, reviewing some of the Scotslion and Real Dragons' Den adventures.
You never know, it might be something you take a shine to. If you do decide to take on a similar project to the ones we describe here, please let us know how you get on?
–new server 2020–