Hotel & Away
This unlikely building made an accidental £76,000 profit following purchase and resale. This was the catalyst that started 27 projects resulting in the creation of over 107 jobs. So far.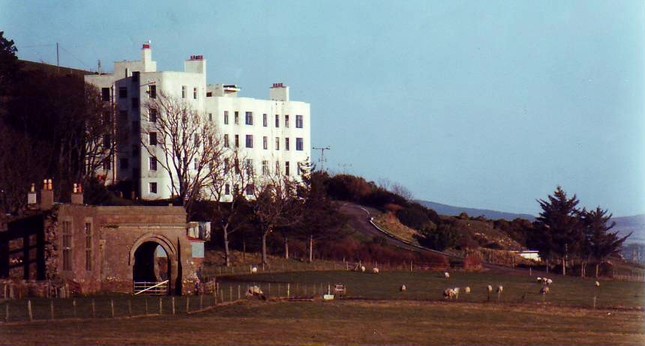 Keil Hotel, Southend By The Mull of Kintyre in 1989 (c) Argyll & Anglia plc.
The £76,000 profit generated from the purchase and resale of this old hotel has gone on to nurture new businesses and brought about incredibly good results since 1999. All of the projects detailed in this website – and more elsewhere – can be traced back to the initial profit of the old Keil Hotel.
This whole accidental philanthropic exercise started out with the Keil Hotel in 1999 – a poor old derelict building located by the Mull of Kintyre in Argyll. Parts of the roof had come off in a storm… 
Keil Hotel. Late 1990s The Roof Had Blown Off (c) Derelict Places
The internal floors had collapsed. It was very close to being a demolition job, such was the poor condition…
Keil Hotel. Late 1990s All The Windows Had Gone (c) Derelict Places
On the positive side, one of the main assets at the Keil were – in fact still are – the fabulous sea views from this place. A major influence in attracting the investment needed to renovate the Art Deco gem. Rather than bulldoze it and build a couple of standard bungalows which would provide no long term jobs and lose tourism income, efforts by many people have eventually led to it's gradual renovation – as a hotel.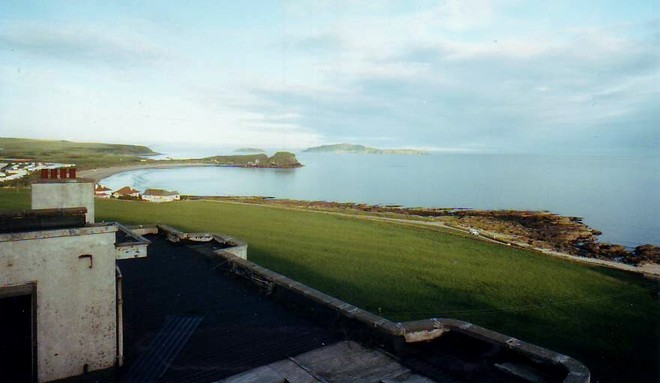 Keil Hotel. Fabulous Views of Northern Ireland, Ailsa Craig Island & Sanda Island
Photograph 1999 (c) Argyll Group plc / Argyll Group Ltd.
Fortunately, in 2018, at the time of writing this webpage, this first hotel we bought back in 1999 (and sold within a year) is now undergoing the process of being fully restored by a local chap who has made a marvellous job of his nearby former lifeboat station renovation (here). At long last, all looks well for the Keil Hotel being brought back to life, and reopening in the near future with several jobs. Though to be clear and fair, these are being created by the gentleman who bought the Keil Hotel more recently and is renovating the building himself. Our group sold the building almost two decades ago and is not connected in this particular rebuild at this time. Though if Mr Donnie McLean ever does wish to sell the refurbished Keil Hotel back to our group, we are certainly up for this. The location is truly magnificent and the Art Deco building is iconic to this area. Donnie, just let us know and we will be there (contact page).
Keil Hotel. New Windows Fitted. Awaiting External Repaint (c) 2017 Steve Hodgson.
With regard to the experience we had of the Keil Hotel in 1999. It started as an effort to bring life back to a closed property, and in the process provide a building for a hotel-room-ownership experiment some of our number were working on: not timeshare, but fullshare – we each would own a bedroom outright. No mortgage. A great place to stay and an income when the room is unoccupied by the owner.
Although we had been in discussion with colleagues in London who needed a call centre facility, and this was certainly a "Plan B" for this old hotel. Around 30 jobs would have come in this very remote and economically fragile area.
Unfortunately, neither the hotel, nor the call centre project went ahead. The Local Enterprise Agency promised the previous owners over £100,000 to help with a major £500,000 renovation of the Keil Hotel.
We were given assurances in this vein too. Sadly, after we put our money into the project, the Local Enterprise Company backtracked on their offer. Which is why we believe that the Scottish Government should consider closing down these very costly bureaucratic time wasters and putting the £69,000,000 it consumes (here) each year into a simple business rates reduction.
As a direct result of the Local Enterprise Company behaviour, we decided to withdraw investment and sell the hotel.
The lesson we learnt in this building purchase was to avoid government enterprise agencies in all future projects . Even charity ones such as the one that our director co-founded: Friends of TS Queen Mary. The Scottish Government have treated the charity with contempt. That will be covered elsewhere.
It may well be that these government organisations help provide jobs, but we would very much like to see Audit Scotland review whether Local Enterprise Agencies are the most economical /efficient way of so doing.
Keil Hotel Photographed From Dunaverty Rock
Photograph 1999 (c) Argyll Group plc / Argyll Group Ltd. 
After the abysmal experience narrated here, there was a downcast feeling. 
What shocked the three friends was a £76,000 profit made on exit-route at the Keil Hotel purchase/resale.
Clearly someone in our group was doing something right with robust marketing and publicity.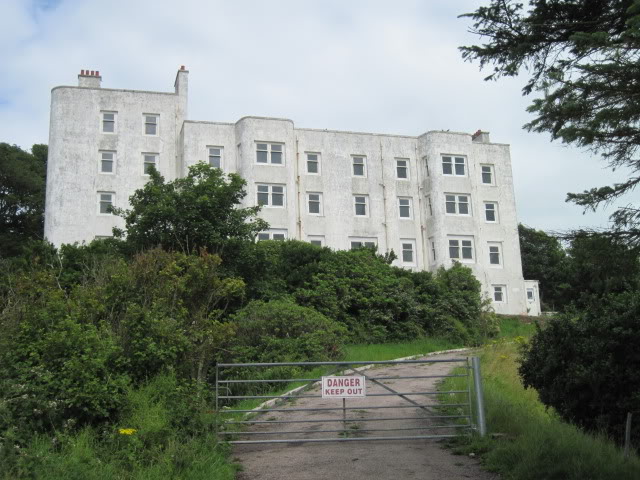 Keil Hotel – Close Up Photo of Current Owner's Renovation – Over 100 New Windows
All was not lost though, even with our exiting the Keil Hotel project. Much of the £76,000 profit on that sale was ploughed back into the local community in buying and renovating other closed buildings. This became a steady adventure. New life invested in empty unloved commercial property. Helping folk get started in business with seedcorn capital and mentoring Real Dragons' Den style. The majority of our projects have been retail shops and offices, a couple of pubs have also made a guest appearance along with some light industrial units.
Keil Hotel – Picture Showing How Good The Sea Views Are From This Elevated Position
Photograph 1999 (c) Argyll Group plc / Argyll Group Ltd.
For some reason we do have an attraction to hotels. So far 5 have been bought for restoration and reopening. Our latest hotel purchase is the beautifully located Sannox Bay Hotel on the Island of Arran. More on that project in the next few pages.
As for the Keil Hotel…
Keil Hotel – Views From Inside The Old Building (c) 1999 Argyll Group plc
Keil Hotel – Big Lump of A Building. Photographed In 2015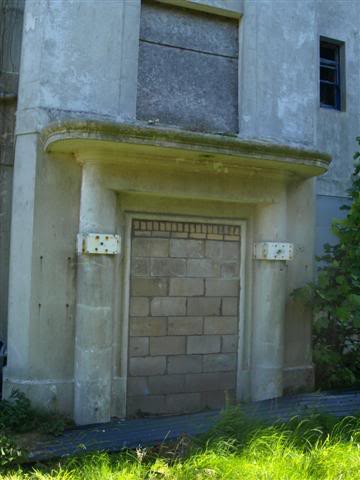 Keil Hotel – Sad In 2015 But Now Being Fully Restored
***********