Hotel & Away
This unlikely building made an accidental £76,000 profit following purchase and resale. This was the catalyst that started 24 projects resulting in the creation of over 100 jobs. So far.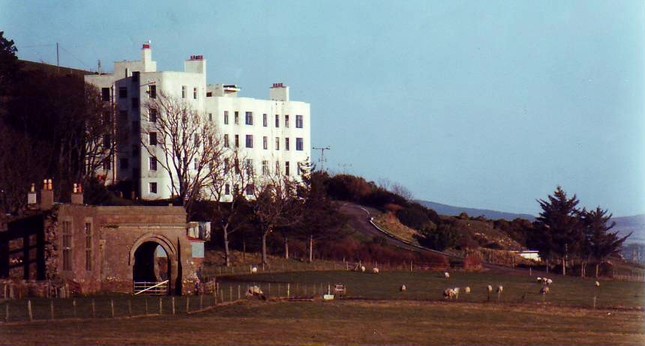 Keil Hotel, Southend By The Mull of Kintyre in 1989 (c) Argyll & Anglia plc.
The £76,000 profit generated from the purchase and resale of this old hotel has gone on to nurture new businesses and brought about incredibly good results since 1999. All of the projects detailed in this website – and more elsewhere – can be traced back to the initial profit of the old Keil Hotel. Ironically, it was the reckless conduct of a bank following the repossession of this hotel from the previous owners that started a chain of events which came good in the end. No credit nor positive reputational merit is due to any bank from these subsequent efforts. Quite the opposite.
We still hope that a bank CEO somewhere will eventually understand it makes good business sense to use a moral compass in their approach to new companies rather than gamble irresponsibly on hedge-funds, LIBOR, FOREX and sub-primes at the banking casino. To lend newstart business money in a sensible and rational way. For example 50% loan to value is what we believe to be a good rule of thumb for commercial mortgages. 
This whole accidental philanthropic exercise started out with the Keil Hotel in 1999 – a poor old derelict building located by the Mull of Kintyre in Argyll. Parts of the roof had come off in a storm. 
Keil Hotel. Late 1990s The Roof Had Blown Off (c) Derelict Places
The internal floors had collapsed. It was very close to being a demolition job, such was the poor condition…
Keil Hotel. Late 1990s All The Windows Had Gone (c) Derelict Places
On the positive side, one of the main assets at the Keil were – in fact still are – the fabulous sea views from this place. A major influence in attracting the investment needed to renovate the Art Deco gem. Rather than bulldoze it and build a couple of standard bungalows which would cause lost jobs and lost tourism income, efforts by many people have eventually led to it's gradual renovation – as a hotel.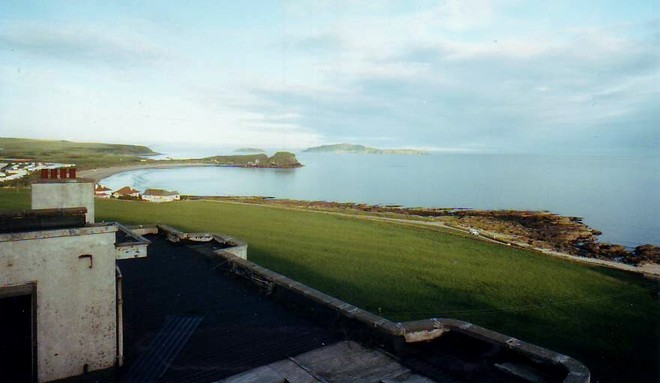 Keil Hotel. Fabulous Views of Northern Ireland, Ailsa Craig Island & Sanda Island
Photograph 1999 (c) Argyll Group plc / Argyll Group Ltd.
Fortunately, in 2017, at the time of writing this webpage, this first hotel we bought back in 1999 is now undergoing the process of being fully restored by a local chap who has made a marvellous job of his nearby former lifeboat station renovation (here). At long last, all looks well for the Keil Hotel being brought back to life, and reopening in the near future with several jobs. Though to be clear and fair, these are being created by the gentleman who bought the Keil Hotel more recently and is renovating the building himself. Our group sold the building over a decade ago and is not connected in this particular rebuild at this time. Though if Mr McLean.ever does wish to sell the refurbished Keil Hotel back to our group, we are certainly up for this. The location is truly magnificent and the Art Deco building is iconic to this area. Donnie, just let us know and we will be there (contact page).
Keil Hotel. New Windows Fitted. Awaiting External Repaint (c) 2017 Steve Hodgson.
With regard to the experience we had of the Keil Hotel in 1999. It started as an effort to bring life back to a closed property, and in the process provide a building for a hotel-room-ownership experiment some of our number were working on (not timeshare, but fullshare – we each would own a bedroom outright). However, after a nightmare of a discourse with the local government enterprise agency, the group of three friends who owned the building in 1999 said enough was enough. The Highlands & Islands Enterprise Agency (click here) do a good job in many cases, but they really dropped the ball on this one. The government enterprise agency's operating expenditure of £6,686,274 and administration costs of £816,291 (here) did not offer value for taxpayer money in our experience. A matter that needs to be remedied. Even all these years later there are significant failings at HIE/AIE that lose jobs to the area. The malfunctioning HIE/AIE were the reason we decided to avoid any further involvement in this project. 
Keil Hotel Photographed From Dunaverty Rock
Photograph 1999 (c) Argyll Group plc / Argyll Group Ltd. 
After the abysmal experience with the Highlands & Islands/Argyll & Islands Enterprise Agency we made best efforts to secure a good price on the Keil Hotel resale. What shocked the three friends was a £76,000 profit we made on exit route. Clearly someone in our group was doing something right with robust marketing and publicity.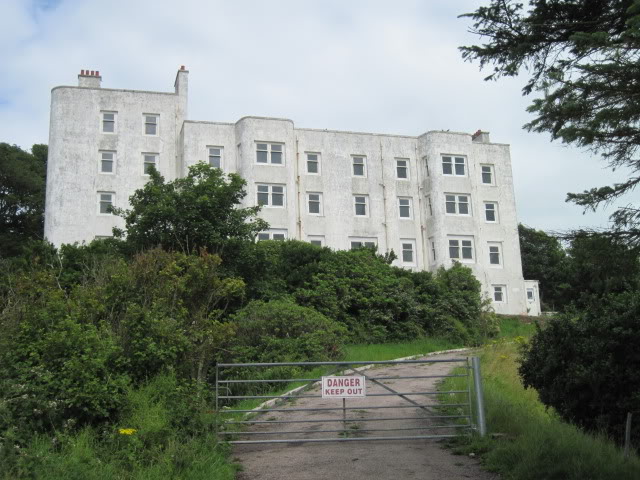 Keil Hotel – Close Up Photo of Current Owner's Renovation – Over 100 New Windows
All was not lost though, even with our exiting the Keil Hotel project. Much of the £76,000 profit on that sale was ploughed back into the local community in buying and renovating other buildings. This became a steady adventure. New life invested in empty unloved commercial property. Helping folk get started in business with seedcorn capital and mentoring Real Dragons' Den style. The majority of our projects have been retail shops and offices, a couple of pubs have also made a guest appearance along with some light industrial units.
Keil Hotel – Picture Showing How Good The Sea Views Are From This Elevated Position
Photograph 1999 (c) Argyll Group plc / Argyll Group Ltd.
For some reason we do have an attraction to hotels. So far 4 have been bought in an effort to get our fullshare hotel-room–ownership venture off of the ground. Trouble is we now seek a prompt resale of each hotel after purchase as a first stop Plan A approach. Plan B is when we actually keep one of the hotels for the hotel-room-ownership initiative.
However, so far, all of our hotel purchases have resulted in lucrative resales. The profits from each purchase/resale being put into more shop  and small business reopening projects. The logic being that there will always be other hotels for our group to buy, and a growing profit from each venture comes in very useful for the wider efforts narrated on this website.
Keil Hotel – Views From Inside The Old Building (c) 1999 Argyll Group
In 2017 our fifth (closed) hotel purchase effort is now well under way with the formal agreement on price concluded. Once our solicitors have the next hotel project under legally binding contract we will devote a page to this latest venture.
Keil Hotel – Big Lump of A Building. Photographed In 2015
Returning for a moment to the Keil Hotel and 1999, this is a prime example of how bad banks are. In more recent times there is a movement to overhaul the worst excesses of banks (click here). But back in the last century, businesses such as the Keil Hotel were a significant centre of village and town life. A materially important local resource employing 12 people and bringing hundreds of tourists to Sir Paul McCartney's beloved Mull of Kintyre each year (here). Sadly this business was indebted to a bank. They foreclosed. Okay, if the mortgage goes unpaid, this is what happens…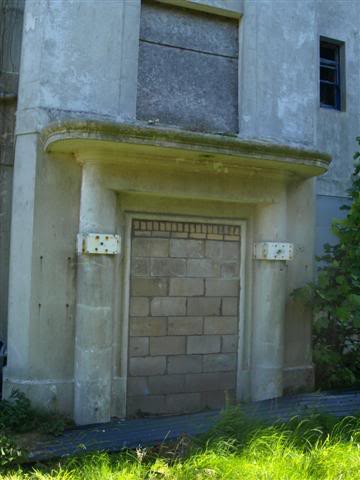 Keil Hotel – When A Bank Is Involved
A lesson we learned from this particular outing was to avoid two toxic elements that can destroy these types of business. Banks and Local Enterprise Agencies. We've indicated the HIE/AIE problems earlier in this narrative, but it isn't fair to load all of the woes of this dereliction on a lacklustre government quango.
The banks have a huge culpability in the destruction of jobs, the ruination of buildings and desolation of local communities. Strong words but factually correct. If in doubt, read the scandal ridden Royal Bank of Scotland's "Dash For Cash" disgrace: click here and here. People wonder why the many folk involved in venture capital and in our case, the team at Real Dragons' Den avoid banks and their toxic finance like the plague. It isn't just banks' closing viable business that is disgusting. When not being the exemplar of unbridled greed, some banks cannot help themselves in failing local communities and their own bank shareholders.
A brief digression to explain this. One of the three owners of the Keil Hotel in 1999 was shocked when he returned home after 9 years working away in London.
Back to Argyll and the Mull of Kintyre – a place that had been such a wonderful part of his life for many years had been abandoned by the bank and their duty of care. Under the bank's stewardship, the Keil Hotel had been abandoned and become a derelict eyesore. That should not have happened. The erstwhile buyer of 1999 had previously offered over £130,000 six years earlier (and the bank declined because the owners had "negative equity"). Instead the bank turfed the owners out and foreclosed. The bank then allowed this building to deteriorate to the point where it got just 18% back. Little wonder the bulk of the banking sector collapsed in 2007.
In 1999 the group of Real Dragons' Den friends couldn't get a loan because the Keil Hotel was unmortgageable.
Ironically that lack of mortgageabilty of the old Keil Hotel was a good thing. The three friends clubbed together with their savings (one actually sold his car to afford a slice of this big building). The £24,000 was paid across to the solicitors and the three friends embarked upon their effort to find a viable way to restore this building.
The moral of this particular story – the Keil Hotel purchase and resale?
1] Whenever possible, avoid bank mortgages.
2] If permissible, don't let banks take care of repossessed property.
As events transpired, this was an instructional endeavour. It taught the founders of this Real Dragons' Den initiative some important life lessons. These persist to this day.
Since 1999, we have bought four old hotels from banks. Not that we seek them out, it is just a sad fact of life that banks and hotels often do not mix.
The trick, and there really is one because we do it regularly – is to reopen a business with NO bank finance. For example, if a hotel purchase is 100% equity driven, there is a solid asset backing to the funding of those who have joined in. General worst case scenario in the vast majority of circumstances is if a bad season occurs, then the dividends are reduced to zero. The asset still remains and no greedy bank is going to cheat the owners out of their asset. This may seem a strongly worded assertion – if you doubt the veracity, then perhaps study the RBS scandal with this discredited institution's horrendous "Dash For Cash" scheme to enrich themselves by killing off good viable businesses in a horrendous asset raid: click here. Perhaps, after reading the account of just one bank's dishonest behaviour, you will being to understand our principle of going the 100% equity route, rather than let a bunch of thieves in suits near any of our assets or jobs.